Picking 100 of the coolest cars is harder than you think, a task made even more difficult by the multitude of opinions of all the Cars.co.za writers, who are self-proclaimed car anoraks. This is what we have come up with about a year ago, after many arguments and fall-outs.
Before we delve into the list, a word of caution. You are unlikely to agree with everything that we've included, even we didn't agree on every car listed here. Cool is not an easy thing to pin down, but some cars just exude a sense of occasion; they elicit nods of approval as they drive by or emit soundtracks that make your spine tingle. It can even come down to just how good the darn things look.
Please add your thoughts in the comment section below.
100. Lamborghini Urus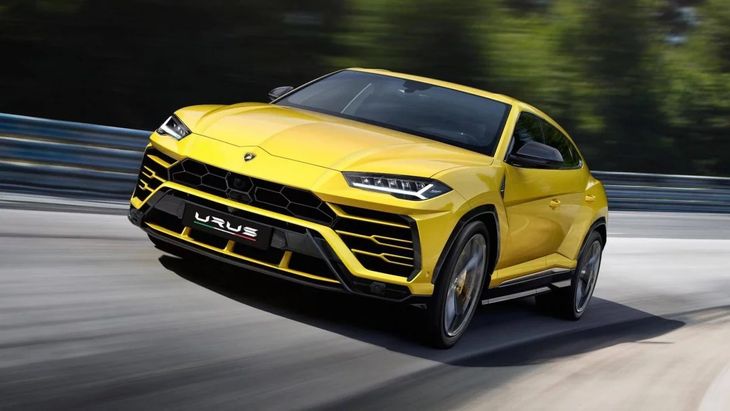 The Urus is cool because it's a Lamborghini SUV, something that last existed in the early Nineties when the St'Agata-based firm experimented with the LM002 "Rambo Lambo" (but only built a few more than 300 units). The Urus sets the benchmark for what a super-SUV is meant to be: stupendously powerful and crazy fast. It looks sharper than a butcher's cleaver and is fitted with a 4.0-litre twin turbo V8 engine that produces 478 kW and 845 Nm of torque. It will sprint from 0 to 100 kph in a blistering 3.6 seconds and reach a top speed of 305 kph. This is an SUV, remember. The fun doesn't stop there though, because if you are willing to take your Urus into the wild, it will happily oblige. The Urus is an absolute beast.  
99. Peugeot 205 T16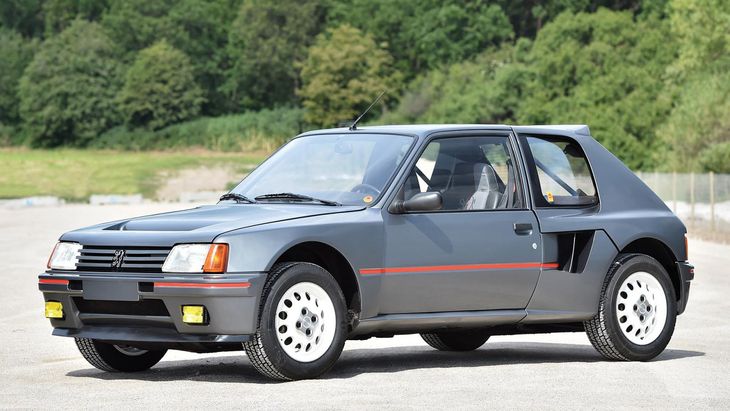 This little French number is here because it was created by Peugeot purely for homologation purposes (in order for a manufacturer to enter Group B rallying, it had to produce 200 roadgoing examples of the car its rally car would be based on). While it looked like an ordinary small Peugeot, it shared many parts from the rally car including its engine, albeit in detuned form. The rally version dominated, with back-to-back championship wins in 1985 and 1986. Now imagine that pedigree in a road-legal family hatchback. The mid-mounted 1.8-litre turbo made around 147 kW and 255 Nm, and power went to all 4 wheels. With a kerb weight of around 1 145 kg, performance was frighteningly fast for the time. While most petrolheads were lusting after the Volkswagen Golf 2 GTI at the time, the 205 GTI was widely regarded as the benchmark.
 98. Lotus 7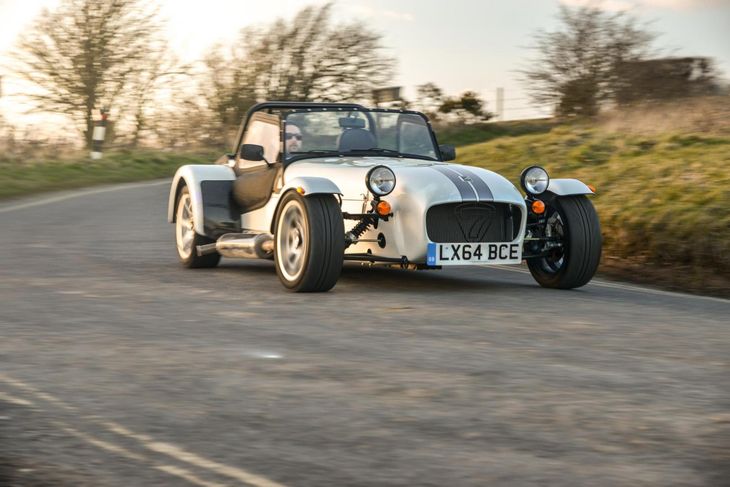 If imitation is the sincerest form of flattery, then the Lotus 7 must be tired of all the compliments. A radically stripped-down version of a design that debuted in the early Seventies, the original has spawned a thousand copycats, which continue to be built to this day. Providing the closest thing to a single-seater racing car experience for the road, the Lotus 7 is very uncomfortable, but ferociously fast and nimble. An incredibly low centre of gravity and low kerb weight means that the car could make do with smaller, naturally aspirated engines for an even purer driving experience. With all the suspension components exposed, the car could be easily tweaked for track use. That silhouette is instantly recognisable and we think you'd be hard-pressed to find a true petrolhead who wouldn't want to have a Lotus 7 in their ultimate garage.  
Pic: Caterham Seven
97. Lykan Hypersport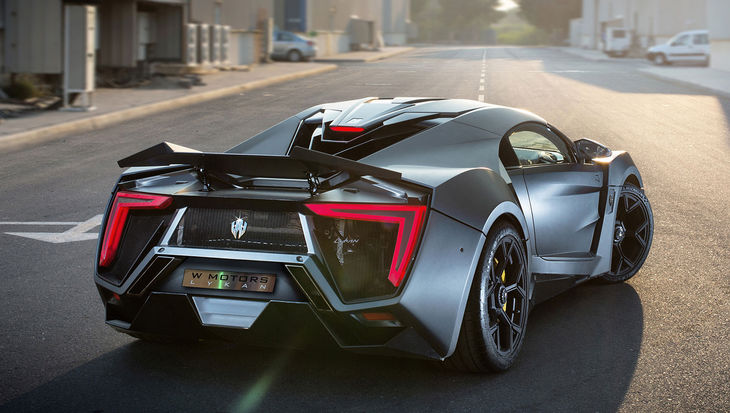 As far as limited-edition hypercars go you don't get many (if any) more exclusive than the Lebanese-produced Lykan Hypersport. Manufactured in Dubai, UAE the Lykan was the third most expensive car in the world at the time of production – it would have set you back close to US$3.4 million (the equivalent of R49 million)! Standard kit included jewel-adorned headlamps with titanium LED blades containing around 420 diamonds, a holographic display system with interactive motion features and gold-stitched seats. In terms of performance a mid-rear-mounted twin-turbocharged 3.7-litre flat-six, good for peak outputs of 582 kW and 960 Nm, culminated in a near-400 kph top speed.
96. Ferrari 430 Scuderia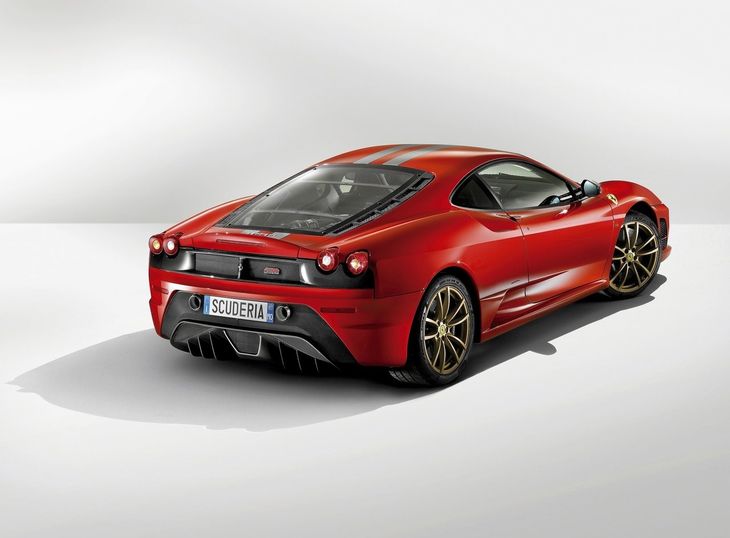 This model was revealed at the pinnacle of the Maranello-based F1 team's success. It brimmed with F1 tech and was developed by one Michael Schumacher to be a track car that could make the odd trip to the shops. It was some track car too; it beat the Ferrari Enzo's lap time around Ferrari's Fiorano test track. And, that time from what was essentially Ferrari's entry-level model, all thanks to lightning gear shifts from Ferrari's F1 Superfast 2 transmission, 100 kg less weight and a clever e-differential. A nerdy Ferrari for sure, but one you didn't want to mess with.  
95. Opel Speedster/Vauxhall VX220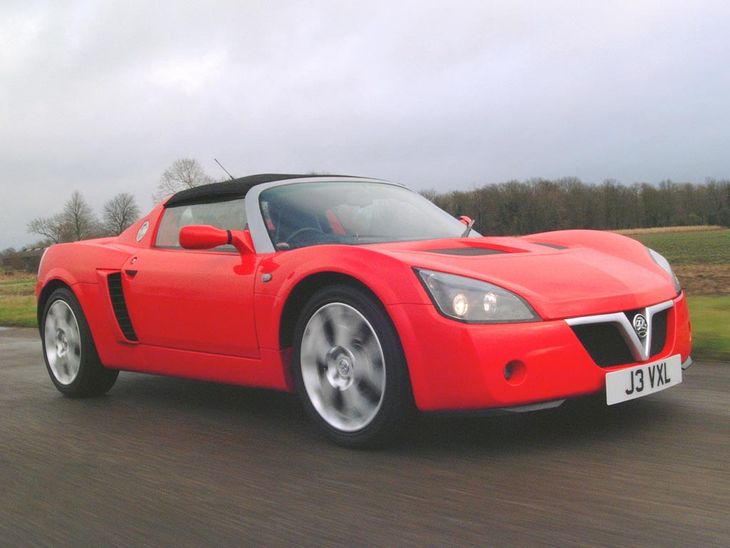 Sceptics thought that ever-sensible Opel would never be able to pull of the Speedster, which was based on a Lotus Elise chassis. It first came with 108 kW (later upgraded to 149 kW), but because it weighed just 875 kg, it was an elemental drivers' car and delightful track toy. Critically acclaimed, and by virtue of being more powerful than the period Elise, the Speedster/VX220 won numerous awards for design and performance and was slightly more practical and easier to live with than the Lotus. Unfortunately, it was never officially made available in South Africa.
94. Mercedes-Benz U4000 Unimog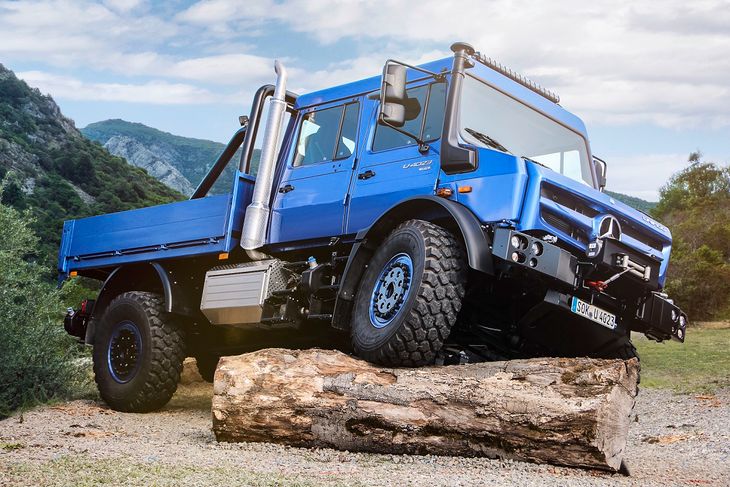 Mercedes-Benz markets an exhaustingly broad portfolio of products, but none are cooler than the Unimog. Officially the world's best off-road vehicle since 1947, Unimogs have such amazing ability that they've never had any rivals. Mercedes doesn't even do much to market them because nothing else compares and customers know what they are getting. The list of Unimog specific off-road innovations is remarkable. Mercedes engineers wanted to give it true "fallen-log-proof" ground clearance, so they thought, "why don't we put gears in the wheels, thereby raising the side-shafts above hub-height?"
Other brilliant Unimog specific engineering feats include a steering column and pedal-box which is left- to right-hand drive convertible, a first-to-reverse rocking transmission function, which enables the Unimog to, in most instances, extricate itself in the extremely unlikely scenario of getting stuck. And to avoid the toil of getting out in mud, or scorching heat, to deflate or inflate tyres, the Unimog has a central tyre pressure management system. The accessories are otherworldly too. How many brochures offer you a selection of hydraulic crane mounts or 4 individual suspension seats, available from the factory?
93. Plymouth Prowler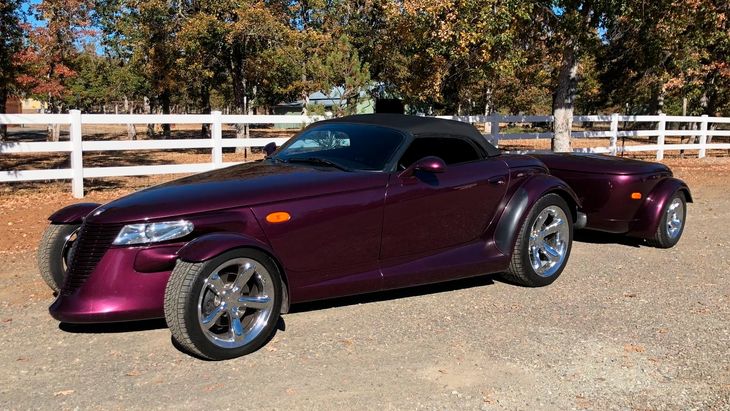 The Plymouth Prowler is what happens when a design team gets given free rein. It's not often the case that the production car looks almost exactly like the initial concept, but Chrysler turned every kid's hot rod sketch into a real-life car by releasing this gem in 1997. Yes, it should have had a better gearbox and a V8 engine (instead of a 160-189 kW V6), but it has to rank as one of the coolest looking cars of all time. The Prowler came with many luxury features but did have a tiny boot. Owners could, however, order a matching trailer for extra luggage space.
92. Aston Martin Vantage V12 manual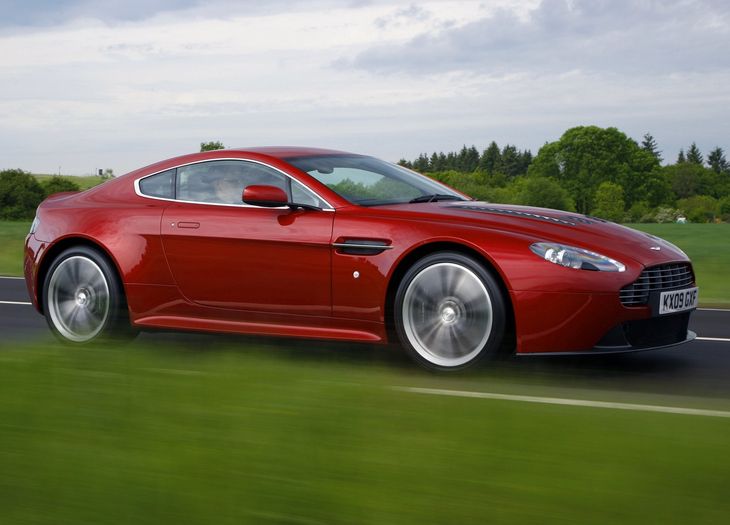 The Aston Martin V12 Vantage is cool mostly because it exists. In an era of downsizing and flappy paddles, "V12" and "manual" are very rarely seen together. But in a beautifully crisp middle finger to modernity, Aston Martin shoved its largest engine into its smallest car and gave the driver a gear lever. This resulted in one of the lairiest cars ever and turned the svelte Vantage into a ferocious supercar. Only a handful were made and the lucky owners are probably custodians of the last V12 manual supercars ever made. Heck, it could even be the last manual supercar ever made...
91. Wiesmann MF5 Roadster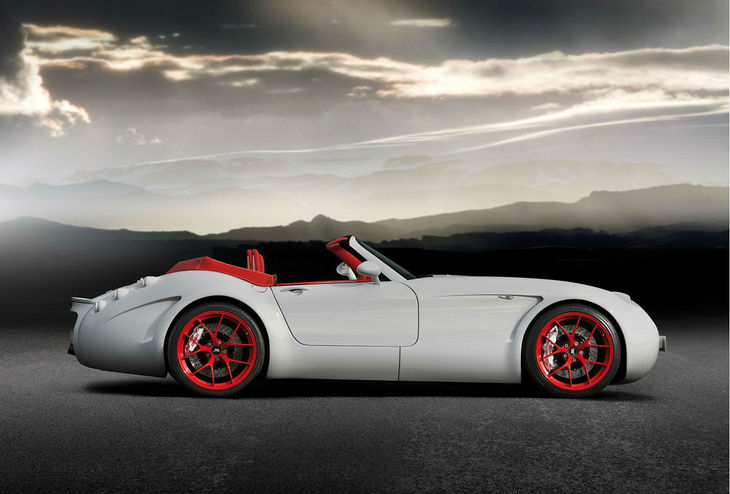 When BMW was involved in F1 in the Noughties, the Munich-based marque produced a screaming 5.0-litre V10 (mated with an SMG III transmission) and installed it in its E60 M5 super saloon and E63/E64 M6. That's all good, but what if you found the M5 humdrum and the M6 Coupe and Cabriolet, well, unsightly? And what if you had a wad of cash in your pocket and didn't want to see a brilliant V10 go to waste? Well, German specialist sportscar manufacturer Wiesmann, which was founded in 1988 by Martin and Friedhelm Wiesmann (hence the MF model nomenclatures) builds handmade, fibreglass-bodied sportscars powered by engines and transmissions officially supplied by BMW.
Only 55 units of the MF5 Roadster, with its sublime retro-inspired contours, indulgent detailing and best of all, glorious Bavarian V10 soundtrack, were said to be produced. With an excellent power-to-weight ratio, the Wiesmann could catapult from 0 to 100 kph in 3.9 seconds and go on to a top speed of 310 kph. Be honest, who wouldn't want a boy's own rapid ragtop made by a company with a gecko for its emblem?
90. Jaguar F-Type Project 7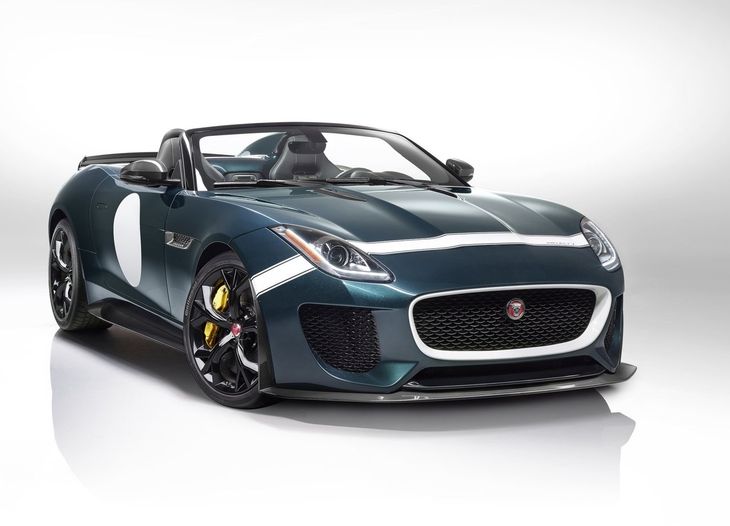 When you try to recreate something as iconic as a D-Type Jaguar, things can go very wrong. With the Project 7, Jaguar kept the trademark single roll hoop design and plugged it onto an F-Type chassis. Then they gave it the most powerful engine ever bolted into a Jaguar and limited production to just 250 units worldwide. Jag wanted to make it a proper throwback model, so there is no roof, which saves weight, and reworked the suspension to make it a bit more of a track-focused tool. Even if you never take it to a track, you can just stare at it all day long.
89. Lotus Elise 1.8k (1996-2001)
Lotus is a brand forgotten by many, but if you value the purity of driving, the launch of the original Elise was a monumental occasion. There's nothing spectacular about its speciation, but for the low weight, which was only 725 kg – and the design, which still looks contemporary and striking, more than 20 years later. The chemically bonded chassis was technologically decades ahead of anything else and that made for a road car with levels of agility, fluidity and driver feedback that have, perhaps, never been equalled.
As an ownership prospect, the original Elise was brilliant too. Its 1.8-litre naturally-aspirated Rover engine was charmingly uncomplicated, which meant these 1st-generation Elises proved utterly reliable and although they only had 88 kW, the balance of performance was perfectly harmonised with all other components.
88. VW Corrado G60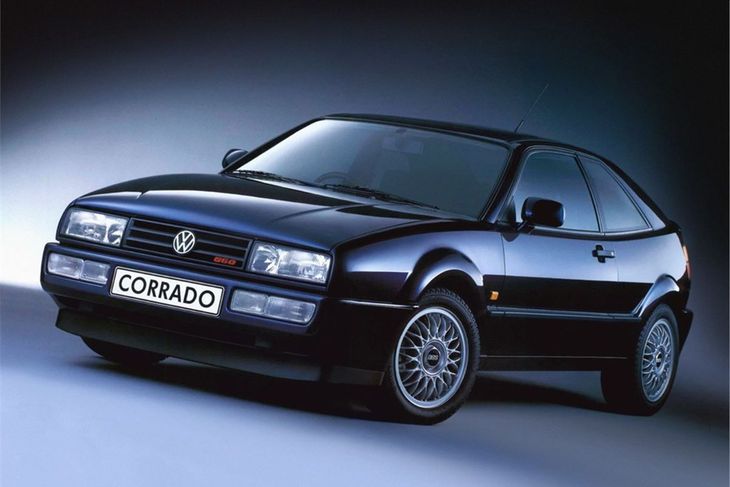 In between the 2nd and 3rd generations of the Volkswagen Scirocco (the former of which was regrettably never sold in SA), VW produced a svelte coupe based on the Golf MK2 platform, named the Corrado, which instantly became the poster car for local Volkswagen fans. The supercharged 1.8 litre engine only made 118 kW from the factory, but was infinitely tunable. The Corrado graced the cover of many performance car magazines in the '90s, but the G60 didn't just look good – performance enthusiasts agreed that it was one of VW's best driver's cars. VW later produced a 2.8- and 2.9-litre VR6 versions, but although there are a handful of imported examples in our market, the brand did not officially sell the Corrado in SA.
87. Mercedes-Benz SLS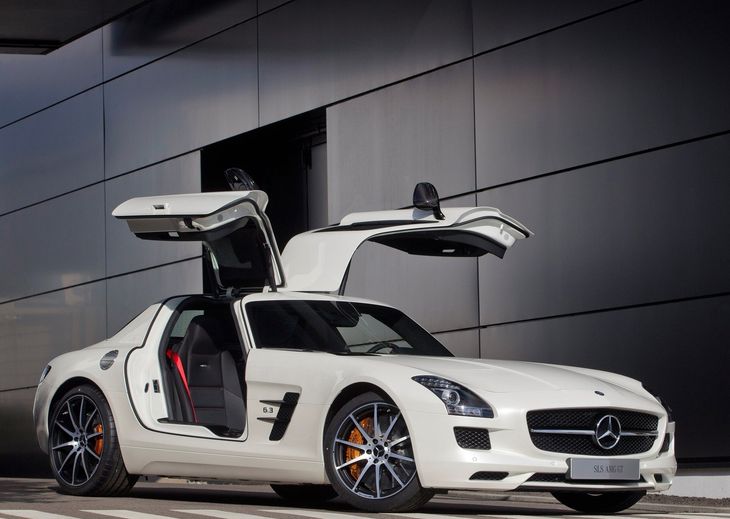 If there's a brand renowned for paying homage to its classics, it's Mercedes-Benz. The SLS is a nod to the iconic 300SL Gullwing, which is highly likely to appear elsewhere in this list, and features outrageous gullwing doors, which open upwards, giving it a look not too dissimilar to that of an eagle swooping on its prey. It was powered by a 6.2-litre naturally-aspirated V8 engine with a claimed top speed of 315 kph. It made a tremendous noise at full throttle that sounded like a Highveld thunderstorm, but it was awkward to drive around in an urban environment thanks to its long nose. It was also one of the few vehicles assembled by hand, at the same facility Mercedes-Benz uses for G-Class and the first vehicle built entirely by Mercedes-AMG. The final coolness factor? F1 driver David Coulthard had a hand in developing the car.
86. Alfa Romeo Giulietta/Giulia Sprint Speciale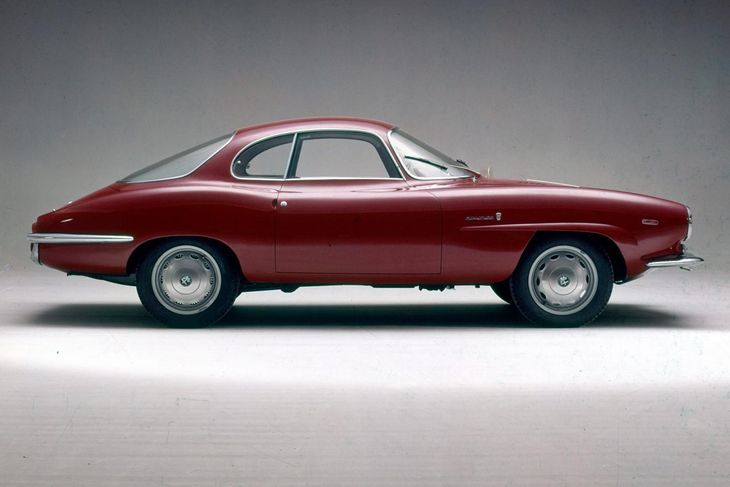 Whether in early Giulietta spec (1.3-litre engine) or the later Giulia (1.6), these diminutive Alfas are highly desirable these days because of their limited build (around 1 400 of each), and their beautiful design. Conceived to be competitive racers, the Sprint Speciales were incredibly aerodynamic. Their 0.28 drag coefficients were unbeaten for decades and helped them achieve high top speeds with comparatively little power from their very vocal twin-cam engines.
85. GMC Syclone (1991)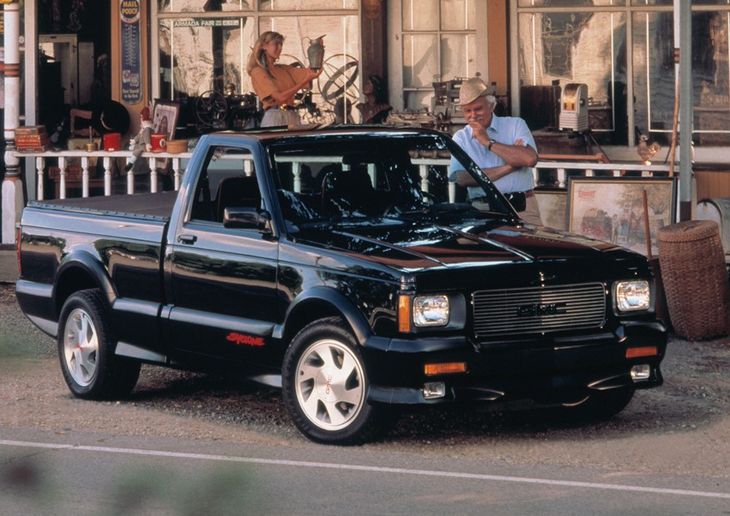 Ford's Ranger Raptor is a desirable bakkie, but if you seek the ultimate in sleeper single-cab cool, it's this General Motors Syclone. When you name a product with purposefully incorrect spelling, it had better be good and GMC's engineers made sure the Syclone didn't disappoint.
Wonderfully impractical, it was built as a pure tarmac robot-to-robot racing machine, shod with tyres completely unsuitable to even the most moderate of gravel routes. Despite a complete lack of any off-road or workhorse functionality, the Syclone featured a permanent all-wheel-drive system purely in the interests of ensuring optimal traction during dramatic bursts of acceleration.  It was the first bakkie equipped with ABS and that was quite a necessary safety feature, as the GMC's 4.3-litre V6 engine boosted to 209 kW, good enough for a 0-100 kph time of 4.5 seconds. To put that in perspective, that was faster than a comparative 911 Carrera of the day.
84. Renault R8 Gordini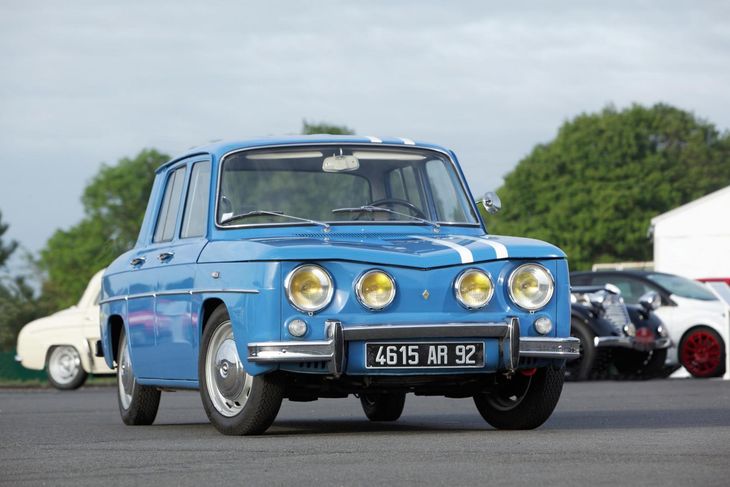 Successor to the Dauphine, the R8 retained a rear-engined, rear wheel drive layout, along with tail-happy, 'widow-maker' handling. But, as before, Amedée Gordini was called in to work his magic. Initially powered by a lightly breathed upon 1.1-litre, 1966 saw the addition of double headlights, a five-speed gearbox and a re-engineered 1255cc motor. These enhancements turned the blue-hued twin white striped tyke into a rally winner with a serious cult following. The man behind Gordini, Amadeo Gordini, was nicknamed 'Le Sorcier' (the Sorcerer) and South Africa's 1979 F1 world drivers' champion, Jody Scheckter, famously campaigned his creation.
83. Volvo P1800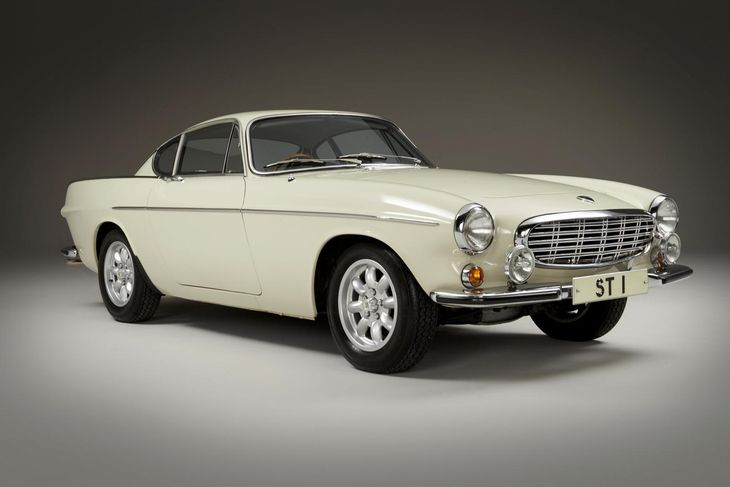 For Volvo, a manufacturer renowned for its predictable, if inoffensive, blocky car designs (a reputation the Swedish firm was quite proud of, we might add), the sensually styled and the exceedingly elegant P1800 from the Sixties is a masterstroke. When a volume manufacturer of run-of-the-mill family cars produces something as delectable as the P1800, as Volkswagen did with the Karmann Ghia, it represents a source of guilt-free indulgence for collectors of exotic cars: no-one is likely to brand you a snob or conspicuous consumer when you're at the wheel of a P1800!
Styled by Pelle Petterson under the tutelage of Pietro Frua when the latter's studio was a subsidiary of the Italian design house Ghia, the P1800, with its speedboat-like profile, plunging roofline, swooping chrome and subtle rear fins was produced by Jensen in the UK. It may be one of the most unSwedish Volvos ever produced, but the P1800 and its derivatives have proved very influential (the rear hatch of the C30 was inspired by that of the P1800ES, for example). Also, the P1800 was driven with panache by Roger Moore in The Saint on TV.
82. Bugatti Veyron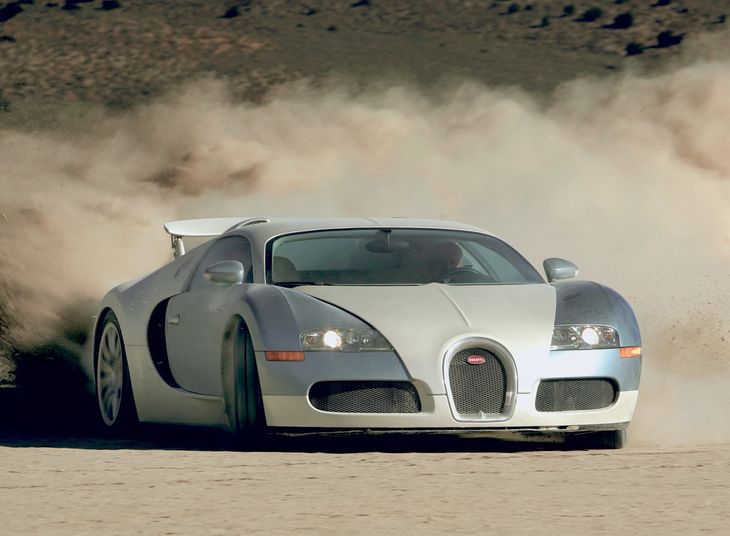 It's not very pretty, is it? 10 out of 10 for drama, but the overly bulbous shape has not aged terribly well. But, come on people, the Veyron was conceived to do one thing: hit 400 kph without breaking a sweat (or break down). The swansong of Ferdinand Piech, the outgoing boss of the VW group and Ferdinand Porsche's own grandson, he wrote down a list of demands on a napkin, handed it to the engineers and wished them well. It took well over 7 years to get it right and by the time they'd got the Veyron to market, the Volkswagen Group lost hundreds of thousands of euros on each car, despite the million euro price tag. However, it did everything they claimed it would.
The Bugatti was an all-wheel-drive, quad turbo, W16 monster that simply bludgeoned the air in front of it on its way to its frankly ridiculous top speed. Horrendously expensive to own, and probably prone to high depreciation, I don't know many people who want to actually own a Veyron, but I think every petrolhead on earth would love to drive one. 
81. Cadillac Eldorado Biarritz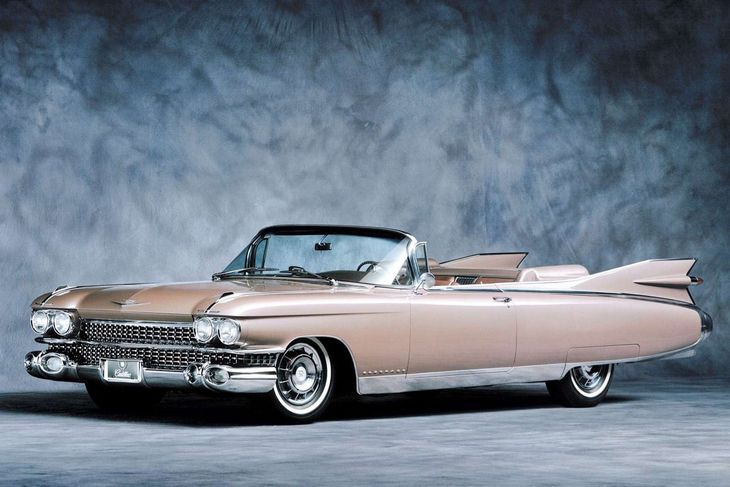 Regarded by many as the most recognisable Cadillac of, possibly, all time, the 1959 Eldorado Biarritz convertible is the perfect poster child for a period in '50s and '60s America when chrome and big fins were the order of the day. It has starred in many a TV series, Hollywood movie or music video due to its outlandish styling. Under all of that chrome is a 6.4-litre V8 with around 260 kW on offer. Will any modern American car ever be able to match this Caddy's coolness?
80. Aston Martin Vanquish Zagato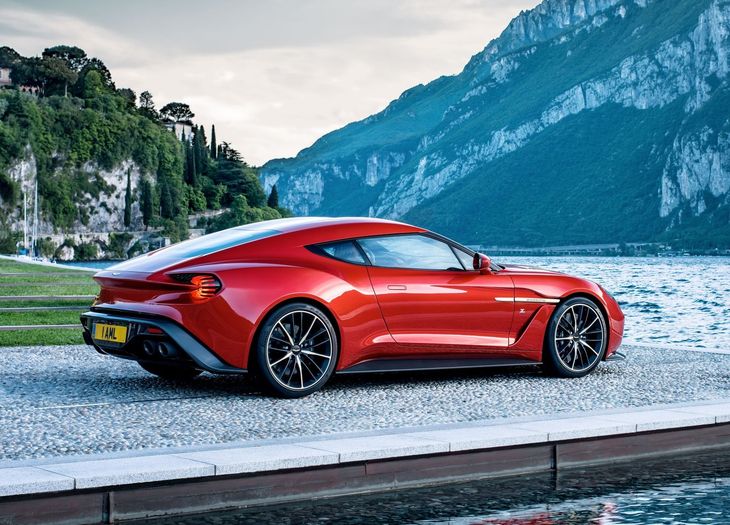 Modern Aston Martins are so good looking that you'd be forgiven for not knowing anything else about them. The Vanquish's status as a cool car was never really in doubt but a collaboration with Zagato pushed it into the pantheon of greats. One of the most modern cars on our list, the Aston Martin Zagato family of vehicles debuted in 2017. First up was good ol' fashioned coupe, with a revised rear-end treatment. A Volante ragtop followed but then, in a one-two punch of petrol-headed hedonism, Aston released Speedster and Shooting Brake versions. Everyone knows applying the words "shooting and brake" to anything makes it instantly cooler, but with the Zagato treatment, it is quite possibly the most desirable shooting brake on the planet.
The Speedster of which only 28 were ever made, featuring carbon fibre body panels and bespoke speedster humps on the rear deck, harking back to Zagato's earlier double-bubble rooflines. All the versions were powered by Aston's discontinued 6.0-litre naturally aspirated V12, tuned to produce a nice round 450 kW. Sure the Zagato range could cynically be viewed as a giant marketing exercise, but when the result is this appealing, we don't think anyone really cares.
79. Audi RS4 Avant B7
A little more than a decade ago, Audi played 2nd fiddle to BMW's M products and based on the lukewarm B7-generation S4, everyone thought it'd stay that way. Almost out of the blue came the RS4, a far more engaging and powerful super sedan. Even if many will argue that equivalent BMW M3s of the time, the 4.0-litre V8-engined E90/92/93 were better sportscars, the Audi was more practical, easier to drive quickly and just purposeful enough not to make its owner look like a showoff. It was also available in Avant (station wagon) guise, which doubled its coolness factor. Has there ever been an uncool Audi station wagon? No. The RS4's naturally-aspirated 4.2-litre V8 was a glorious sounding unit, which sent 309 kW to all 4 wheels courtesy of quattro.
78. Lamborghini Diablo SV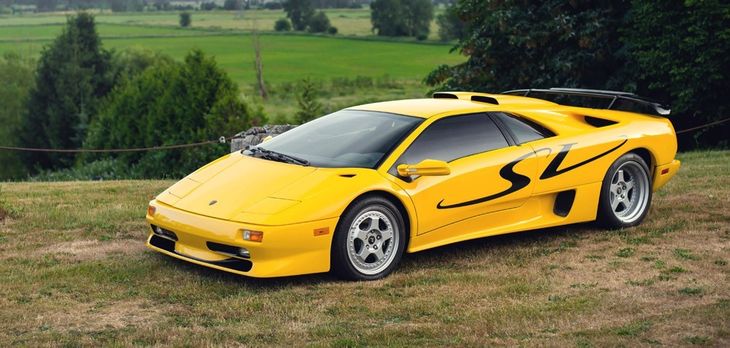 The replacement for the iconic Countach was named after a fighting bull, of course. And loosely translated its name literally means "The Devil", which was apt, as the 380 kW rear-wheel-drive Super Veloce would have been demonic to pilot on anything but grippy surfaces. The SV was the entry-level Diablo, but featured an adjustable rear wing, larger brakes, revised bumpers, extra cooling ducts and the coolest sticker ever to be placed on a production car.
77. De Tomaso Pantera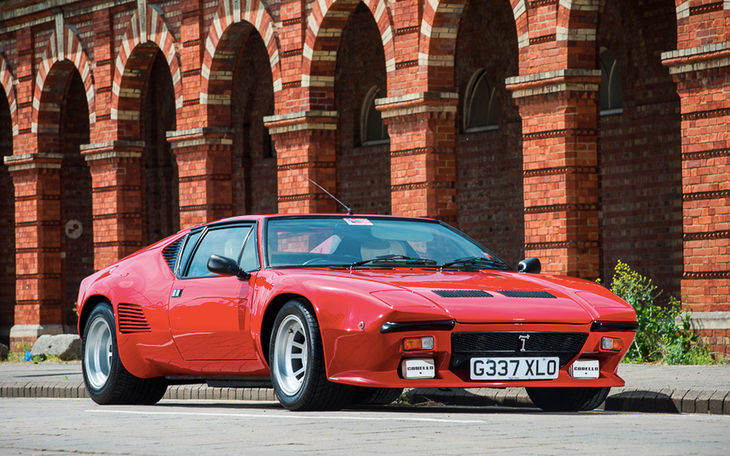 Classic Italian sportscar styling, courtesy of Ghia's Tom Tjaarda and American V8 muscle (Ford's 351 Cleveland motor) promised much, but early rust-prone Italian production woes and the onset of the 1973 fuel crisis put the skids on Pantera sales just as Ford had begun to dial in more build quality. The Pantera soldiered on and gained a Countach-aping spoilers-and-skirts wide-body kit before receiving a full facelift from Marcello Gandini himself. De Tomaso was not a small sideline manufacturer, it actually owned Maserati from 1976 to 1993.
76. Lotus Esprit S3 turbo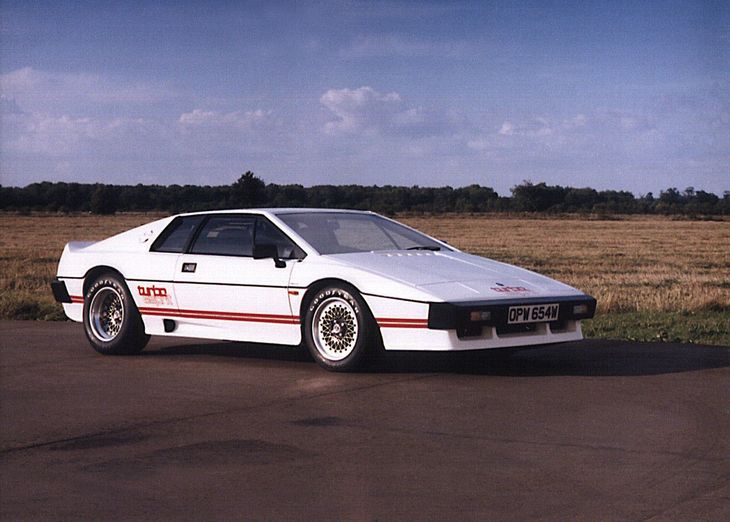 The Esprit may look like an old door stop but this was one seriously cool car. James Bond spent a fair amount of time swapping out Esprits as they developed, but the S3 was used in the film For Your Eyes Only where it blows itself up and then a replacement model reappears at a Ski Resort some time later. The Esprit had a relatively long life, first being produced in 1976, the final Esprit rolled off the line in 2004. The S3 turbo developed 160 kW from its 2.2-litre motor when mated with a 5-speed manual 'box. It's arguably the coolest looking Eighties sportscar.
75. Volkswagen Golf 2 GTI 16V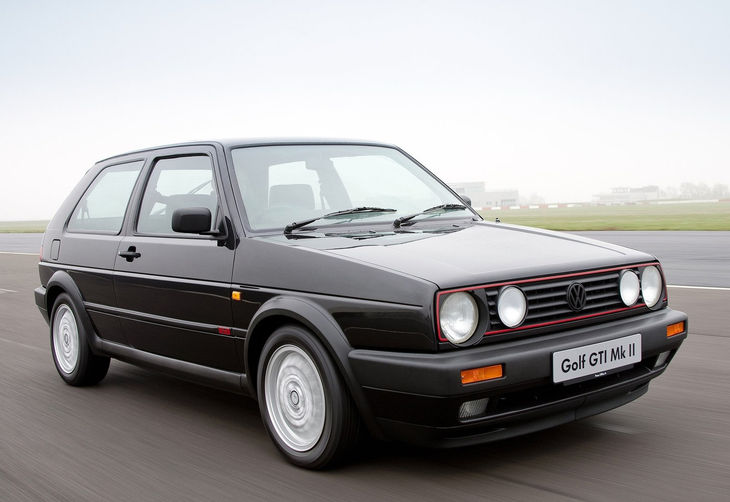 Many petrolheads consider the Mk2 the best Volkswagen Golf GTI of all time. Available in a few variations, the 2.0-litre 16-valve power plant produced 110 kW/175 Nm of naturally aspirated fury that propelled it to 100 kph in around 9 seconds. It featured all the hallmarks of the first GTI, including red pin stripes and GTI insignia. From a design perspective, the Mk 2 boasted notably bigger dimensions than the original with a beefier rear-end that endeared it locally with the nickname "Jumbo" Golf, inspired by advertising material of the time. Finding a clean example is tough; it can fetch an obscene amount if found in as close to original condition as possible.
74. Pontiac TransAm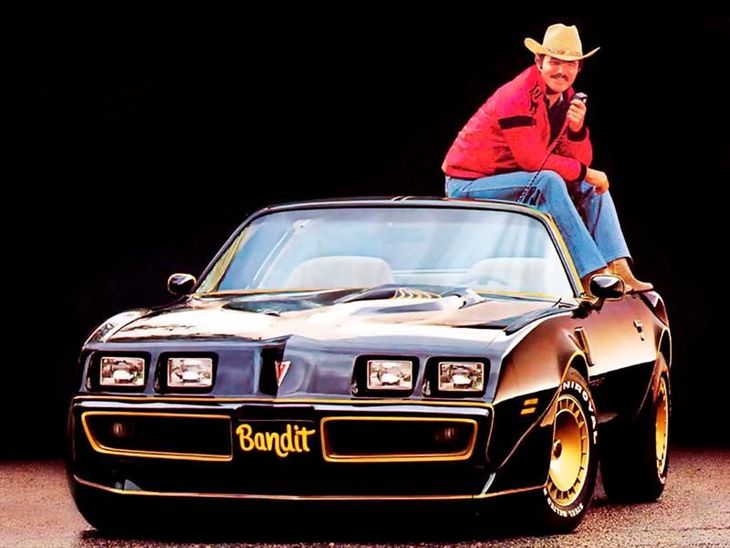 More specifically, the one driven by Burt Reynolds character in Smokey and the Bandit.  For most it was the first time anyone had ever seen a car go THAT sideways and many of us tried to replicate some of those stunts, albeit unsuccessfully.  Smokey and the Bandit grossed more at the box office than Star Wars in 1977, in large part thanks to what was, effectively, excellent product placement by Pontiac. From a time when smoking on planes wasn't yet frowned upon and doing your own stunts was mandatory, this car was, and still is, the very definition of cool.
73. Land Cruiser 70 4.5 EFi Pick-Up (1993-2009)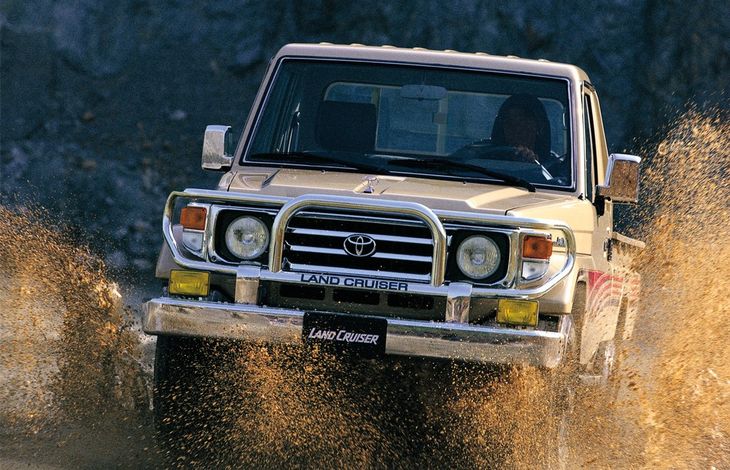 There's only one bakkie range that makes a Hilux look soft and that is the Land Cruiser. A curious blend of over-engineering in certain aspects, and utilitarian simplicity in others, the Land Cruiser bakkie's reputation is deserved. But there's a specific series which is more noteworthy than others: the true Kalahari Ferrari. That honour belongs to the 4.5-litre EFi inline six petrol Land Cruisers, produced from the mid-1990s until 2009. You can only imagine what a big-block naturally-aspirated inline 6 petrol engine sounds like being throttle blipped in low-range.
The EFi Land Cruisers established a reputation as unbeatable desert exploration bakkies, due to the generous spread of their power delivery, originally 145 kW, but rated at 162 kW towards the end of its product lifecycle. With so much power peaking much later in the rev-range than any comparative diesel engine, you required fewer gear changes in the dunes and that resulted in these inline 6 'Cruisers being capable of amazing sand scaling feats. Sounds like a Supra. Goes anywhere. Never suffers mechanical failure. How cool is that?
72. TVR Sagaris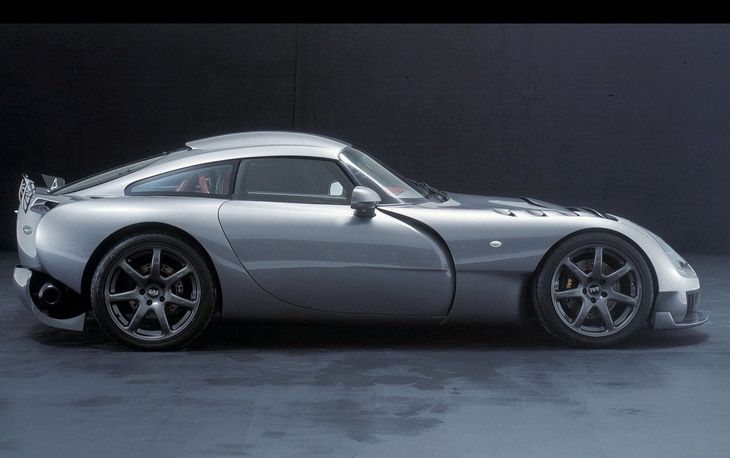 There are a number of things that make the Sagaris cool. Firstly, it's named after a brutal hand axe. Secondly, the exhausts protrude sideways and finally, it had no door handles. You gained access via a button under the mirror. It was powered by a 4.0-litre straight-6 engine with 298 kW and 451 Nm of torque and came mated with a 5-speed manual transmission. The Sagaris was capable of brutal performance, sprinting from 0 to 100 kph in 3.6 seconds before reaching a top speed of 310 kph. However, the lack of ABS and traction control combined with an exceptionally light fibreglass body made for some hilarious (or widow-making) handling. Just look at it!
71. Citroën SM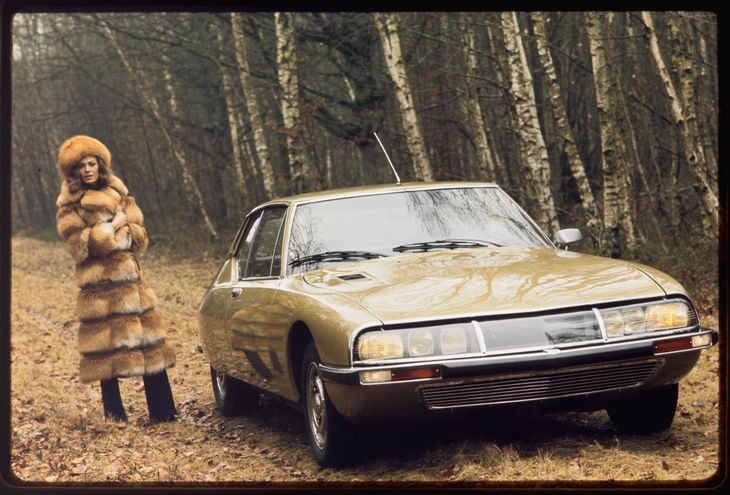 The SM was probably the car that ignited Cars.co.za Consumer Experience Manager Hannes Oosthuizen's interest in motoring. While growing up in a small dorpie in the Swartland, Hannes spent many an afternoon ogling his neighbour's SM. The front-wheel-driven French grand tourer's exterior design, with its characteristic 6-headlamp front end, looked spectacularly otherworldly.
It was also a very advanced car for its time, over and above a hydro-pneumatic self-levelling suspension (carried over from the DS), the SM featured self-levelling (and directional) lights, carbon-reinforced resin wheels and a variable assist power steering (which resisted torque steer). That Maserati engine made quite a cool sound too, Hannes notes.
70. BMW Z8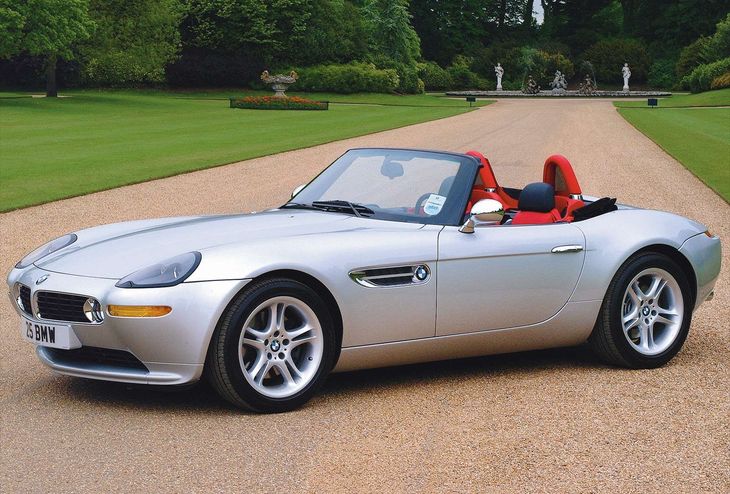 Designed by Chris Bangle (yes, he who penned the controversial E65-generation 7 Series) as an homage to the breathtaking BMW 507 of 1956, the Z8 turned from concept to reality in 1997. Not only was it visually striking, but it boasted the same V8 engine as the E39 M5. With 294 kW and 500 Nm, it offered more-than-respectable performance, even though it was criticised for its imprecise handling and numb steering. It also made a cinematic debut in the James Bond film The World is Not Enough, but sadly it was chopped in half by a helicopter wielding some tree-felling blades. Cue the cringing as the metal discs sliced through the beautiful bodywork.
69. Porsche 968 ClubSport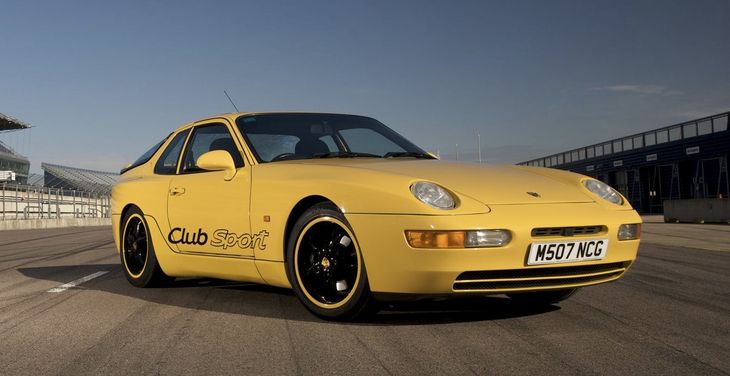 These days, track day specials come in all shapes and sizes and often cost more than the cars they're based on (even though they have fewer parts). In 1993, not many race-car-for-the-road options existed, so Porsche stripped out a 968 and sold it at a discount. The 176 kW Porsche 968 Clubsport was voted a better driver's car than the BMW M3 of its era and the mid-engined NSX by Autocar and Performance Car magazine. Lower weight and a track biased chassis meant it handled better than most performance cars of the day, which were not suited for track use. Another unusually cool feature was that it had a 3.0 engine, but with just 4 cylinders.
68. Pagani Zonda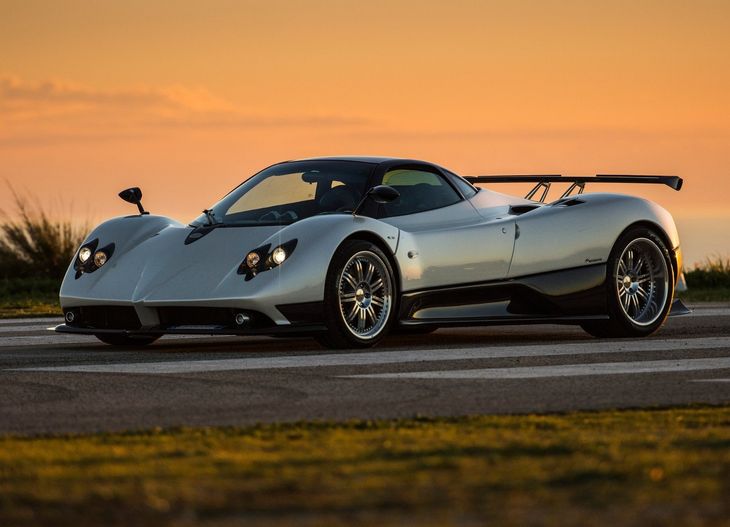 Setting up shop down the road from Italy's iconic supercar makers, Argentinian-born Horacio Pagani immediately set about upsetting the establishment. After signing a deal with AMG (now Mercedes-AMG) to supply the hottest versions of their V12s ever made, the Zonda announced itself on the supercar scene like somebody who actually speaks up at a wedding when the priest asks if there is anyone who objects to the marriage. Devastatingly quick, loud and outrageous to look at, the process of buying a Pagani is probably cooler than the car itself. If you have around R80 million kicking about, you will be flown to Italy where Horacio will personally work on your car with you, for as long as it takes to make you happy, or until your money runs out.
67. Land Rover Defender 2.8i (1997-2001)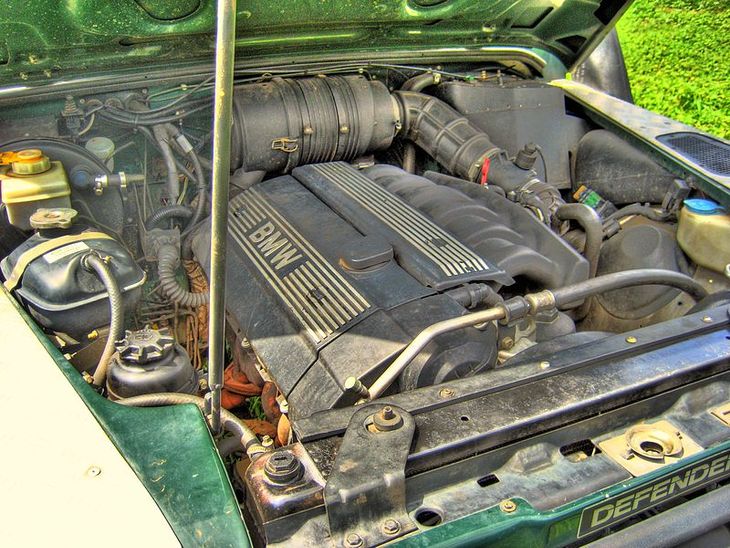 The Land Rover Defender is not known for its throttle response or highway cruising ability. However, a uniquely South African solution to those issues happened in the mid-1990s (when BMW briefly held control of Land Rover). Engineers at Rosslyn transplanted BMW's legendary 2.8-litre inline six into 3 Defender configurations: 90 wagon, 110 single-cab and 110 wagon.
The result was one of the most iconic 6-cylinder engines of all time powering the most recognisable 4x4 of all time. A brilliantly integrated conversion meant uncharacteristic powertrain reliability (for a Land Rover) and crucially, a linear power peak which enabled these South African Defenders to overcome their greatest off-roading weakness: crossing towering dune fields. It also meant most Defender 2.8i owners arrived at their destinations in daylight hours, instead of midnight, thanks to the swift cruising speeds these "BMW" Landys were capable of.
66. Mazda RX7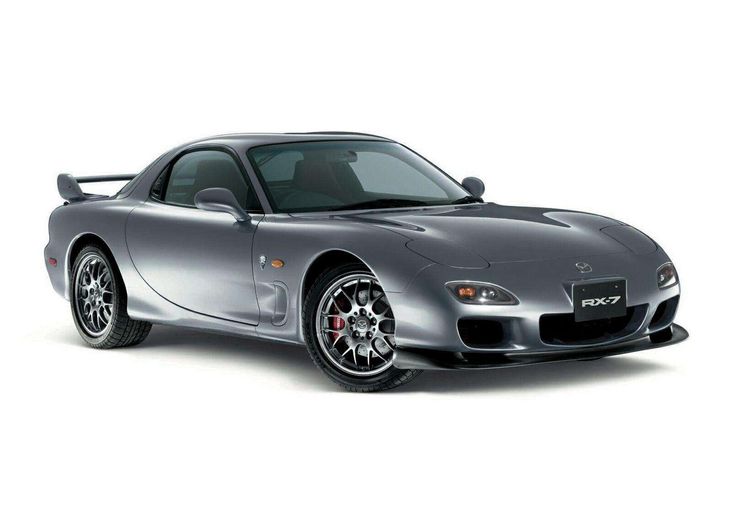 The rotary-powered Mazda RX7 has remained part of car enthusiasts' collective unconscious by virtue of its unique engine. A rotary engine has no pistons, but owes its rotating motion to the process of pressure conversion. The final FD generation boasted twin sequential turbocharging. With 206 kW and rear-wheel drive, the RX-7 was a joy to drive. It won numerous motorsport events too, notably the 1991 Spa 24-hour event. There was even a rally version!  It was popular among the tuners and once you'd mastered the intricacies of the Wankel engine, it was near unbeatable. It even received screen time in the Fast and the Furious franchise, as Vin Diesel's pride and joy in the first instalment. A 2nd RX7 featured in Tokyo Drift, with an outrageous Veilside bodykit. As for reliability, well, there's a reason why so few of them around these days.
65. Jensen FF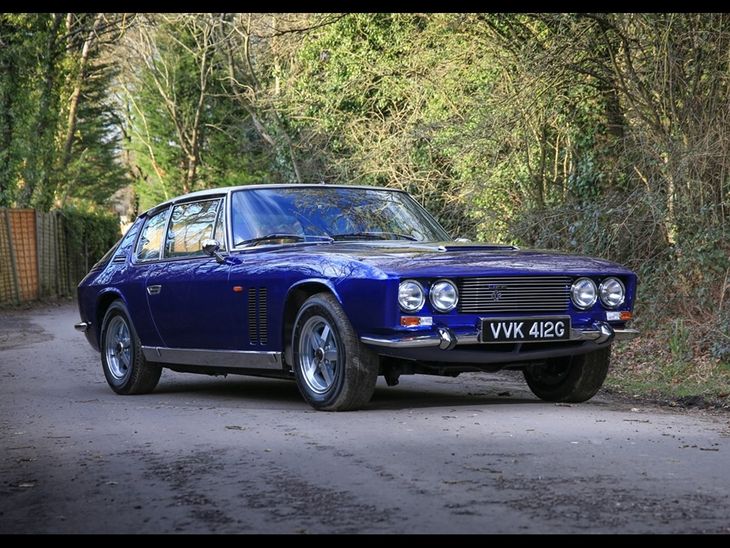 In the history book of all-wheel-drive passenger cars, this is Chapter 1... and it's a page-turner. In 1966, many, many years before Audi introduced the world to Quattro and Subaru applied gold-coloured rims and scaffolding to its Impreza to create the WRX STi road rocket, the Jensen FF (an abbreviation for Ferguson Formula) was the first production car to feature all-wheel drive and rudimentary versions of ABS and traction control.
Derived from the sinister-looking (and -named) Interceptor, the FF was hand built in Britain, its body designed by Touring Superleggera (and produced by Vignale) and propulsion came courtesy of a burbling 6,3-litre V8 Chrysler engine. But the FF's party piece was its all-wheel-drive system, which directed torque to both axles via a viscous-coupling limited slip differential in a 37/63 front-to-rear split. Thanks to its heft, the FF was not a particularly quick grand tourer, but its sure-footed handling was seen as an important safety feature. Incidentally, Ferrari's all-wheel-drive 2+2 coupe, produced from 2011 to 2016, was also called FF, but the Italian firm's abbreviation was for Ferrari Four.
Photo courtesy of historics.co.uk  
64. Opel Kadett GSi 16V S Superboss

This special South Africa-only model was built to compete in the local Group N Racing Series with the sole aim of shaming the BMW 325iS on the racetrack, a feat it accomplished in 1991 and 1992 with Mike Briggs at the helm. Powered by a famed "red-top" Opel 2.0-litre 16-valve engine, the Superboss developed 125 kW and 228 Nm of torque and featured a cabin stripped of features in an effort to reduce weight. Only 244 were built and a genuine Kadett Superboss is a rare but wonderful sight (if you are lucky enough to see one).
63. 2005 Ford GT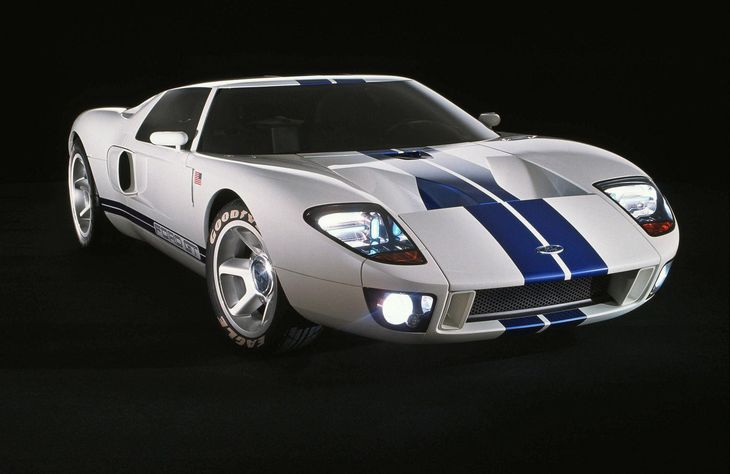 Celebrating your heritage can be a hit or miss affair and Ford knows it. Thunderbird's failure versus Mustang's success says it all. But what about a new GT40? Redoing a car that humbled Ferrari on the race track 40 years earlier was risky. Camilo Pardo, from Ford's Jay Mays-led Living Legends studio, walked that tightrope, avoiding the trap of retro pastiche and delivering a seriously cool modern homage to the original. Jeremy Clarkson liked it so much he bought one.
62. Alfa Romeo GTV6 3.0
A highlight in Alfa's history, thanks to some uniquely South African product planning. The original GTV6 was created, as many other great cars of the 1980s, to fulfil homologation requirements for circuit racing. Alfa Romeo South Africa managed to convince its Italian parent company that the entirely fantastic Alfetta coupe required a 3.0-litre high-performance engine to fulfil its true potential. This request was granted, and the result was a 128 kW GTV6, which featured dramatic styling, courtesy of a lowered stance, custom lightweight bonnet and iconic Compomotive alloy wheels. Alfisti worldwide were in awe. 
61. Bugatti EB 110 SS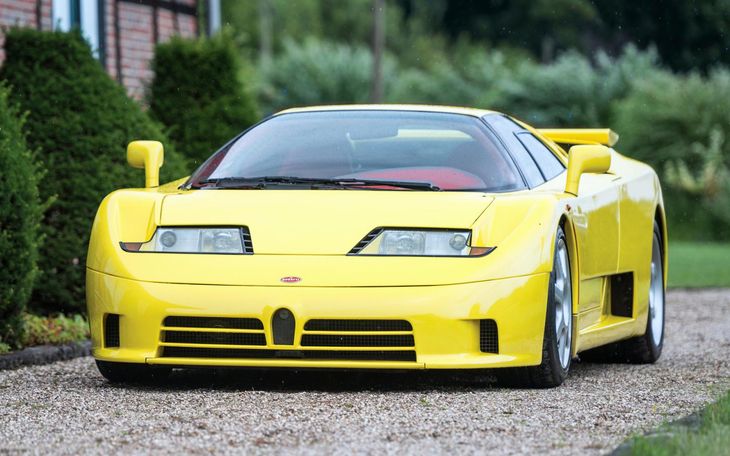 The EB 110 saw the return of the famous brand after nearly 30 years of slumber. Not the sort of brand to try something easy, the EB 110 used a 3.5-litre, 60-valve V12 with quad turbochargers and all-wheel-drive. The SS version was a lighter and more powerful version that delivered 441 kW and sent it to a top speed of 349 kph, making it the second fastest car in the world at the time (behind the McLaren F1). Even Michael Schumacher bought a yellow one in 1994 and kept it until 2003. The EB110 held the record as the fastest car on ice (315 kph) for 20 years. 
60. Aston Martin DB5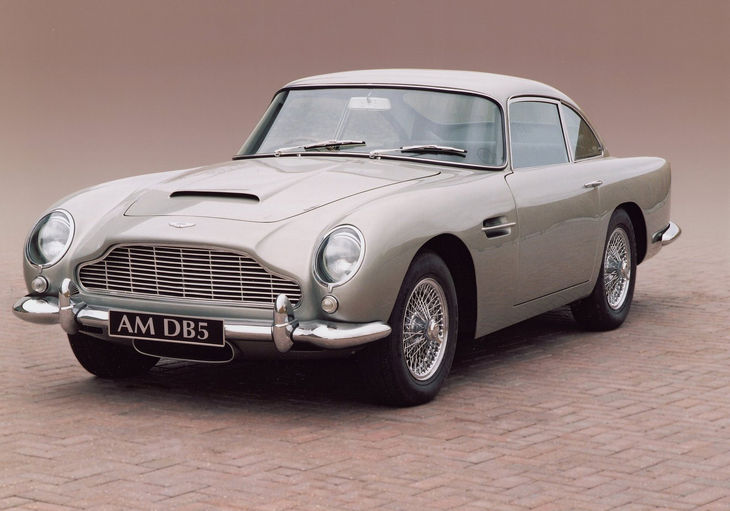 The Aston Martin DB5 is one of the most iconic sports cars ever built. An evolution of the last series DB4 it employed a tubular Superleggera design which bestowed it with an achingly beautiful facade. Many will remember it from several 007 James Bond movies, the most recent of which was Skyfall in 2012. Manufactured by Carrozzeria Touring, most DB5s were built as coupes, although a few convertibles were also manufactured. Combining luxury with performance it was never designed to be an outright sports car, but had enough poke to hit a top speed of 260 kph, courtesy of a 210 kW 4.0-litre straight-6 powerplant.
59. Renault Sport Spider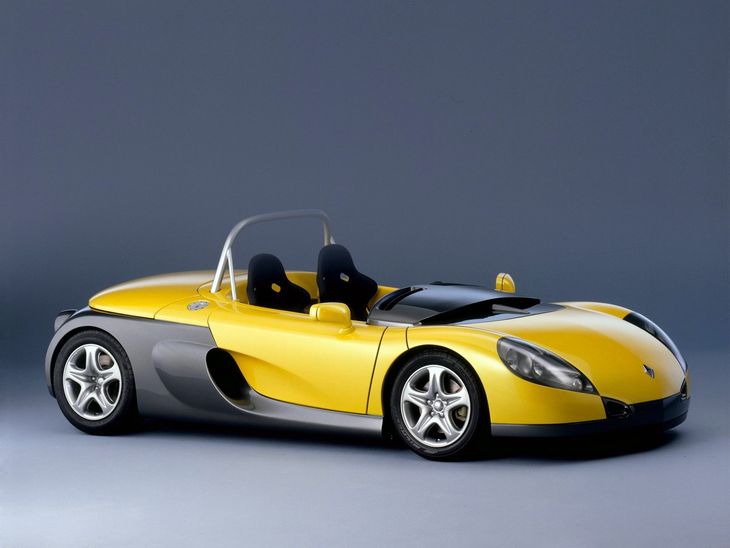 Conceived at the height of Williams-Renault's F1 domination, the Renault Sport Spider seemed to have all the ingredients for success: striking concept car style, sufficient power (110 kW, 2.0-litre lifted straight from the Clio Williams), and strong handling prowess. Perhaps it was the launch cars' lack of windscreen or the (cheaper) Lotus Elise's all-round brilliance that dissuaded buyers. Never mind, the upshot of a limited production run – just 1 685 were built – is assured exclusivity. The Sport Spider's digital speedometer was sourced from a first-gen Twingo.
58. Lamborghini LM002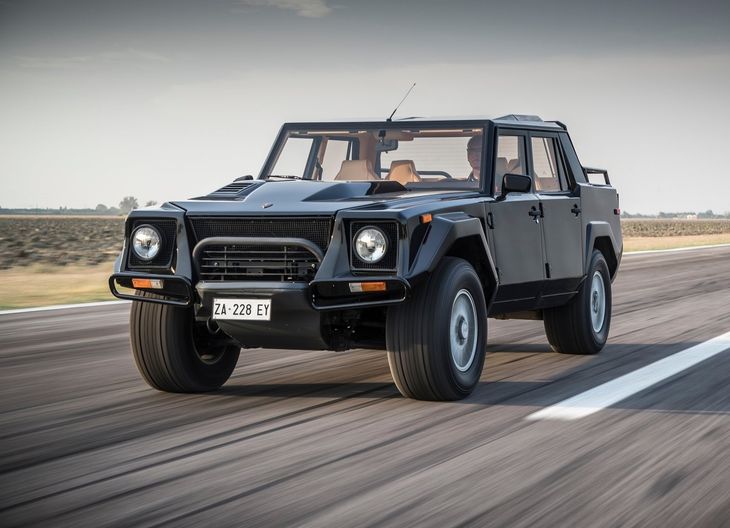 An object very rarely gains "cool" status for being functional, or for efficiently providing a solution to a problem. The LM002 is probably cool because it's just so… unnecessary. There is simply no reason for a supercar manufacturer to build a hardcore 4x4 sporting a V12 petrol engine. Filling the car up would give you just enough range to get to the next petrol station, but if there happened to be a brick wall or inconveniently placed mountain en route, you'd probably be able to drive over – or through – it. The LM002 became an icon as it is charming in its oafishness, and endearing in the boyish approach to its running gear. It also just looks so damn cool.
57. Honda NSX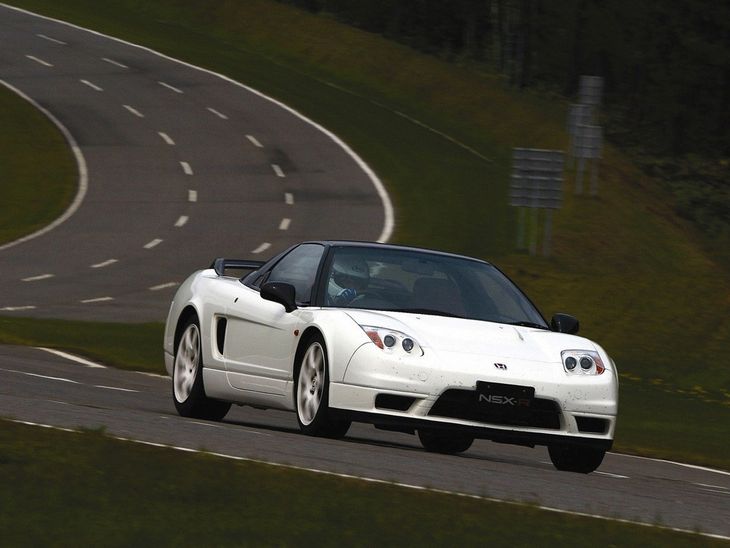 Developed to be cheaper, faster and better looking than a 328/348 Ferrari, the mid-engined V6 NSX had a cockpit inspired by the F-16 fighter jet.  It was the first production car to have a fully electric power steering system and an all-aluminium body. Then there's THAT video of Ayrton Senna hustling it around Suzuka, showing us that when driven properly, the NSX was a tool for going very, very fast. The NSX's production spanned from 1990 all the way to 2005 and our personal favourite, the NSX-R, has now become a collector's item among enthusiasts.
56. Mercedes-Benz 600 Grosser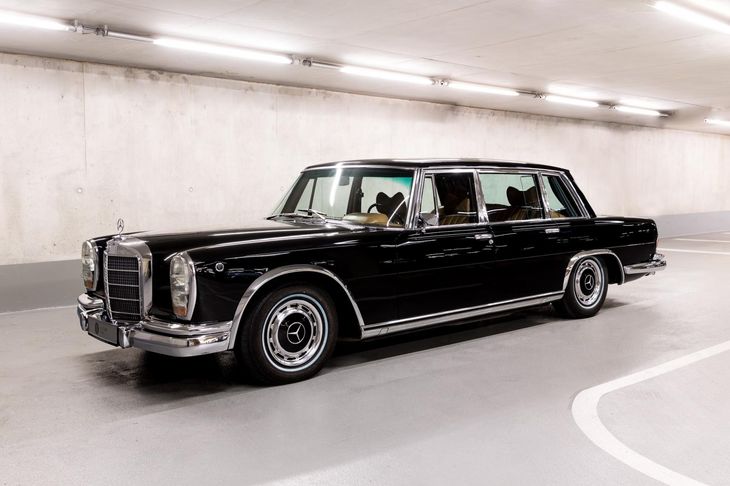 In its quest to build the ultimate luxury limousine, Mercedes-Benz launched the 600 Grosser in 1963. It was a complex, ostentatious and expensive behemoth, easily dwarfing other luxury cars of its era. The Stuttgart marque's client list included shipping magnate Aristotle Onassis, Hollywood royalty Elizabeth Taylor, The King Elvis Presley and even infamous Ugandan dictator Idi Amin. Powered by a 6.3-litre V8, the limousine developed 224 kW, of which 37 kW was reserved to operate the 150-bar hydraulic system. In the Sindelfingen-based brand's obsession to ensure whisper-quiet operation, Grosser's hydraulic system powered the windows, sunroof, boot lid and automatic doors. An adjustable pneumatic suspension contributed to the W100's effortless wafting ability.
What's more, the Three-pointed Star adorning the massive grille was enlarged by 20% to compensate for the car's bulk. Available in landaulets, Pullman limousines and sedans, it was the ultimate presidential car. Today, even its spiritual successors, the Maybach and Mercedes-Maybach S-class fail to match this Teuton's sheer grandeur. 
55. Dodge Challenger SRT Demon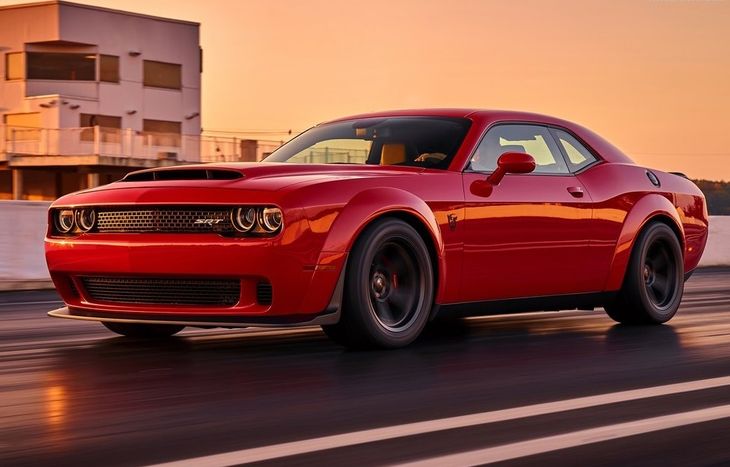 The Dodge Challenger SRT Demon is cool because it's the world's first production car to lift its front wheels at launch and holds the Guinness World Record for the longest wheelie from a standing start by a production car at 0.9 metres. It also holds the record for the highest g-forces at 1.8g ever recorded at launch in a production car. The SRT Demon brings brutal power to the road with a supercharged 626 kW 6.2-litre V8 engine that develops 1 044 Nm of torque. Zero to 100 kph happens in 2.3 seconds and it will smash the quarter mile in a mere 9.65 seconds.
54. BMW 507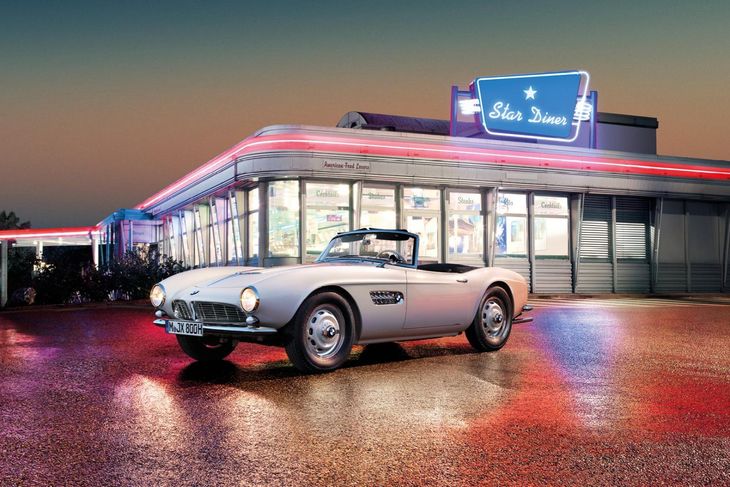 BMW's designs have been pretty derivative at times, but this marque has also produced some belters. Take your pick from the 3.0 CSL (Batmobile), the E30 M3, the M1 supercar or even the modern-day Z8, but for me the most beautiful BMW ever made is the 507. Produced in very limited numbers in the late 50s, it was eagerly snapped up by wealthy, famous people. Fred Astaire had one. As did Ursula Andress. And Elvis Presley… need we go on?
53. Porsche Carrera GT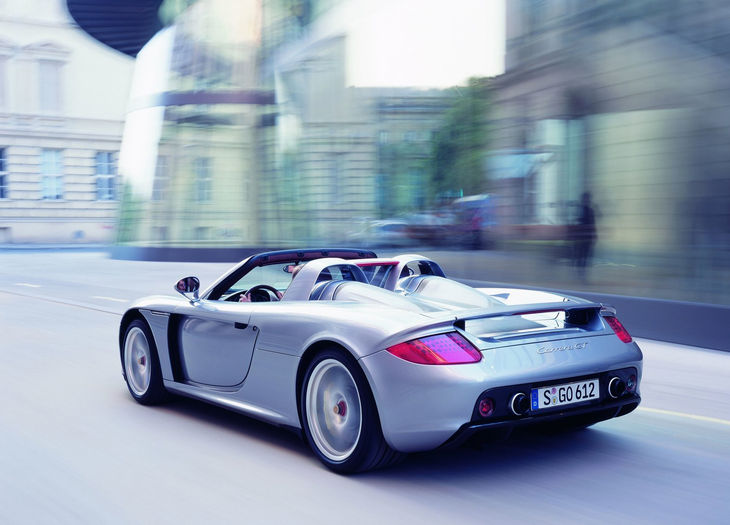 The Carrera GT, of which only 1 270 units were made, is considered the Holy Grail among Porsche acolytes. It utilised a carbon fibre monocoque and subframe produced by ATR Composites, a pushrod-actuated suspension assembly and adjustable rear wing. That's impressive in itself, but it's not quite as mind-blowing as the mid-mounted, flywheel-less naturally aspirated 5.7-litre V10. With 450 kW and 590 Nm on tap, the Carrera GT has been likened to the 911 widowmakers of the Eighties. Able to reach a peaky 8 000 rpm, the GT's soundtrack is considered one of the purest soundtracks ever produced by Porsche.
52. Subaru Impreza 22b
If ever there was a vehicle that epitomises the Subaru generation with their obsession with blue paint, yellow livery and gold wheels, it's the rare 22B. When the 22B came to market as a road-legal rally car, it immediately gained the giant-slayer tag thanks to its incredible performance, which, in 1998, was mental. Back in the day, getting from 0 to 100 kph in under 5 seconds was strictly reserved for the likes of Ferrari and Porsche, and yet the 22B was able to trounce them at a fraction of the cost. Throw some corners into the mix and it would take something really special to match it. Factor in some gravel... and the 22B was untouchable.
51. Mini Cooper S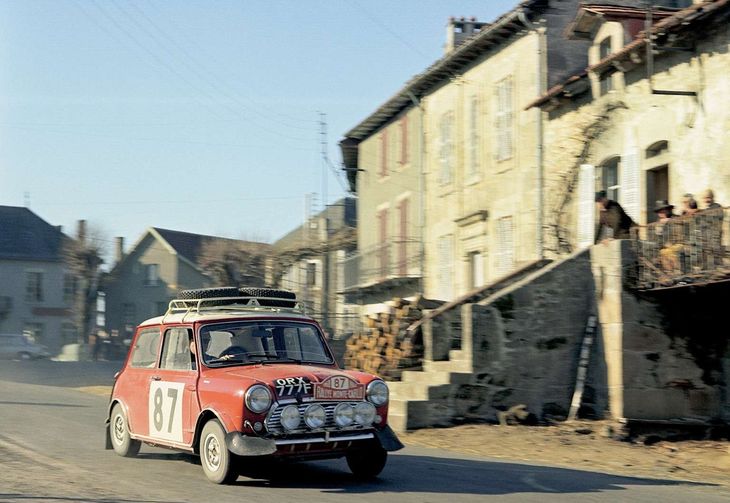 This is the smallest car on our 100 Coolest Cars list and nobody can dispute the universally recognisable shape of the Mini Cooper, which came to life in 1959 as the result of a fuel crisis. It was originally marketed as the Austin Seven and Morris Mini Minor, but the famous car chase scene in the 1969 movie, Italian Job, elevated the Mini Cooper to stardom. The Mini Cooper S was a sportier version of the original that went on to win multiple victories in the Monte Carlo Rally in the '60s. The first Cooper S appeared in 1963 with a 1.0-litre engine, of which only 4 030 were produced. The Mini Cooper S is so cool it should have been called Mini Cooler S…
50. Jaguar XJ220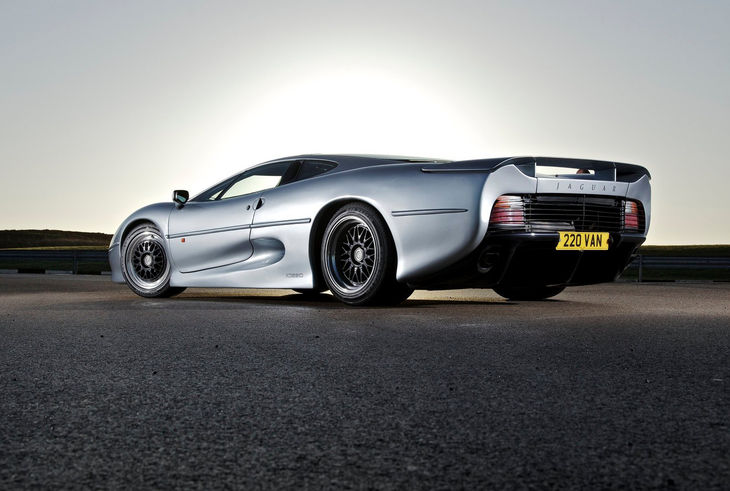 Designed by South African Keith Helfet, the Jaguar XJ220 looks as good today as it did when it first broke cover. Nestled between its rear wheels is a twin-turbocharged 3.5-litre V6 good for 405 kW and 644 Nm: enough poke to break the sub-5-second 0-100 kph barrier quite comfortably (it needs  4.8 seconds to complete the feat). As beautiful and otherworldly as it appears, the Jaguar was widely criticised for its gargantuan dimensions, which made it appreciably difficult to drive on narrow streets, let alone park. Driven at full tilt, the XJ220 could reach a top speed of 212 mph (342 kph) – provided its tank capacity was large enough and the road network was ideal, the Big Cat could (theoretically) blitz from CT to Joburg in 4 hours!
49. Volvo 850 R Estate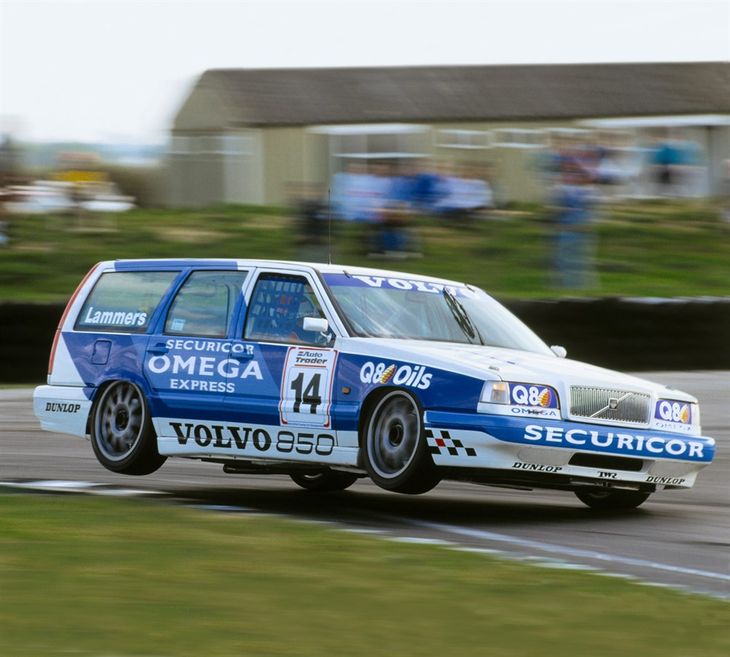 Kids from the Eighties and Nineties will have the image of a racing Volvo station wagon in full flight (while tilted up on 2 wheels) etched in their memory banks for life. But why did we even need a station wagon racing car? The 850 R Estate raced in the British Touring Car Championship in the 1994 season and never actually won a race, but the roadgoing variants won the hearts of every single petrolhead that it drove past with its wooshy wastegate flutter. 180 kW with room for the family and dogs from a Swedish company that values safety above all else? Now that's insanely cool.
48. Toyota 2000GT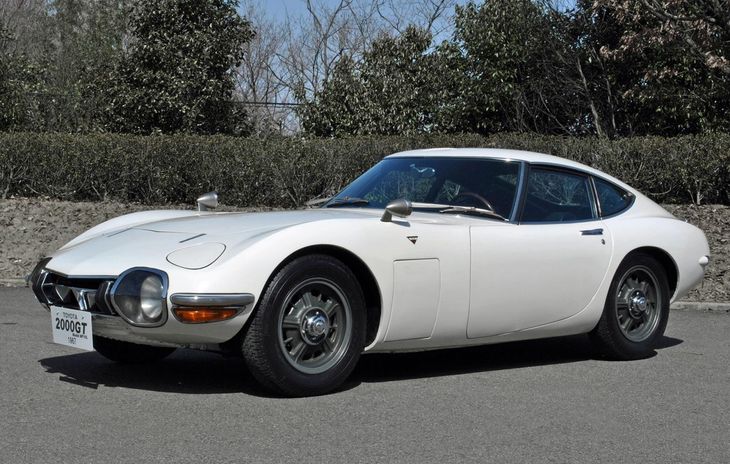 Made globally famous by a certain Bond, James Bond, the 2000GT is widely regarded as the first Japanese supercar. It completely changed the world's view of Toyota, which up until that point was known for reliable but dull 3-box cars. But interestingly, Nissan passed up on the opportunity to bring the 2000GT to production, a decision the company probably regrets to this day. The 2000GT was developed almost entirely by Yamaha, who first proposed the concept version to Nissan. When they turned it down, Yamaha turned to Toyota who decided to go for it, and the rest is history. Only 351 were ever built, and the 2 convertibles were specially built for the 1967 Bond film. Featuring a 110 kW 2.0-litre straight-6 motor, the 2000GT was never going to set world speed records, but in terms of design and appeal, it challenged the most beautiful cars in the world, specifically the E-Type, with which it was widely compared. The car is just about the most collectable Japanese car ever, trading for around $1.2million a piece. And if you ever want to try see one in the metal, Toyota SA has one sitting at its Prospecton plant.
47. Suzuki SJ410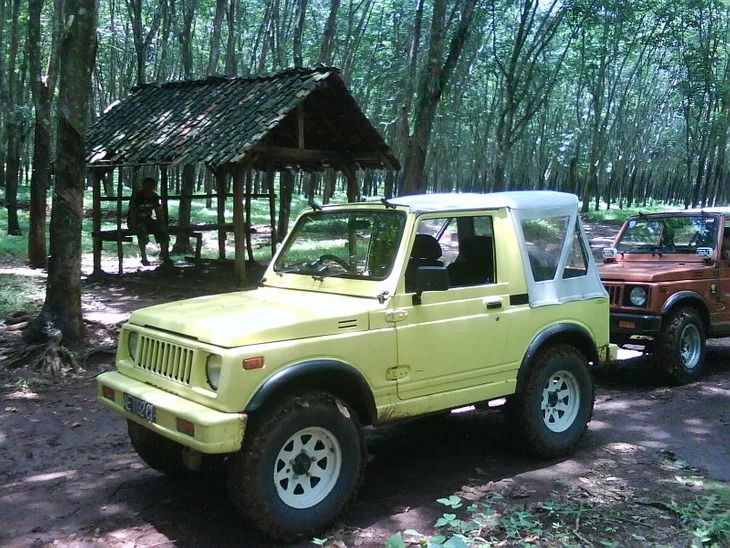 While the masses clamour to own the latest iteration of the Suzuki Jimny, the 1984 SJ410 embodies the Jimny spirit and is still fondly remembered (and sought after) by enthusiasts. Produced from 1982 to 1998, the Jimny SJ410 was hugely popular in South Africa and came equipped with a 1.0-litre 4-cylinder engine and a 4-speed manual transmission and was offered in various body styles. Armed with a short wheelbase, boxy shape and renowned 4x4 prowess, the SJ410 had the ability to put many larger and more expensive offroaders to shame. The affordable and accessible SJ410 has enough cool to take you wherever your heart desires.
46. Nissan GT-R R34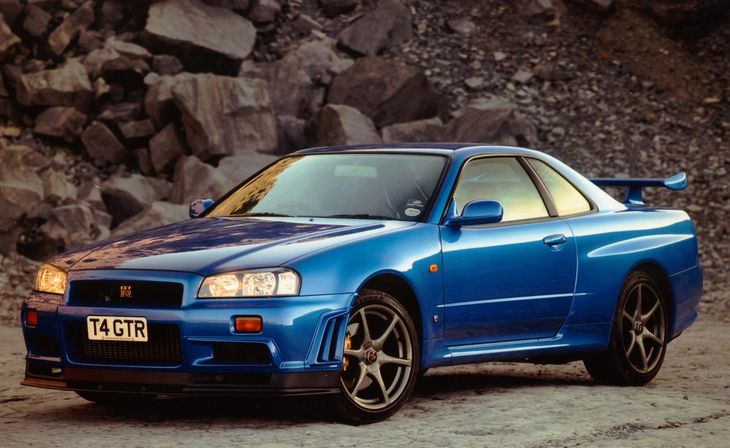 The first Nissan Skyline GT-R was introduced as long ago as 1969, but it wasn't until the launch of the GT-R R32 version a couple of decades later that the legend of Godzilla began to gain any traction around the world. Of all the iterations however, the GF-BNR34 (R34) has become somewhat of a unicorn – particularly among those who enjoy a bit of tyre-smoking drift action. The R34 is special because it comes from an analogue era where a manual gearbox and 3-pedal dancing trumped double-clutch efficiency. Of all the variants it's the V-Spec N1 homologation special that sits at the top of the R34 food chain. It was sold without air conditioning, audio equipment and other amenities and limited to just 38 units worldwide.

Watch the video: SentiMETAL Ep 3: Nissan's iconic "Hakosuka" Skyline GT-R
45. DeLorean DMC-12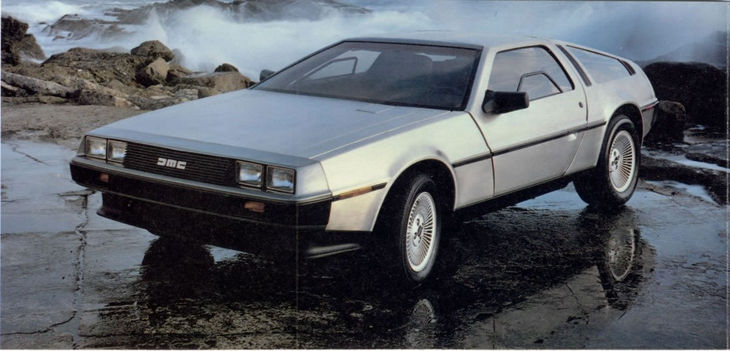 The result of John DeLorean's desire to build an "ethical, low-maintenance sportscar", the DMC-12, with its weird brushed stainless steel exterior treatment, asthmatic V6, appalling dynamics and shoddy build quality should have faded into obscurity. Instead, an intriguingly anti-corporate backstory, timeless Giugiaro style, cool metallic persona, plus a generous sprinkling of Hollywood stardust (duh, the Back to the Future film franchise!) galvanised the car's desirability. Cool Fact: The DMC-12's gullwing doors weigh a hefty 45 kg apiece. Workers in DeLorean's British Government-funded factory in Northern Ireland are said to have either signed their names or left messages beneath the door liners.
44. BMW M1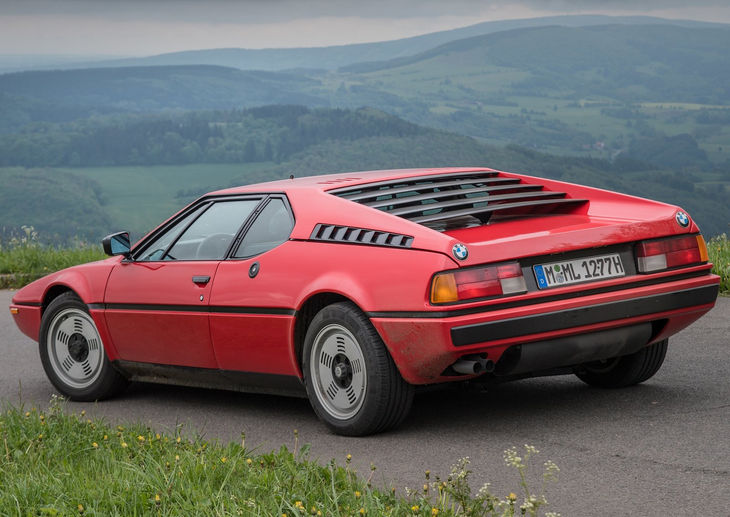 Another product of the wedge-era, the BMW M1 was based on the Paul Bracq-penned BMW Turbo Concept and brought to life by Italian designer Giorgetto Giugiaro. The main objective of the M1 project was to homologate the car so it could compete with Porsche at Le Mans (a total of 453 of these cars were produced between 1978 and 1981). While its pop-up headlights, flat kidney grille and rear louvre slats gave it a distinctive and timeless appearance, it was the brace of BMW roundels located on either side of the tailgate that became its most distinctive trait; that and, of course, the 3.5-litre inline 6 that made it the fastest German road car of its era... and went on to power the E28 M5, the world's 1st super sedan.
43. Toyota AE86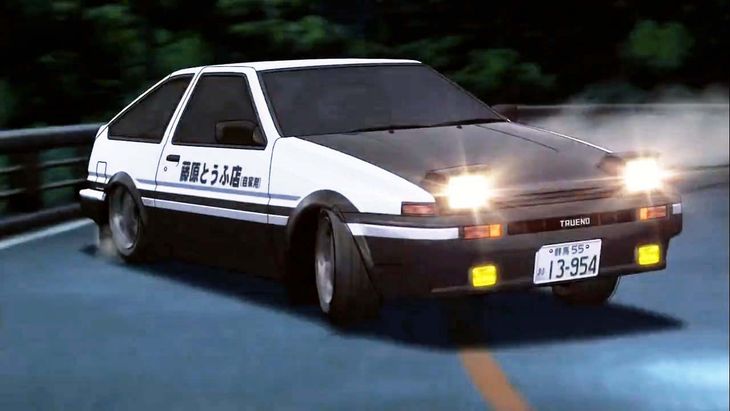 It's not often that a car helps to kick-start an entirely new sport, but the AE86 is such a car. Made famous by the "Drift King", Keiichi Tsuchiya and later by the cartoon, Initial D, the Toyota inspired a generation to try to "drift" their front-wheel-drive Corollas through roundabouts the world over. Thanks to a kerb weight of under 1 000 kg, a plucky 1.6-litre 96 kW 4A-GE engine and a limited-slip diff, the AE86 proved such a popular package it beat the (much more powerful) competition to clinch the European Touring Car Manufacturers Championship title in 1986.  
42. Porsche 550 Spyder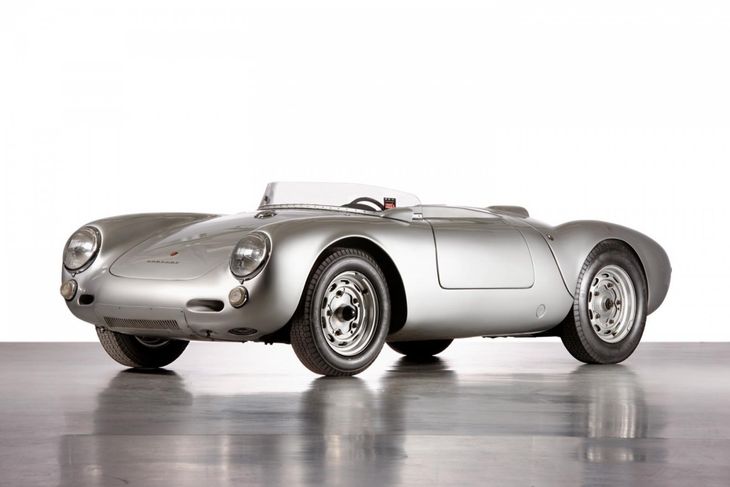 So much more than just the car that Fifties film icon James Dean died in, the movie star's "Little Bastard" quickly earned another nickname: "Giant Killer". Its mid-mounted 1.5-litre flat-4 engine and low kerb weight gave it the edge over more powerful rivals and put Porsche's racing programme firmly on track. Interestingly, the 550 was low enough to drive underneath Italian railroad crossing barriers... apparently, Hans Herrmann never needed to wait for a train to cross his race car's path while winning his class in the 1954 Mille Miglia.
41. Mercedes-Benz CLK GTR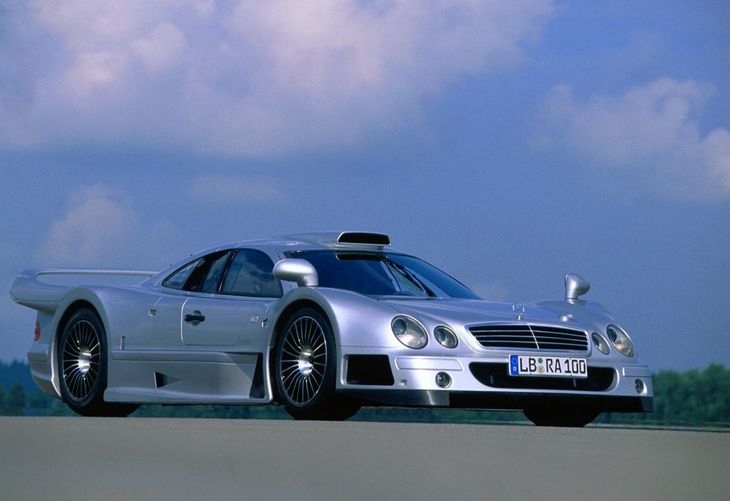 Only 25 examples of the CLK GTR road car were ever made, which makes it rare and cool. Built to race in the FIA GT Championship series in 1997, the Mercedes-AMG CLK GTR was powered by a monstrous 6.8-litre V12 engine that developed 537 kW and 776 Nm of torque. Its successor, the CLR GTR is infamous for the horrific accident that took place at the 1999 24 Hours of Le Mans where Peter Dumbreck's car flipped off the track and catapulted into the trees next to Circuit de la Sarthe. The road-going version of the CLK GTR had a 6.9-litre V12 engine with 450 kW and 775 Nm of torque and was said to be capable of sprinting from 0 to 100 kph in 3.8 seconds and going on to a top speed of 344 kph.
40. Eagle Speedster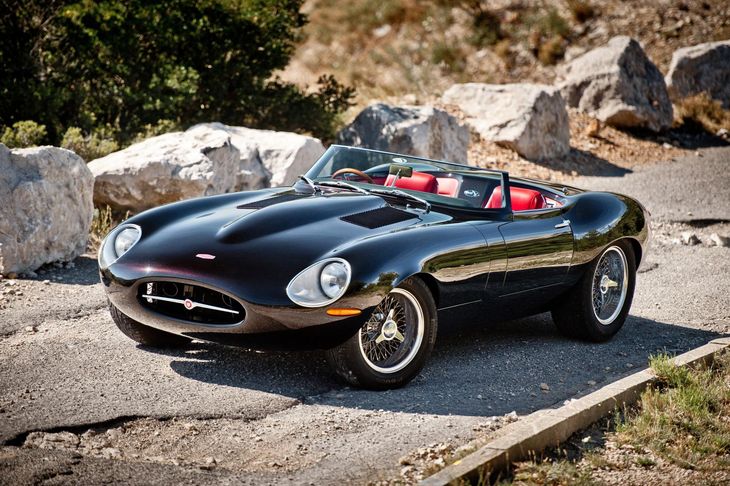 Enzo Ferrari is said to have described the Jaguar E-Type as the most beautiful car in the world, which would not have been easy for him. Eagle has spent more than 30 years restoring and working on the E-Type, so who better to make one with all the upgrades necessary to turn it into the perfect modern-day classic?
Eagle redesigned the suspension to make it sportier and more comfortable for everyday driving and also borrowed the straight 6 engine from an XK to give it more performance thrills and wonderfully clean acoustics. Then, there's the way it looks. We thought it impossible to improve upon the E-Type, but the Eagle Speedster does just that.
39. BMW e28 M5 (1985-1987)

Sportscars, cabriolets and supercars were all the rage in the Eighties, and amid all those white leather seats, abundant centre-console buttons and the appearance of carphones (remember those?), nobody imagined a subtle German luxury sedan, with stupendous performance, would see the light. When BMW debuted its original M5 at the Amsterdam Show in 1984, the world's first super sedan looked innocuous enough, but it was powered by the M88 3.5-litre 24-valve inline 6 (from the M1) with a peak power output of 210 kW.
Performance wise, it had the measure of un-boosted Ferraris and Porsches of the era – it was spectacularly quick for a mid-1980s car, but thanks to the reserved slant-nose E28 styling, wonderfully stealthy too. Bilstein suspension bits and a limited-slip rear differential meant it was brilliantly composed.
38. Mercedes Benz 190E 2.3 16v Cosworth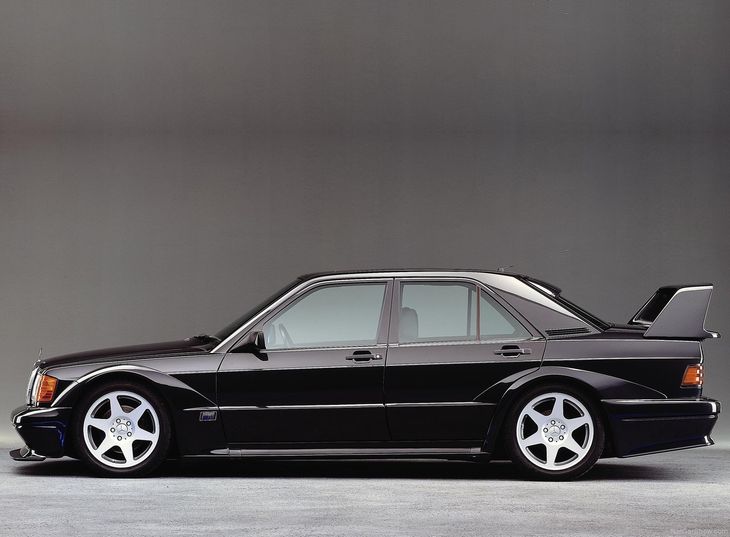 At the time of launch in 1982, the 190E was the smallest car in Mercedes-Benz's product range, but it featured some rather anaemic engines, such as a 2.0-litre 4-pot that produced a meagre 67 kW. In the 1970s, Mercedes Benz competed in rallying, but without much success. The Three-pointed Star wanted to campaign the 190E and turned to Cosworth, which built a decent engine with which to compete, but even with 239 kW, the car was completely outclassed by the Audi Quattro.
Frustrated by rallying, Mercedes turned to DTM, which required the race car to be based on a road car. And so the 190E 2.3-16V "Cosworth" was put into series production and went on sale with a detuned version of the Cosworth motor. With outputs of 138 kW, it was more than twice as powerful as the standard 190E, and so earned the reputation of being a bit of a monster. The 190E spawned countless limited editions, with a chassis and 5-link suspension that lent itself well to tuning. The simple squared-off design was an instant classic and has aged well. Whenever we see one on the road we cannot help but smile. It's timelessly cool.
37. Lotus 340R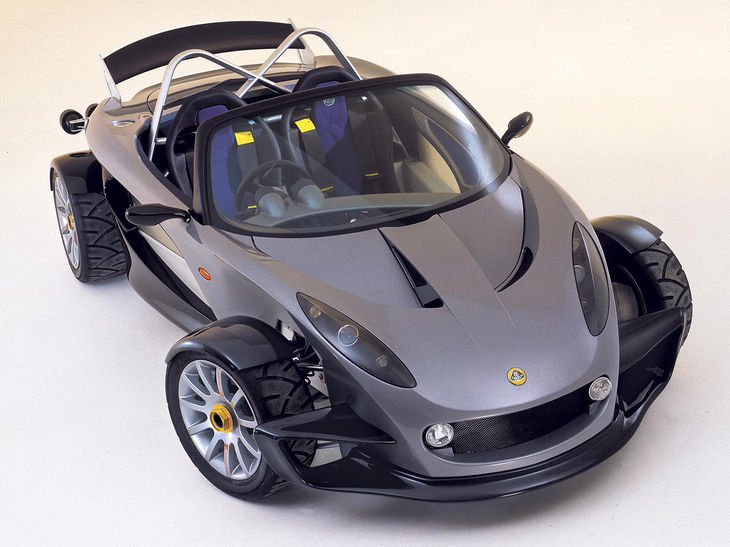 In the strong-selling Elise, Lotus had a modern, supremely "chuckable" bonded aluminium chassis clothed in elegant (but rather conservatively styled) outer panels. We all knew there was scope for more. Enter the 340R, a bleeding-edge redesign that did without doors and wheel fenders in a Chapman-esque search for lightness. The 340R's Sci-Fi style, supercar performance and race car handling made it the road-ready track toy of James Bond's dreams; ours too. The 340R was named in reference to the project's initial power-to-weight ratio target of 340 bhp/tonne. As it had missed that mark, Lotus limited production to 340 units instead.
36. Cizeta-Moroder V16T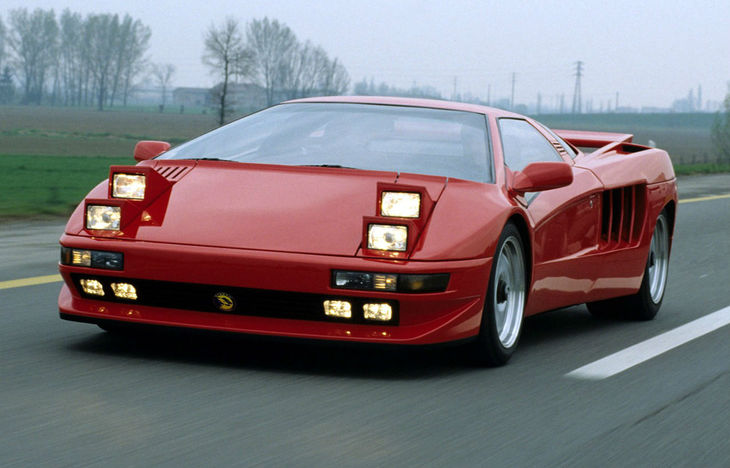 Some cars are cool just because they represent the zenith of an era, and in the case of the Cizeta-Moroder V16T, that period is the Eighties, a decade of conspicuous consumption and supercar lunacy. Unveiled in 1988 and produced in limited numbers from 1991 to 1995 (and, curiously, still available on order today), the exotically-named Cizeta was the result of a collaboration between engineer Claudio Zampolli, music composer Giorgio Moroder (also known as the "Father of Disco"), legendary designer Marcello Gandini (who penned the Lamborghini Muira, Countach etc) and a group of ex-Lambo employees. No, we haven't just made that up. And why was the V16T out of this world?
Well, Lamborghini had the gall to mess with Gandini's original design for the Diablo, so he gave it to Zampolli, whose team fashioned a 6.0-litre V16 engine (by combining two Urraco V8s) to power the 328-kph machine. In the sober economic climate of the early Nineties, the $650 000 (R9 million in today's money) Cizeta was doomed to fail. But hey, it sure came with cool bragging rights. "How many pop-up headlamps does your car have? Two?" The Cizeta has 4… "How many cylinders in your car's engine? Twelve?" The Cizeta has 16. In supercar super trumps, that card ends the game.
35. Honda S2000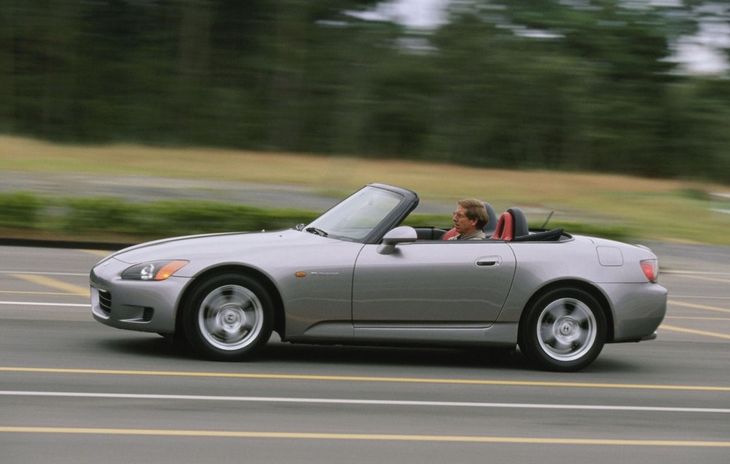 If you don't think hitting the redline at an ear-piercing 9 000 rpm is cool, then you're not cool. The S2000, produced in 1999 as a 2000 model to celebrate Honda's 50th anniversary, is a highly sought after, rear-wheel drive roadster that delivers ample driving thrills (and the first generation was particularly prone to snap oversteer). Equipped with a high-revving, naturally aspirated 2.0-litre engine producing 179 kW and 208 Nm of torque, the S2000 made use of a snappy 6-speed manual transmission to showcase its rear-wheel talents. The high-revving S2000, at the time, delivered the most kW per litre in the world for a naturally aspirated road car.
34. Ferrari F355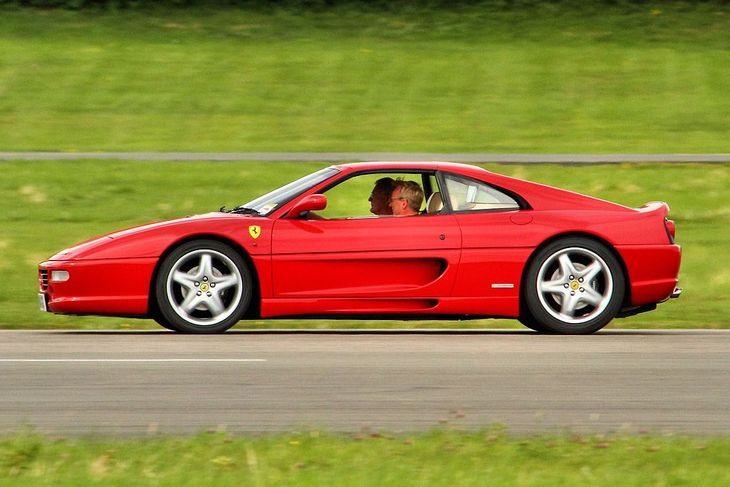 It may seem like an odd Ferrari to pick for a Cool Cars list, but there's something special about the F355. It bridged the gap between old Ferrari and the modern, technologically advanced Ferrari. The previous decade had been filled with brutish, but not pretty Ferraris, the F355 brought back a pretty Ferrari silhouette and timeless design. It was also the first Ferrari to feature an F1-style paddle-shift gearbox, that would be the cornerstone for every Ferrari after it. The F355 has the most beautiful flat-plane V8 sound you will ever hear and, if there is nothing else worth remembering about Pierce Brosnan's first outing as James Bond in 1995's GoldenEye, femme fatale Xenia Onatopp (Famke Janssen) drove an F355 GTS in 1 scene.
33. Opel Lotus Omega (1990-1992)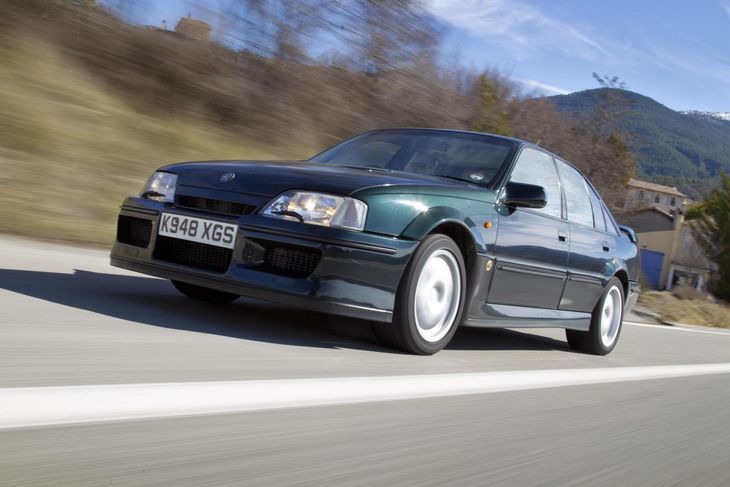 The Lotus Omega is perhaps the greatest car ever produced from GM's unhappy stewardship of Opel. Although badged as a Vauxhall in Britain, it had an Opel platform, with all the go-faster bits fettled by none other than Lotus. Powered by a twin-turbocharged 3.6-litre inline-6 engine mated with a 6-speed manual transmission borrowed from GM's Corvette ZR-1, the Omega's power peaked at 281 kW. Fortunately, because of Lotus' involvement, the rapid German (we mean, British) sedan didn't connect a kerb the moment you applied some steering angle at full-throttle in 2nd gear. How cool? It was one of the very few vehicles ever to become a point of debate in the House of Commons, with politicians questioning the necessity of a 280-kph capable sedan on British roads. Little did they know what would follow in the following decades.
32. Audi TT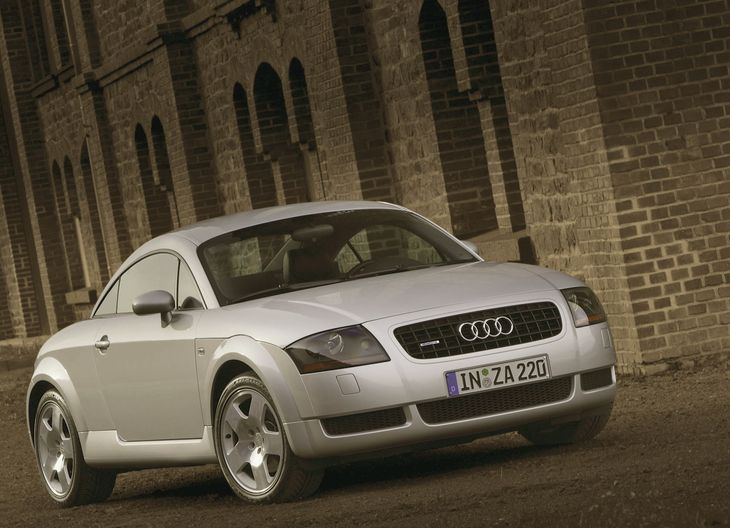 The 1st-generation Audi TT created quite a stir when it burst onto the scene back in 1998. It wasn't the fastest thing around, but a combination of timeless looks, fair dynamics and an assortment of engines ranging from frugal to bonkers (we see you TT RS) meant that there was a TT for everyone. It's a pity that the 2nd generation lost some of that magic, which fortunately the 3rd generation restored. The 1st generation was a fun car to drive, but many claimed that its handling was unstable. A few early TTs were involved in freak accidents, which prompted Audi to fit a rear air spoiler and stability control, to ensure that the TT would track straight and true.
31. Alfa Romeo 33 Stradale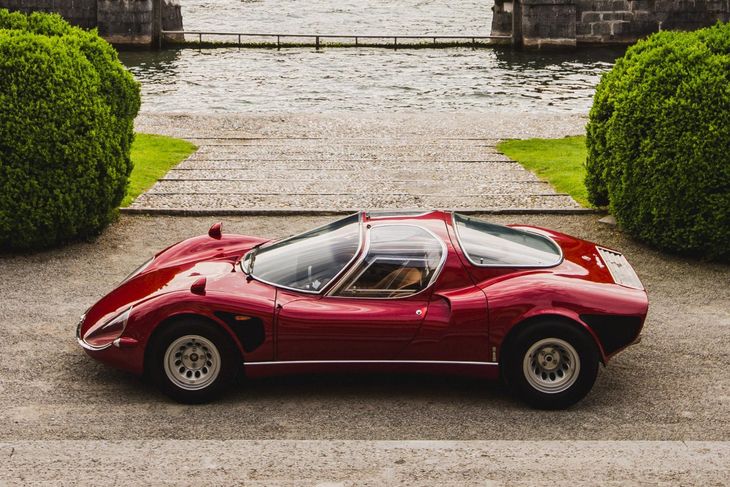 Just look at it. Penned by the great Franco Scaglione, only 18 examples of the drop-dead gorgeous 33 Stradale were made and these days they're almost never traded, so nobody knows what they're worth (but we can safely assume: lots!). It was built to be a roadgoing version of Alfa Romeo's 33 racing car, and at the time (the late Sixties), was one of the fastest cars in the world. Circa 1968, it was the world's most expensive "production car".
30. Tesla Model S P100D

It's really hard not to admire the Tesla Model S, as it almost single-handedly made electric cars cool. Right now it's pretty high on the "would love to drive" lists of most motoring enthusiasts in South Africa, so showing up with 1 of these at your local sidewalk cafe would most definitely cause a major stir. And if there are any naysayers that fancy a dice with this Tesla, they'll have to bring something quite special to the party, as only cars such as the Porsche 918 Spyder or LaFerrari hypercars genuinely stand a chance of beating the P100D in a traffic-light grand prix.
29. BMW 3.0 CSL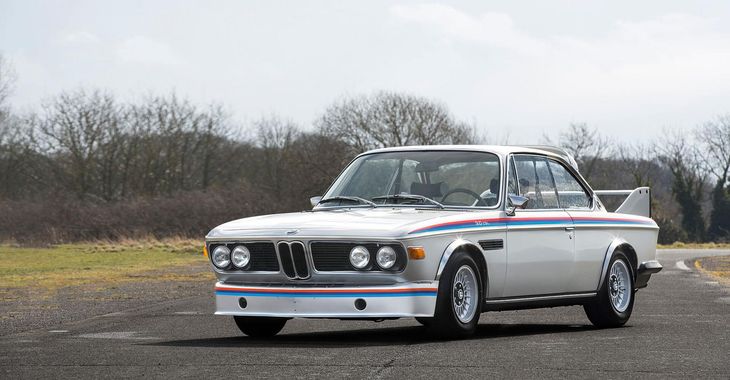 The BMW E9, with its sleek, Karmann-designed contours, was a desirable compact sportscar, but it was the rare 3.0 CSL version of the coupe that cemented the Munich-based firm's sporting pedigree. Built in 1972 to comply with homologation requirements (to enter a circuit racing series), the lightweight 3.0 CSL sported aluminium body parts, less trim, soundproofing and even Perspex side windows. The car was an instant success on the roads and on the track. The rear wing, now synonymous with the "Batmobile", was not fitted on delivery but instead left up to the new owners to install... because it was illegal to use that wacky wing on German roads!
28. Talbot-Lago T150 CSS Figoni&Falaschi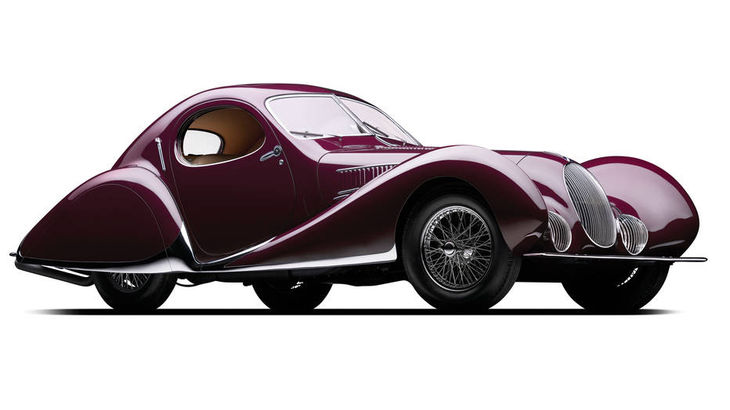 Due to the "youthful exuberance" of the majority of judges who selected cars for this Top 100, not many vintage cars were expected to make the list, but the Talbot-Lago certainly deserves to. The little-known French marque's cars – the T150 CSS with the spectacularly curvaceous Figoni & Falaschi "teardrop" body, in particular – are highly sought-after at exclusive car auctions, where they fetch suitably stratospheric prices… Only 14 of the T150 CSS were made and it was a high performer, too – a near-showroom stock T150 CSS finishing 3rd at Le Mans in 1938.
Photo by Michael Furman
27. Koenigsegg CCXR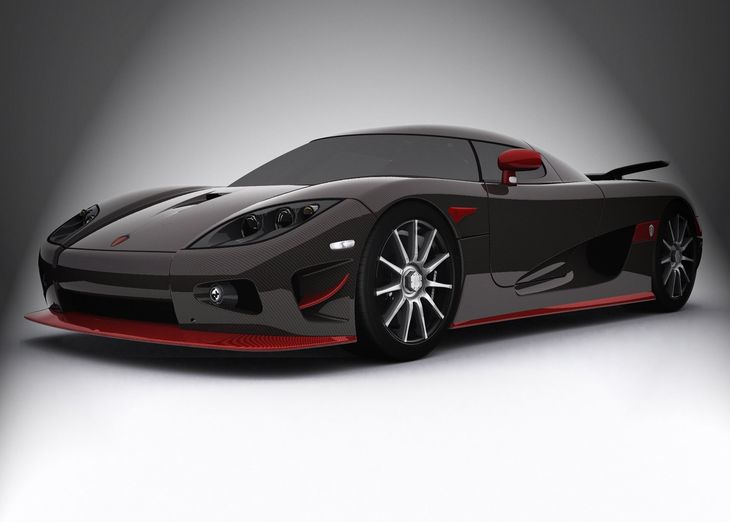 The story behind Koenigsegg is almost cooler than its cars. Swedish software genius Christian von Koenigsegg grew up wanting to build supercars. So he built up a huge tech company, sold it and ploughed everything he had into his dream of building a car company that would produce cars that quite simply outpace everything on the road. A litany of firsts accompanies the brand, from being the 1st first company to perfect carbon-fibre wheels, to the Regera's newfangled 2-speed gearbox, which nobody except Von Koenigsegg seems to understand. And if you're immune to the way those doors open, check your pulse for signs of life. Made in exceptionally limited numbers, the eye-wateringly expensive Koenigsegg models have achieved widespread critical acclaim. The Koenigsegg has quickly become the quintessential modern poster car.
26. Alfa Romeo 8C Competizione

In the early 2000s, Alfa Romeo was making hatchbacks like the 147 and 156/166 sedans. An outrageous supercar was far from reality; the 8C concept (shown in 2003) was only meant to be a styling exercise, as well as a tribute to classic Alfas of the Fifties and Sixties. Yet, in 2007, the 8C Competizione (based on a Maserati platform and mechanicals) came to life. Let's be honest, it could be fitted with a 1.3-litre turbodiesel engine and we wouldn't care, it's just so achingly pretty. Fortunately, the 8C definitely had the go to match the show as Alfa Romeo fitted it with a Ferrari-made 4.7-litre V8 that sounded glorious. It also came with Brembo carbon ceramic brakes, which were useful for bringing the 8C back down from its 292-kph (claimed) top speed.
25. Lamborghini Sesto Elemento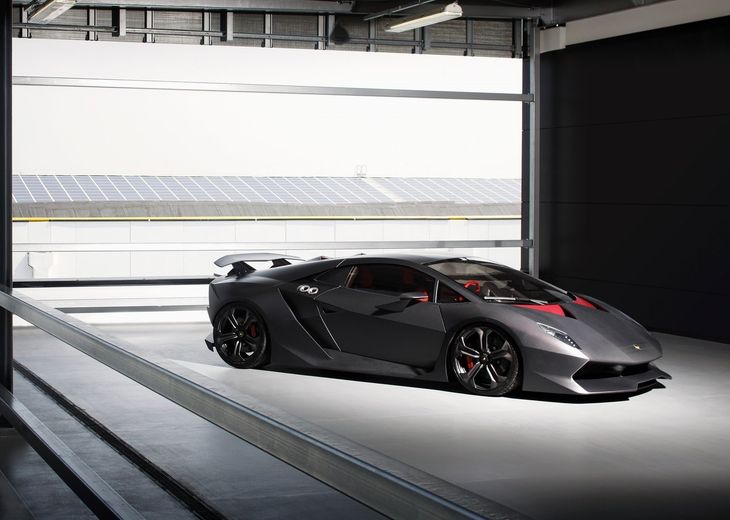 Only 20 examples of this absolutely wild-looking Lambo were ever produced. The name, Sixth Element, actually refers to the atomic number of carbon, which was used extensively throughout the car. The result was a supercar that weighed less than 1 000 kg and its 5.2-litre V10 Gallardo engine (producing 419 kW) imbued it with the best power-to-weight ratio of any Lambo, ever. The exclusivity provided by this hardcore Lambo makes it unlikely you'll ever get to see one, never mind drive one; a pity, as it's probably the closest thing to a fighter jet for the road.
24. Ariel Atom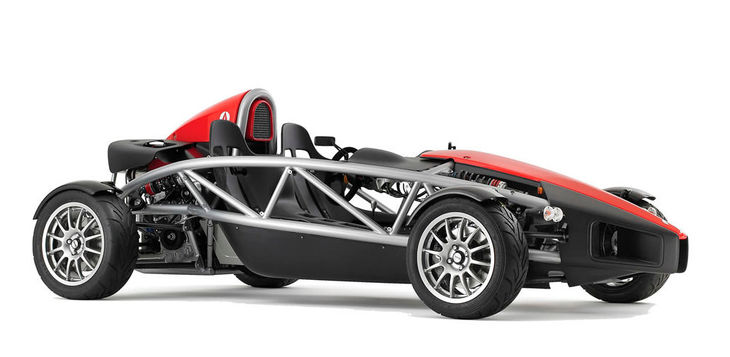 The Ariel Atom may resemble a metallic pretzel on wheels, but it's one of the most engaging little sports cars ever made, thanks to its super-responsive chassis, low centre of gravity and direct steering. Of all the versions available it's the Atom 3, with its high-revving Honda Civic Type-R-sourced 2.0-litre 16-valve engine that gets our hearts racing. With a power-to-weight ratio of 280 kW per tonne and one of the wildest kicks of VTEC imaginable, the Atom is known for making a mockery of supercars in a game of Traffic Light Grand Prix. And while you're likely to get soaked come winter time, the 8 400-rpm redline more than makes up for any discomfort.
23. Ford Escort RS Cosworth (1992-1996)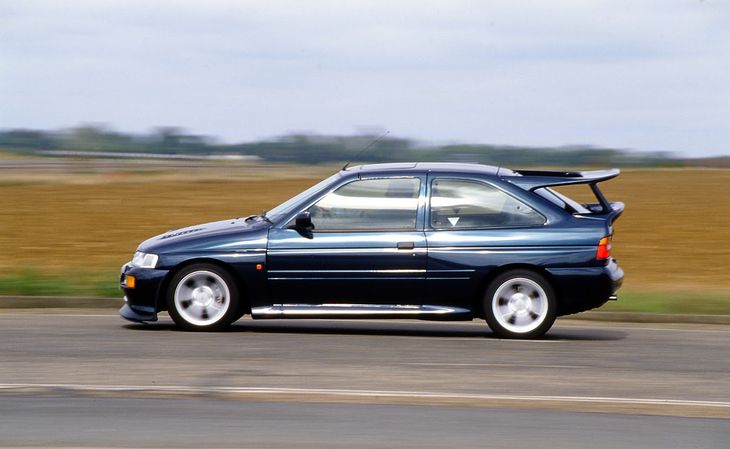 Built as a homologation requirement to validate Ford's 1990s WRC effort, these Escorts (fettled by Cosworth) were the ultimate hot hatchbacks of their era. Producing peak power of 167 kW and sending power to all four of its wheels, the RS Cosworth was unimaginably fast for a car that shared much of its naming convention with Ford's family car fare of the time. Capable of 0-100 kph in 5.7 seconds, it had no hatchback rival and its signature styling feature – a huge whale tail wing – was entirely functional. The combination of a massive rear wing and cleverly conceived front splitter meant these RS Cosworths were producing functional aerodynamic downforce at a time when most cars were doing their best to reduce wing-mirror wind noise.
22. Audi RS2 Avant (1994-1995)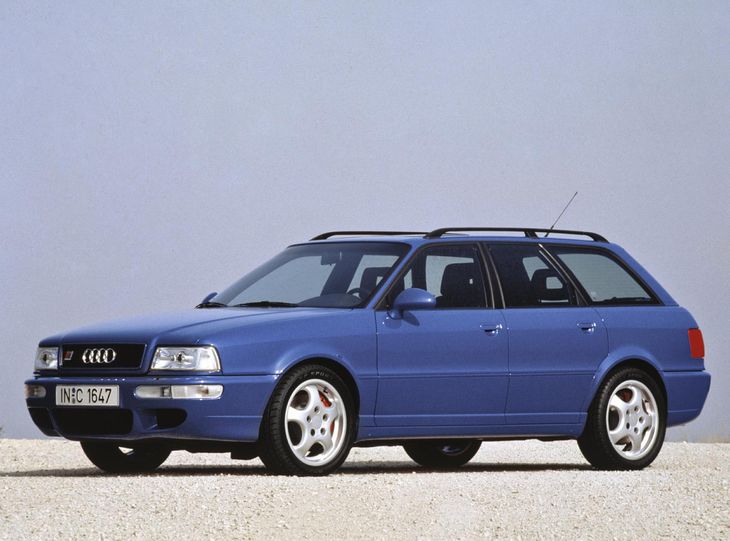 Station wagons capable of tailing supercars are remarkable and when they come replete with Audi design nous and Porsche performance bits, there's hardly anything cooler. The RS2 Avant was a collection of iconic components: a turbocharged inline 5-cylinder engine good for 232 kW, quattro all-wheel drive and Porsche-branded brake callipers, which meant Ingolstadt's rapid family 'wagon stopped like a 911 Turbo. In the mid-1990s, petrolhead adolescents dreamed of a morning school commute in the RS2 Avant. For a lucky few, it was a reality. South Africa was one of the very few export markets to be allocated a precious few of these iconic Audis...
21. Ferrari 250 GT Lusso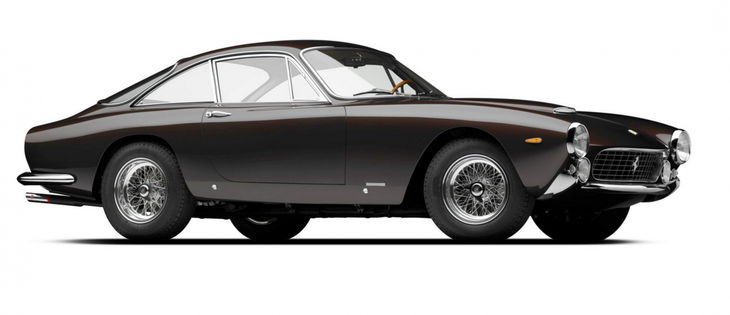 The Ferrari 250 GTO will forever be the classic Ferrari that makes lists of the most expensive, or desirable, or historically significant cars… but there are few Ferraris as cool as the 250 GT Lusso. As the last of the 250-series cars, the Lusso was conceived to be more of a tourer than the racy 250 GT, and was designed by Pininfarina and built by Scaglietti. It is widely regarded as one of the most elegant Ferraris of all time. And guess what? It even looks good in brown. Steve McQueen – arguably the coolest man ever – owned a brown 250 GT Lusso. Enough said.
20. Mercedes-Benz G55 AMG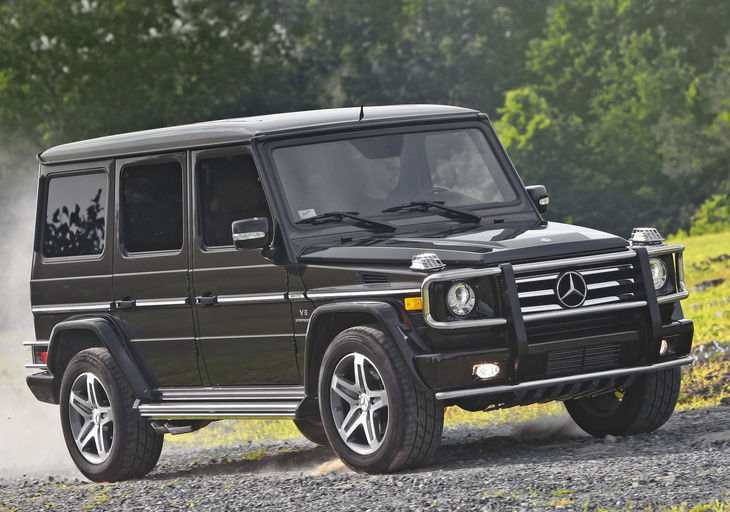 When it comes to head-turning, brutish SUVs, few come close to the Mercedes-Benz G-Class (also known as the Gelandewagen or G-Wagon), especially with a 5.5-litre supercharged AMG V8 under the bonnet. While the G hasn't changed much over the past 29 years, it still looks muscular and full of anger – alluring attributes that have made it quite popular among the pseudo-gangsters of modern hip hop and trustafarians of Beverly Hills 90210. However cool it may appear, the laterally arranged dual exhaust pipes that protrude beneath the running boards and 20-inch wheels ultimately inhibits it from tackling the hinterlands for which it was designed.
19. Lancia Stratos HF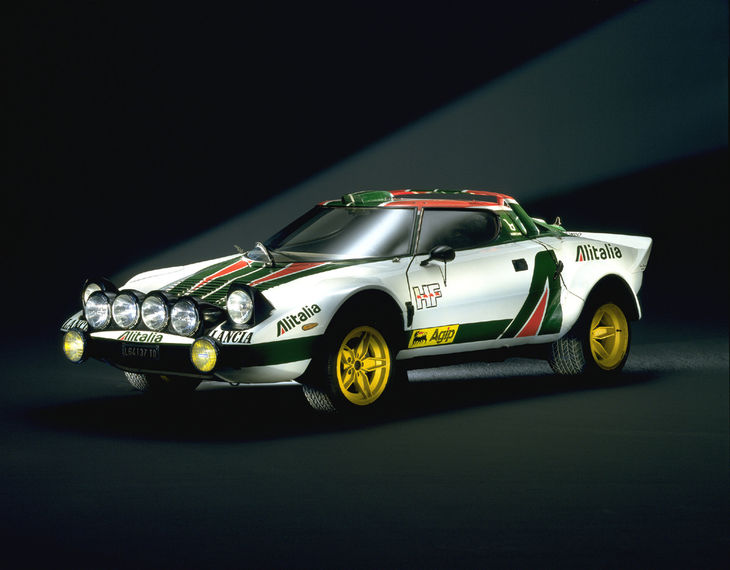 Another (Marcello) Gandini for Bertone design, the Lancia Stratos HF was developed as a replacement for the Fulvia in Group 4 rallying. Instantly recognisable for its short wheelbase, wedge-like profile, wraparound windscreen, distinctive cooling slots and pop-up headlights, the Stratos, powered by a Ferrari Dino-sourced 2.4-litre V6 engine, went on to win 3 World Rally Championships, most memorably in iconic Alitalia livery. Ever wondered what HF stands for? High Fidelity...
18. Chevrolet Corvette Stingray "split-window" coupé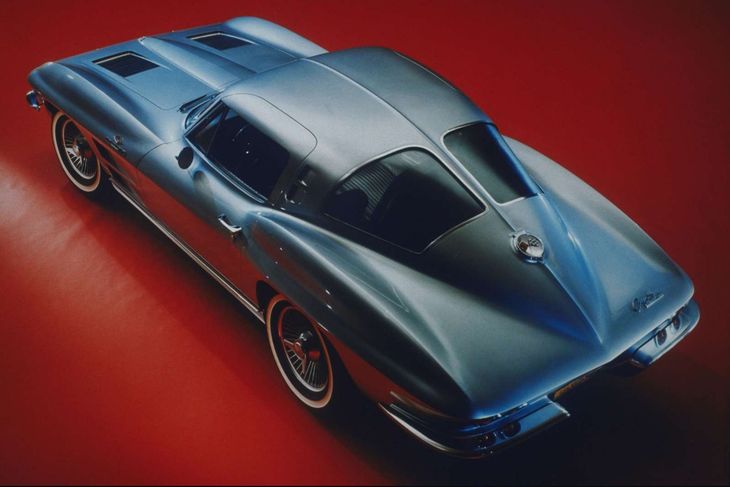 Is there a car that looks as good when viewed from the top as Chevrolet's iconic 1963 Corvette Stingray? Designed to resemble the marine creature from which it takes its name, the famous Corvette Stingray had a spine that ran from the edge of the front bonnet to the tip of its backside, necessitating the famous split rear window. It was only produced in this form for 1 year, which makes it even more special and 1 of the coolest cars in the history of musclecars.
17. Renault Clio V6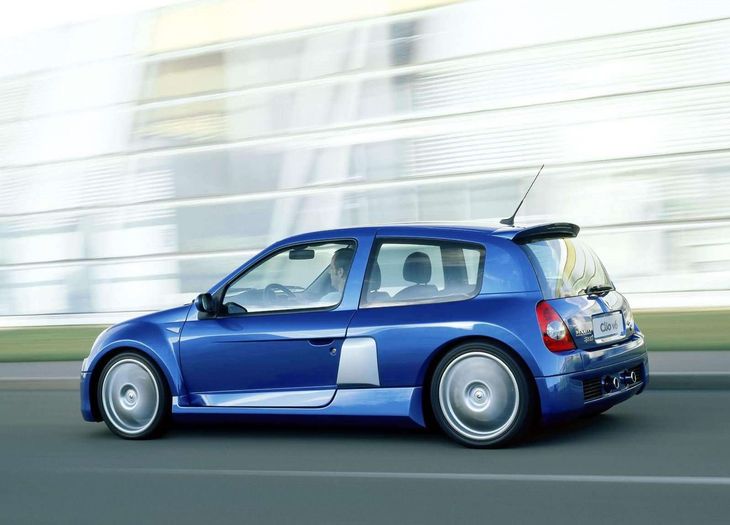 Only the French would be crazy enough to take a sensible hatchback, remove its back seats and mount a 3.0-litre V6 engine amidships. Not only did the Clio V6 have credible performance (it could blitz from 0 to 100 kph in 5.9 seconds), it looked the part with its outrageous widebody kit and flared arches. However, it had a dark side as its short wheelbase made it tricky to handle in the dry – and near lethal in the wet. Can you say snap oversteer? About 100 made their way to South Africa, in Phase 1 and Phase 2 guises, and when Phase 2 was launched in 2003, it was the most powerful series production hot hatch in the world, packing a 188-kW punch.
16. Citroën DS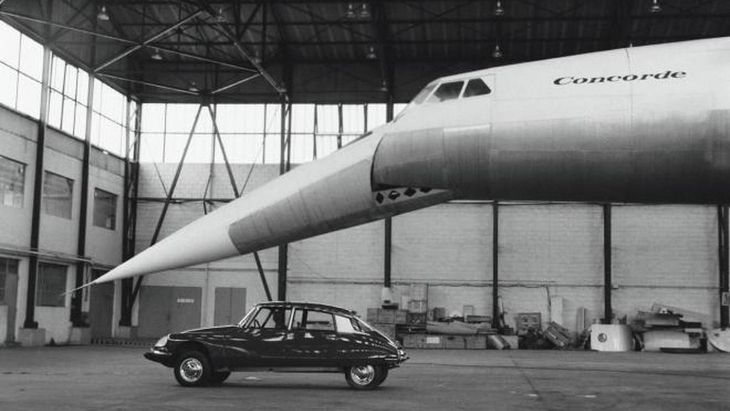 While it's unsurprising that Cars.co.za Consumer Experience Manager Hannes Oosthuizen nominated the DS for this list, seeing as he proudly owns one, he wasn't the only one of the "judges" to recognise its coolness. Launched in the Fifties, its design was so far ahead of its time that the DS was still utilised to pose as "a car from the future" in Eighties sci-fi movies. The complicated suspension that gave it that magic-carpet ride was only one of many engineering breakthroughs. And, to Hannes at least, it still looks like something from another world. It's very suitable that the image shows it with that other French marvel… the Concorde supersonic jet.  
15. Mercedes-Benz 300SL Gullwing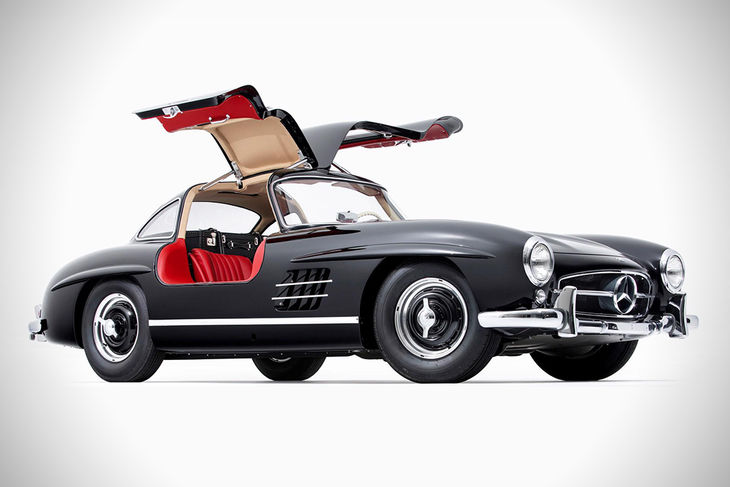 Endowed with voluptuous curves, an alluring stance and iconic gullwing doors, the 300SL Gullwing was the poster child for what would become a revered line of desirable open-topped Mercedes-Benzes. The W198, which made its international debut at the New York Motor Show,  was based on the 1952 300SL racing car, which featured a welded aluminium-tube spaceframe, necessitating the implementation of upward-opening doors.
Featuring the world's first production fuel-injection system, the inline 6 produced 161 kW at 5 800 rpm, propelling the Super Leicht to well over 200 kph, which was simply astounding for the time. With a high-pivot swing-axle rear suspension, the Benz offered exemplary ride comfort, if tricky handling. Highly regarded for its technological debuts and low production numbers (only 1 400 were built), the 300SL is arguably the most iconic car ever produced by Benz and, of course, its most highly collectable model.
14. Lamborghini Miura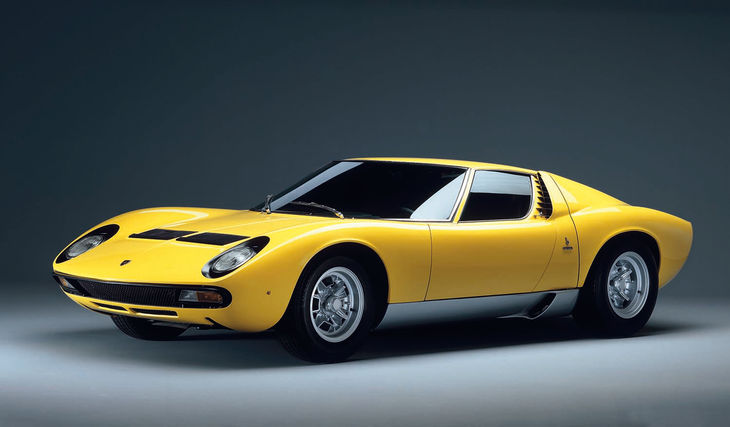 With names such as Dallara, Stanzani, Wallace, Gandini and Bertone involved in its creation, the Miura was bound to be great. Proportionately perfect, and blessed with an ideal balance of curvaceous beauty and 3.9-litre V12 muscle, the Miura was, without a doubt, one of the prettiest cars ever built (764 units were produced). It was Lamborghini's 1st mid-engined sportscar and, not only did it create the modern supercar template; it sparked the Sant'Agata firm's evolution from a tractor sales-funded grand tourer producer to the builder of extreme supercars. When it was first shown in 1965, the bodiless Miura's mid-engined rolling chassis impressed customers so much they placed their orders without even knowing how the finished car would look.
13. Jaguar E-Type   

Often referred to as the most beautiful car in the world, the E-Type is arguably the most iconic vehicle ever produced by the British motor industry. Upon its release, it was revolutionary. Built on aircraft principles with its monocoque construction, the Jaguar featured disc brakes, rack and pinion steering, independent front and rear suspension and could accelerate from 0 to 60 mph (96.6 kph) in a (then) meteoric 7 seconds. It was capable of a top speed of 241 kph, but because the E-Type cost almost half the price of an Aston Martin DB4 or Ferrari 250GT, the Coventry-based firm had made a super sportscar experience attainable for so many more motoring aficionados.
With 384 Nm of torque at 4 000 rpm, the 4.2-litre inline-six pulled strongly in any gear. The rear-wheel-drive grand tourer, which was driven by the who's who of the most vivid of decades, was available as a 2-seater fixed head coupé and roadster. Later iterations included a V12 and a 2+2 seater with a 3-speed automatic. Years ahead of its time and quintessentially British, the E-type has the mojo (to evoke International Man of Mystery Austin Powers, who drove a Union Jack-liveried E-Type roadster) to be regarded as a cultural icon.
12. Porsche 959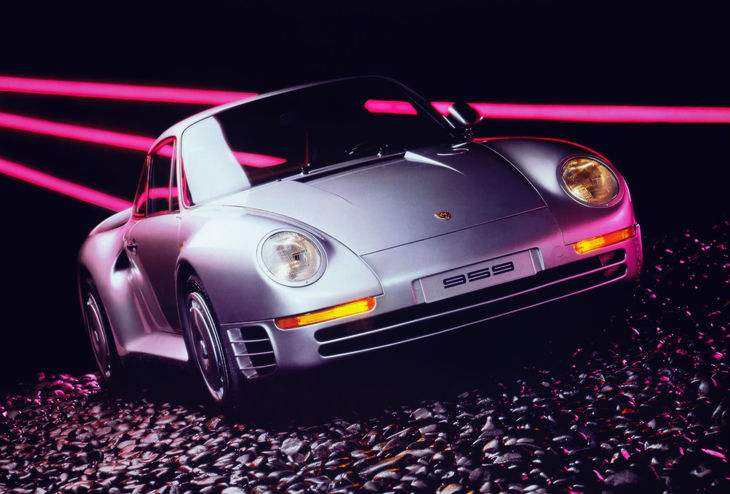 When the 959 entered production in 1986, it became the world's fastest production car. That alone should have been enough to enrage Italian supercar producers, but the Porsche was also so, well, annoyingly brainy. Before the 959, all you needed to go ridiculously fast was low weight, a humongous engine and good aerodynamics. Like the Ferrari 288 GTO, the 959 was developed so Porsche could enter Group B competition (it never ran in the WRC, but competed in the Le Mans 24 Hours and Paris Dakar). But back then, the 959 came equipped with many technologies that we now take for granted in performance cars.
Its twin-turbocharged 2.9-litre flat 6 produced at least 331 kW and 500 Nm (the factory could tune road cars up to 390 kW upon request, for a 3.4-second 0 to 100 kph time and 336-kph top speed). But that was just the start of it… More than 30 years ago, this Porsche sported automatic ride-height adjustment, adaptive all-wheel-drive (yes, it could divert power dynamically) and a tyre-pressure monitoring system. Microsoft founder Bill Gates owned a 959, but because the model was not submitted to undergo US crash testing, he was not allowed to drive it on US roads until 1999 (when a special law was passed). If ever a car could be smart enough to please Bill Gates, the 959 is it.
11. Ferrari 288 GTO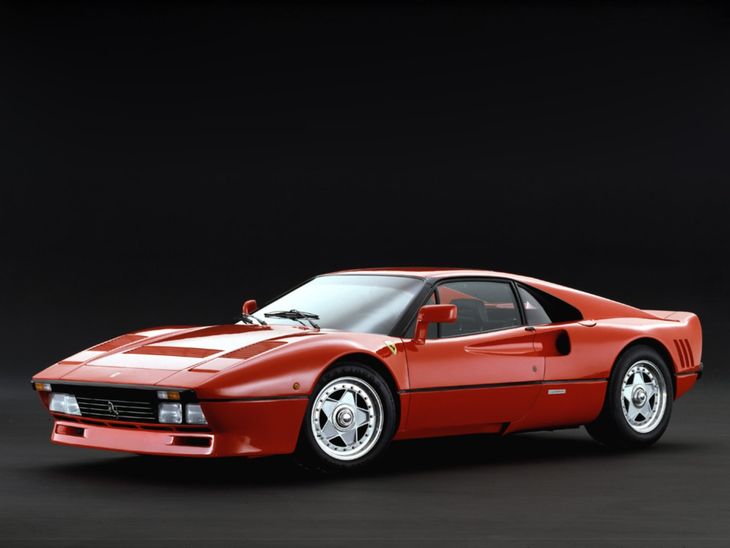 In the pantheon of Ferrari, the Gran Turismo Omologato (GTO) designation appears only on limited-run models. As "Omologato" suggests, the 288 GTO was produced for homologation purposes so that it could be campaigned in Group B racing (a minimum of 200 units were required, 274 were built). It was a development of the 308, which was, of course, immortalised by the Magnum PI television series that was wildly popular in the Eighties. But unlike Magnum's comparably dainty 308, the 288 GTO was muscle-bound and brutish, not only in terms of its longitudinally-mounted 2.9-litre V8 with twin IHI turbochargers (294 kW/496 Nm), but its flared wheel arches, enlarged spoilers, "flag-style" side mirrors and 2 pairs of driving lights at the far sides of its grille. In the metal, the GTO is a tiny car by modern standards, but it's jaw-dropping nonetheless. In 1984, a car with a 0-100 kph time of 5 seconds and a 304-kph top speed blew everyone's minds. The 288 GTO was never raced, not that anyone cares.
10. Mazda MX-5
Despite its compact dimensions and small-capacity engine, the Mazda MX-5 has remained one of the world's most pure, engaging driving tools. In an era of computer-controlled launch starts, electronic driving modes and lightning fast dual-clutch transmissions, the MX-5 is wonderfully analogue. A basic formula combines a slick manual transmission, rev-happy engine and rear-wheel drive. There's no button pushing here, just get in, put the top down and enjoy driving in its purest form, or as Mazda calls it "Jinba Ittai" (the horse and rider as one). It's also relatively affordable and now, in its 4th generation, the "Miata" continues to win hearts around the world.
9. BMW E30 325iS/333i
The E30 or 'box shape' 3 Series, also known as the Gusheshe, is a true South African icon. While our market never received the first (LHD only) M3, BMW SA developed local special editions (with help of German BMW tuning specialists Alpina) that were (and still are) highly regarded by enthusiasts. In their pomp, the 325iS and the older, extremely-rare 333i offered scintillating performance. The 325iS, released in 1989, was powered by a 2.5-litre straight-6 engine with 130 kW.
That was followed by the Evo 1 (with a 145 kW 2.7-litre Alpina-fettled engine) in 1990 and a slightly tweaked 155 kW Evo 2 version thereafter. As for the 333i, only 200 were sold to the public, making it an incredibly rare car. Power comes courtesy of a 3.2-litre straight-6 engine that produced 148 kW. If it's the cool factor that you are after, then look no further than the BMW 325iS and 333i, but good luck trying to find either one. 
8. Volkswagen Kombi Splitty
Few vehicles (especially MPVs) are as cool as the Volkswagen Kombi Splitty! Imagine cruising in a tropical location with the Splitty laden with surfboards and pulling into your local surf break to ogle the waves with your friends. This car sings to the tune of warm summer days, carefree living and brings a smile to those who are lucky enough to own, or even see, one. Old school is cool and this is a surfer hippie's dream! An ultra-rare 1959 Split Window Crew Cab owned by Oliver Broome recently featured in Cars.co.za's SentiMetal video series, go give it a watch!
7. Singer 911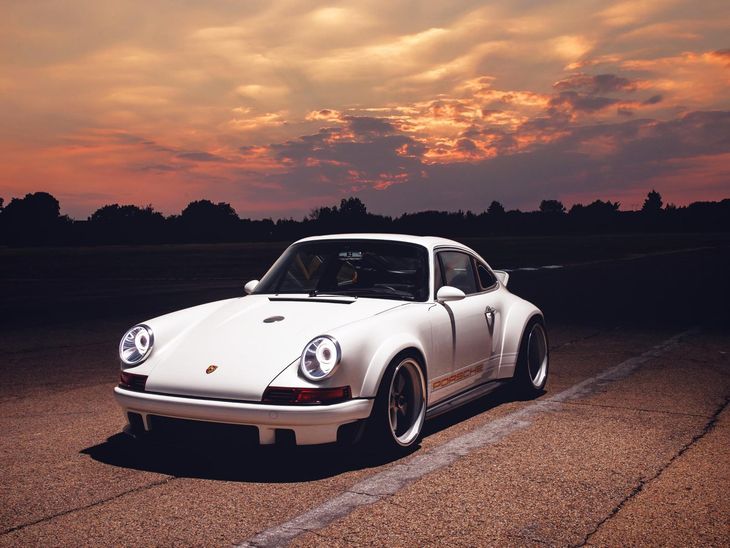 Take the best looking 911 (the 964) and then give it a wide body kit and a modern, high-revving naturally aspirated 4.0-litre air-cooled flat-6 and you have one cool car. Remember, it ain't cool unless it's air-cooled. The Singer was partly developed by the Williams engineering team and uses a carbon-fibre chassis, which gives the 911 a perfectly-balanced weight distribution. Don't think this is just some tuner trying to fix a 911; Hanz Mezger (the famed flat-six Le Mans engine builder) helped design and tune the engine and Norbert Singer (the man behind Porsche's first 16 Le Mans wins) helped with the aerodynamics. This isn't just a good 911, it's the perfect 911.
6. Lexus LFA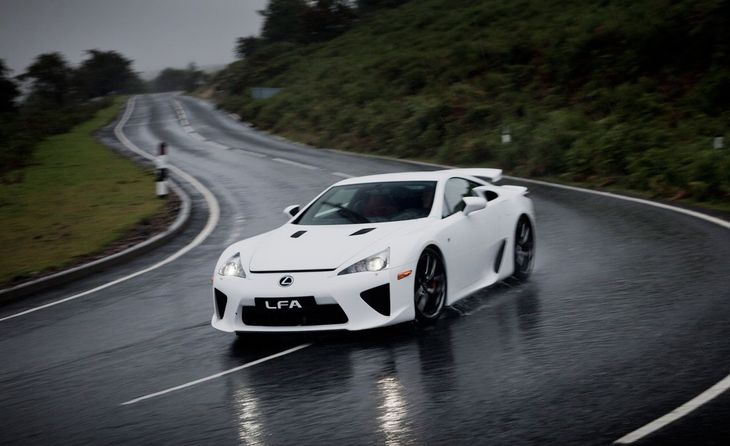 The world was left flabbergasted as to why Lexus, which is renowned for building luxury cars, decided to build a supercar. And yet the LFA exists. In what was possibly Lexus' first and only foray into this segment, the company pretty much did "a mic drop" and will neither confirm (or deny) that there will be a successor to the LFA. Yamaha hand-built the aluminium V10, and it revved so fast to its 9 000-rpm limit, that a digital tachometer was required just so the needle could keep up. Oh, and the LFA held the Nurburgring lap record for a bit too…It somehow manages to mix tech and soul – something so many brands have failed to do.
5. Ford Mustang (1965)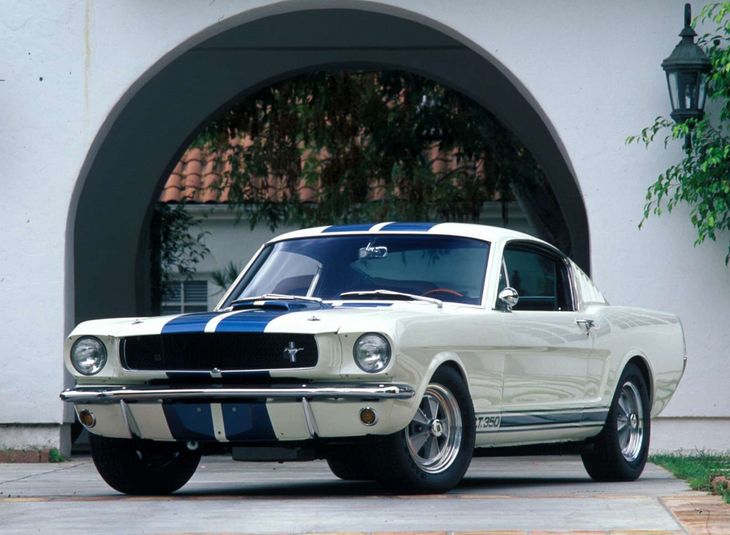 The original Ford Mustang will forever be remembered for the genre-defining chase scene in the movie Bullitt, but it meant so much more to so many people. With its relatively simple, muscular design, it instantly became a blue-collar sportscar, because everything else on US roads (at the time) was a veritable oil tanker by comparison. After its debut, the Mustang outsold every other muscle car in the market for years and became the subject of rock songs and unsurprisingly, the plaything of rockstars. Fitted with unnecessarily large V8 engines, the Mustang is vintage Americana, a Sixties icon and had storied rivalries with Chevrolet and Chrysler counterparts.
4. Lancia Delta Integrale
The late Eighties and early Nineties were great for car designers who only had access to right angles and rulers. The bulldog-looking Lancia Integrale Evo 2 is the ultimate (that's what Integrale translates to) hot hatch of its era. With 158 kW and 300 Nm, let alone 4-wheel-drive, it gives most modern hot hatches a good thumping with its 5.7 second 0-100 kph time. The Delta is probably the last real Lancia ever produced before Fiat introduced platform-sharing across all of its brands and effectively took away the substance that made Lancia an iconic brand. There is also the small matter of 6 consecutive World Rally Championships that the Delta Integrale won.
3. Lamborghini Countach LP5000 Quattrovalvole 
The Seventies were a wonderful time for car design, because it heralded the famous supercar wedge era made famous by the big Italian design houses. Lamborghini was at the forefront of this movement with the Countach: a car that broke every mould and rewrote the supercar rulebook with its futuristic styling cues scripted by Marcello Gandini of the Bertone Design Studio.
The Countach was powered by a variety of V12 powerplants, but the one that stands out the most is the naturally aspirated 5.2-litre unit of the LP5000 Quattrovalvole, which became a poster car. In fact, more posters were made of this Countach than any other supercar of its era.
2. Ferrari F40
Where once posters of the Lamborghini Countach most adorned schoolboys' bedroom walls, the minimalist F40 changed that in 1987. Built to celebrate the Ferrari's 40-year anniversary, the F40 is believed to be the final car that Il Commendatore Enzo Ferrari personally signed off before his death in 1988. It's short, sharp 3-letter nomenclature made it easy to settle arguments in a single breath.
What's more, the F40 was not for sissies… its interior was stripped out like that of a race car, its windows were plastic and its body a melange of Kevlar, carbon fibre and aluminium. Its twin-turbo 2.9-litre V8 produced 352 kW and 577 Nm, which made the lightweight supercar fiendishly fast (Ferrari claimed a 0 to 100 kph time of 4.1 sec and a 324-kph top speed), but notoriously tricky to drive at the limit. It's not the prettiest (or best) Ferrari ever produced, but for most car enthusiasts, Maranello's most evocative, and iconic, model.
1. McLaren F1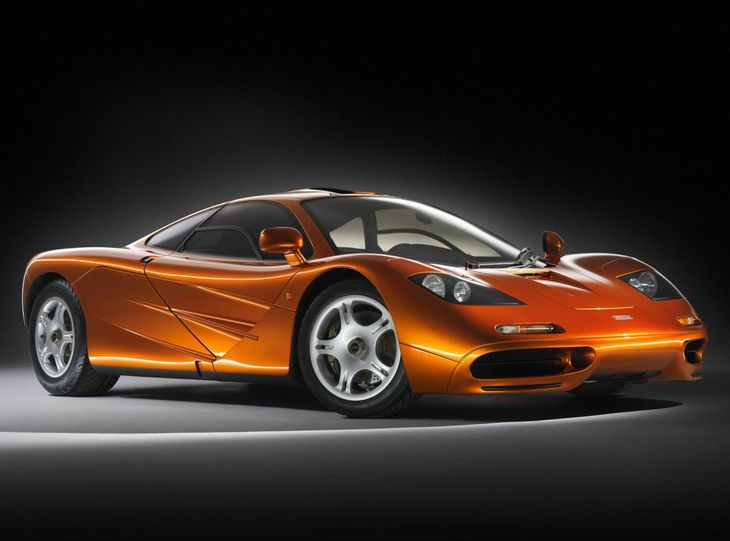 Designed by the exceptionally talented combination of SA-born Gordon Murray and Peter Stevens, the 3-seat (with the driver in the middle) McLaren F1 is a marvel of packaging efficiency, engineering purity and enduring style. The innovative use of a carbon-fibre monocoque, exotic materials (gold-plated heat shield, anyone?) and a 6.1-litre BMW V12 engine delivered unrivalled performance for a production car – officially clocking more than 380 kph in 1998. It will also be remembered for being crashed by Mr Bean (comedian Rowan Atkinson, who subsequently had his rebuilt at great costs) and the not so small matter of winning Le Mans. Even with all that cool tech, the F1's rear lights came from an Italian bus!