Are you're keen on buying a modern classic car? The BMW E46 M3 – widely regarded as one of the finest M cars ever made – offers visceral performance thrills at a (currently) enticing price and could be just what you're looking for. Here's what you need to know when searching for one on the used market.
Words by John Whittle
Photography by Roarke Bouffe
There's no arguing that BMW M has enviable brand cache. The aspirational value of an M car is difficult to explain to those who don't quite get it and, in South Africa, both BMW and its M sub-brand have a remarkable following. The success of BMW's M Festival at Kyalami Grand Prix Circuit is a testament to this with the event garnering some 60 000 attendees over its 3-day run in 2019.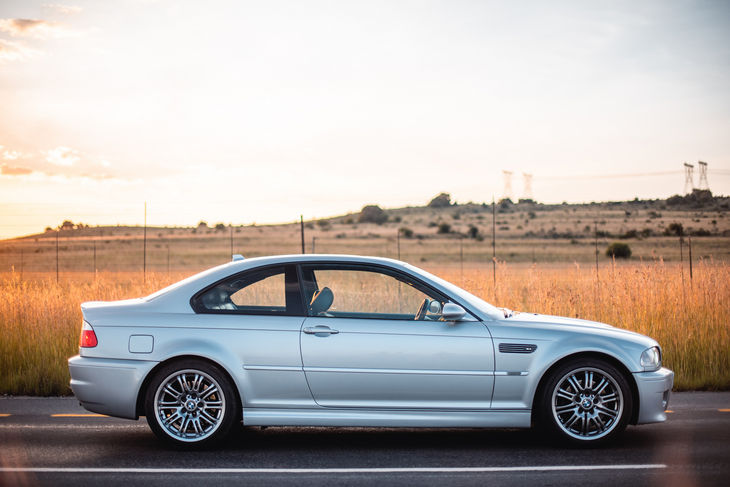 The E46 coupe has a seemingly timeless shape with no fussy lines or swoopy arches. The 3-box formula at its best.
Of course, countless people aspire to own a BMW M car, but only a fortunate few will ever get to realise that dream. Having said that, the entry point to that rarefied owner's circle isn't that difficult to attain as one might assume. Certain M models are starting to become more affordable as they age with grace, they cost no more than a new, moderately-specced family hatchback (to buy, anyway).
Unlike its E36-based predecessor, the E46 M3 was available only as a coupe and cabriolet, there was no sedan version. It is an iconic sportscar in almost anyone's book and when it debuted in 2000 it was deified by the world's motoring press. In fact, a certain British publication placed it 2nd in the list of cars vying for the 2001 Car of the Year title (the winner was the Pagani Zonda C12 S).
The M3's 3.2-litre straight-6 (referred to as the S54 by anoraks) screamed all the way to its 8 000 rpm redline and offered one of the highest specific outputs of any production powerplant at the time with 252 kW and 365 Nm. This, coupled with the everyday usability and practicality of the E46 platform, made it an almost unbeatable package, now even more so given their depreciation with age. 
The M3 feels surprisingly modern to drive, even by today's standards. One is reminded of just how communicative hydraulically assisted steering racks were before the "more efficient, but alas, lifeless" electrically-assisted setups became the norm. There is a Sport button, which sharpens up the throttle response and reduces steering assistance, but the most surprising aspect of the driving experience is just how balanced the entire package is. At no point does the Bimmer's power reserve seem intimidating – I think we have the all-the-torque-and-all-the-torque-now turbocharged engines to blame for that – but there really is something so engaging and rewarding about having to extract the best from an engine by building up and to and exploring its redline. And, then there's the profound sound it emits when it gets there!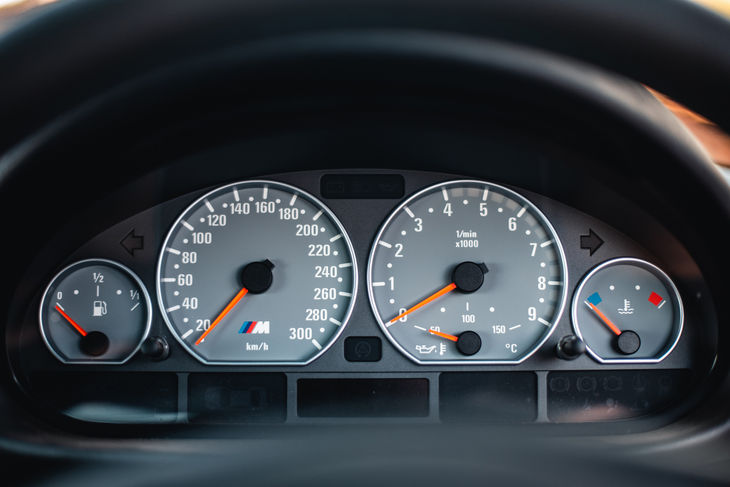 Back in those days, drivers had lots of revs to work with, but only the powerplants that revved over 5 000 did anything meaningful.
Compared with the E46 M3's 3.2-litre motor, which develops its peak torque at 4 900 rpm, the twin-turbocharged 3.0-litre unit in the contemporary M3/M4 produces its maximum "pound-foot force" at only 1 850 rpm. This inevitably makes the latter car feel appreciably faster, as the low-down grunt creates an urgency to the torque delivery that is somewhat lacking in naturally-aspirated vehicles. That's not to say the S54 doesn't feel fast – it's fast enough for a 20-year-old car – but from a sheer numbers perspective, it's outdone by the newer S55 motor with its sledgehammer torque delivery.
The E46 M3 also feels a lot smaller than its newer counterparts, but that would make sense, considering this bizarre trend of each new 3 Series model being bigger than its predecessor – it's daft, really.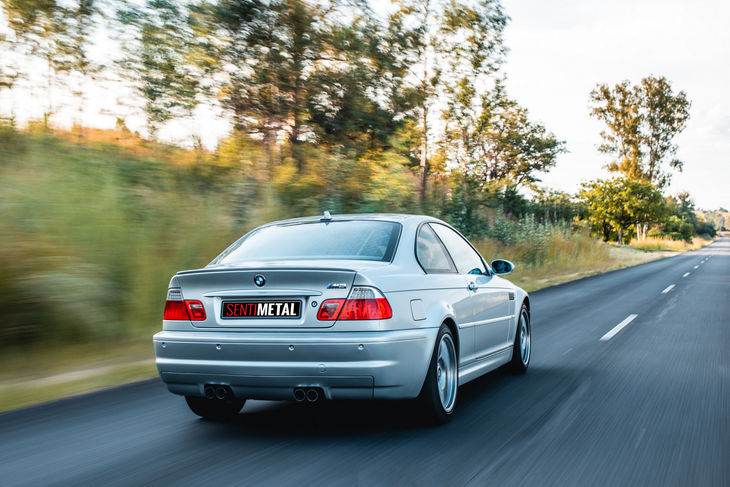 The E46 M3 feels much smaller than its modern contemporaries because it is. And bigger isn't always better. 
There's something to be said about NVH levels too – the E46's cabin would likely be considered as unacceptably noisy by today's standards of refinement (some might call it noise insulation, but to others, it's nothing but sensory deprivation), but that too adds to the whole experience of being involved in the process of going fast, or slowly, whichever way it is that you intend to drive your M3. At low speeds, the S54 motor ticks away with a bassy burble that you can feel in the seat of your pants, and when you make the engine perform like it was designed to do, it has a raspy, raucous and tinny howl that I've only ever heard from one other vehicle – a McLaren F1. It's by no means raucous inside, but you definitely notice more road and wind noise than you would in a new 1 Series, for example.
Sounds great, I'd like to buy one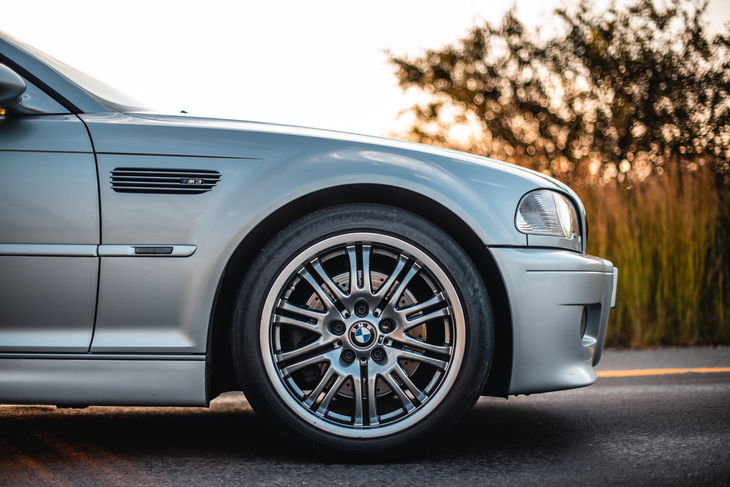 The brakes are something that you could look at upgrading down the line.
As far as performance bargains go, you'll struggle to find more performance car for your Rand than an E46 M3. Some might say this statement is subjective, but that's the appeal of a modern classic: it's an object of sheer indulgence, but you don't have to spend R1 million to get your hands on one?
A mere R130k will get you a tired SMG Coupé with many hard kilometres on the clock, whereas R350k to R450k will buy you a manual-shift "minter". If you're an enthusiast, a manual Coupé is the car for you, and if you aren't, then perhaps consider an SMG convertible? The infamous SMG gearbox featured essentially the same 6-speed Getrag manual gearbox as in the "stick shift" E46 M3. However, its clutch was electro-hydraulically controlled; you effectively drove the vehicle like a conventional automatic, except with a lot more rolling back and forth and pained expressions from your passengers as they wondered why their necks were sore and your clutch control so horrid.
What do I need to look out for?
Well, in petrolhead circles, the term "M-Tax" is often bandied about. In short, it implies that because a vehicle is an M-car, it's highly likely that prior to being bought by you, it spent most of its life being thrashed by its previous custodians. What this means is that components such as the brakes, suspension and certain engine parts will have experienced more wear than if the car was used to potter to the shops and back once a week.
This shouldn't surprise you, though, as the E46 M3 is a serious performance car, so it should make sense that it's been driven with intent – and often. Luckily for new owners, a great deal is known about the shortcomings of the M3's mechanicals and, as such, failures are rather well documented, making maintenance and diagnosis significantly easier.
Serious things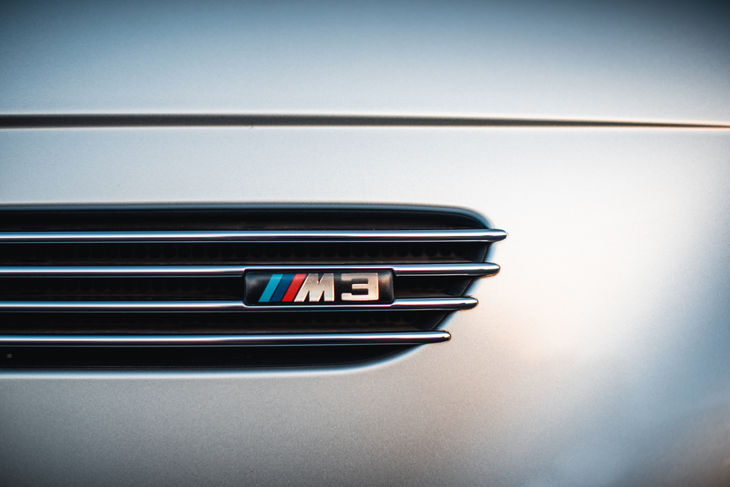 It's not going to be plain sailing the minute you buy an E46 M3, it had a few problems.
Connecting-rod bearings
These tend to wear sooner than they would in a conventional motor. The main reason for that is the high-revving nature of the S54 motor. As such, it is suggested that these be replaced preventatively when nearing the 100 000 km mark. It isn't quite as simple as that, however – factors vary per vehicle and some might soldier on well past 150 000 km with original bearings whereas others have spun bearings well below 100 000 km. Key to the longevity of these bearings, however, is ensuring that the 10W-60 oil used in the S54 is up to running temperature before engaging in spirited driving.
Subframe cracks 
This is somewhat of a contentious topic when discussing E46 M3s is the infamous "cracked subframe". What actually happens here is that the rear-axle carrier isn't able to withstand the high-torque outputs of the M3 and inevitably, cracks begin to develop in the panel. These cracks can be found on almost all M3s and once they develop past a certain point, they tend to spread at an exponential rate, so it's best to get this checked and remedied as soon as possible.
There's no exact science as to how this should be remedied. BMW's solution was to fill lower sections of the rear axle carrier panel with structural foam or replace the entire rear-axle carrier panel (RACP) – neither of which were ideal solutions. The best route to go would be to either repair existing cracks and weld in a Vince Bar, which helps distribute the drivetrain load to stronger parts of the vehicle; or to have a look at the solution that Redish Motorsport has developed – essentially reinforcement plates that are welded to the underside of the RACP.
SMG hydraulic pumps
BMW's SMG gearbox could be described as an acquired taste, one which the overwhelming majority of enthusiasts have yet to acquire. It's jerky at low speeds and not nearly as engaging as a conventional 6-on-the-floor shifter. One could perhaps overlook these faults, however, if the SMG-II box found in certain E46 M3s was a fine example of gearbox reliability. You won't be surprised to learn, then, that it isn't. The SMG pump may as well be fashioned from leaves and is yet another "when, not if" failure item on the M3. The best way around this is to just get a good ol' manual.
VANOS
VANOS is the name that BMW gave to its variable valve timing system of the era and failure of various aspects of the system can either lead to lessened engine performance or bank account-altering catastrophic failure. Failure of the exhaust-cam hub tab results in the tab falling into the engine and wreaking all manner of havoc. The VANOS solenoids are a common fault area and can be cleaned, but will eventually have to be replaced. VANOS seals also tend to perish and have to be replaced timeously.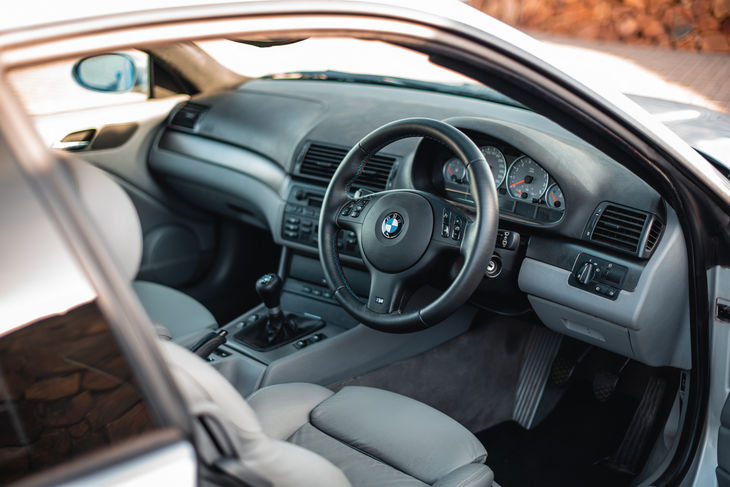 Try getting hold of an E46 M3 with a manual gearbox, you'll be glad you did in terms of reliability and driveability.
Less serious things
Cooling system
It is widely acknowledged that E46 cooling systems were basically made from chocolate and as such, fail on a regular basis. This is mainly due to the extensive use of plastic components, which really do not weather well (they become brittle with age). There are many aftermarket fixes for this; most of them entail replacing OEM hardware with harder-wearing equivalents.
VANOS- and power-steering hoses
The VANOS external accumulator may burst on earlier vehicles and should be checked. Also, inspect the power steering hoses, which are highly pressurized and, after time, often begin to sweat and eventually burst, which is not ideal as this can spray oil all over the engine bay. These pipes are rather shapely and quite difficult to repair so best to just buy a new one, as expensive as they may be. 
Fluids
It would be advisable to check the quality of the fluids before purchasing a vehicle. Once you've bought an E46 M3, consider replacing all of the fluids systematically. This isn't a hugely expensive process and goes a long way to ensuring that components are running as they should. As with any high-performance vehicle, it is imperative that the correct fluids are used throughout the vehicle.
Engine: 10W-60
Differential: OEM differential oil with friction modifier booster
Gearbox: Gearbox fluid BMW MTF-LT2
How to spot a lemon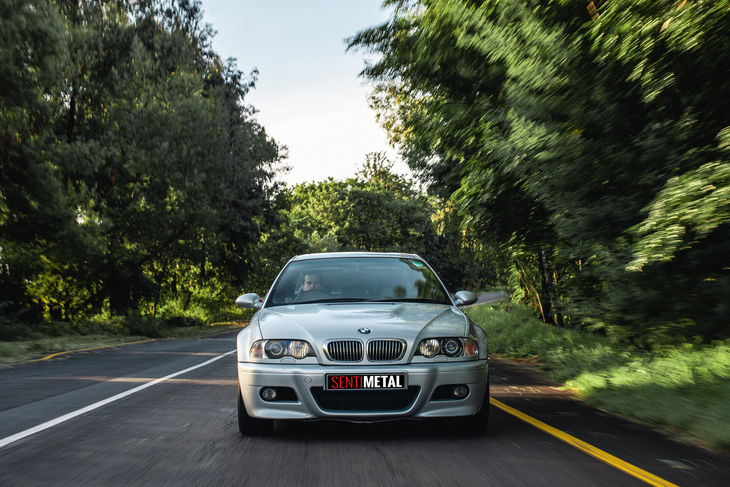 It cannot be overstated enough that you do your own research on a vehicle you may be interested in.
As with any used vehicle, there are bound to be many lemons out there. As a buyer, you need to ensure that you are not only well informed but well aware of what you're looking for when you inspect a vehicle. It almost goes without saying that a vehicle should never be purchased sight-unseen – this is tantamount to financial suicide when you're looking at purchasing something like an E46 M3.
Popular modifications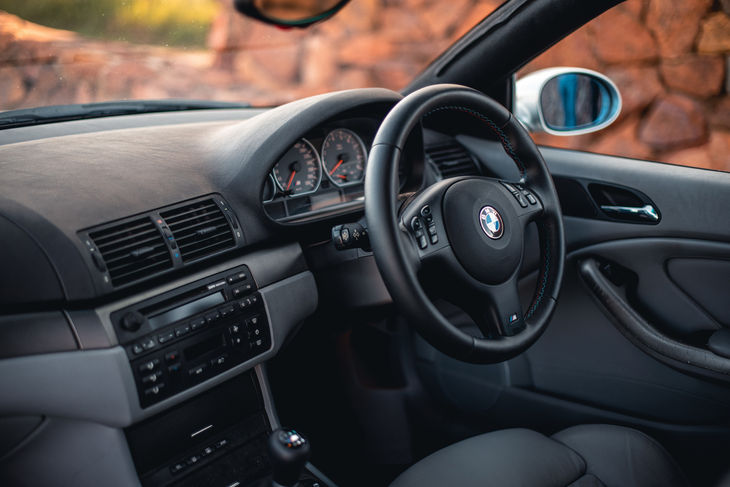 There are aftermarket audio head-units available if you like modern features such as Apple CarPlay or Android Auto.
As long as motor vehicles have been an extension of people's, um, personality, there seems to have been a desire, if not compulsion, to better the supreme and all-knowing engineering skills of those specialists who designed and made those vehicles. As is to be expected then, there is an array of popular modifications that can be done to E46 M3s. Some are great, and some aren't.
Decat
Removing the catalytic converter from your car is not only reckless and unkind to the environment – it also makes your car sound a little racier and leads to a nominal improvement in performance. This mod is, therefore, a matter of preference as it certainly increases the raspy sound that the S54 motor emits, but if the modification is done badly it can also make the car sound broken.
Uprated brakes
This is one of the nicer (and popular) modifications to the E46 M3. You can upgrade the standard brakes to those of either the Z4 M (E85) or E46 M3 CSL, which has compatible braking systems. They offer improved braking performance thanks to larger-diameter discs and a different caliper-carrier at the front, as well as larger pistons at the rear.
Z4 M steering rack  
This is a great update to consider should you ever decide to drive your M3 on track days. It just sharpens up the rack and makes the car respond slightly quicker to steering inputs.
Nice-to-haves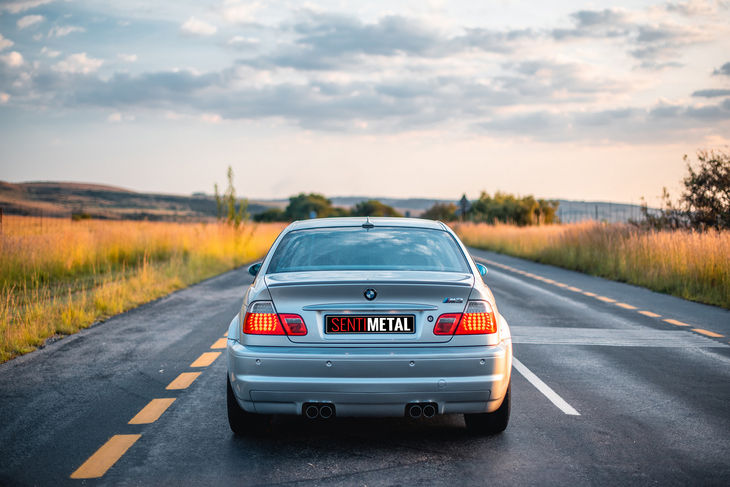 Where possible, keep it stock, it will only help the resale value if you ever decide to sell.
Another popular modification is to fit the manual shifter from the E46 330d as it has a slightly shorter throw than the stock M3 unit. 
The M3's stock head unit is also quite ancient by today's standards and if you're the sort of person who likes to stream tunes from your smartphone, you may want to consider a DynaVin unit or similar – there are many options out there that look similar to the stock nav unit, but offer Apple CarPlay and Android Auto compatibility. 
Intakes
The most widely discussed modification for the E46 M3 is undoubtedly the air intake. Following the aural pornography that was the induction noise of the M3 CSL, every M3 owner wanted to replicate this with a cone filter here and some bolt-on piping there. Again, there are many options out there that all change the characteristics of your car, ranging from noisy and slow to less noisy and almost as fast as stock. My recommendation here is to not fiddle with the car's intake system if you cannot afford to upgrade it properly – there really isn't anything wrong with how a stock M3 sounds, anyway.
SMG to manual conversions 

Is this perhaps the pinnacle of the driver's M car?
There are a surprising number of these out there, some have been done rather well and others look like they were done via cross-continent correspondence. Unless you know exactly what you're looking at (one would hope that the conversion has been properly documented), it is advisable to steer clear of these. Rather look a little harder and find the car you want – don't settle for a sub-standard vehicle, because that sort of compromise will almost certainly come back to bite you in years to come.
And there you have it, sports fans! Shopping in the used car market is always an adventure and while there is no way to guarantee that you won't buy a dud, there are definitely ways to upskill and inform yourself before making a purchase. The E46 M3 is an absolute legend and should you be in a position to consider adding one to your garage, just make sure you get yourself the right one!