With heritage increasingly seen as a powerful marketing tool, BMW recently exposed more than 30 000 South Africans to its proud local motoring history at the M Festival. Now SentiMETAL, Cars.co.za's car culture sub-brand, has launched a commemorative limited edition print celebrating 4 uniquely South African performance BMWs.
Only 50 prints, each individually numbered, will be produced, and feature the E12 530 MLE, E23 745i, E30 333i and 325iS ("Gusheshe"). The car images were all exclusively created for SentiMETAL by Wayne Batty, former South African motoring journalist and an ace illustrator/designer.
The 4 cars selected to feature on this print were all born from a desire to win on the racing circuits of South Africa. In the '70s, '80s and early '90s, local motorsport was a powerful marketing tool, and so no expense was spared in the pursuit of a win on... Saturday... to sell more on Monday. 
BMW 530 MLE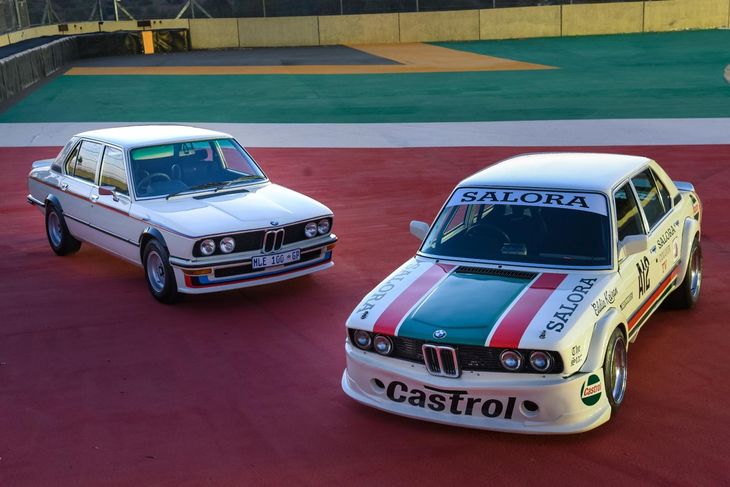 Born to race: the 530 MLE remains the most successful 5 Series racer in the world, ever.
Increasingly regarded as the car that led to the birth of BMW's hallowed M-division, the 530 MLE was born to race – it is the first BMW road car to feature an "M" stamped onto its engine plate. 
BMW wanted a contender in local circuit racing and turned to BMW motorsport legend, Jochen Neerpasch, for guidance. Very quickly 2 of the first-generation BMW 5 Series (E12) race cars were prepared to compete in South Africa's popular Modified Production Series.
What happened then is unlikely to ever be repeated again. The 530 MLE (Motorsport Limited Edition) lined up for its first outing in 1976 and simply dominated – it notched up 15 consecutive wins and 3 championship titles duly followed! When it was retired in 1985, the 530 MLE was the most successful 5 Series to race, in the world, ever. It likely remains so to this day.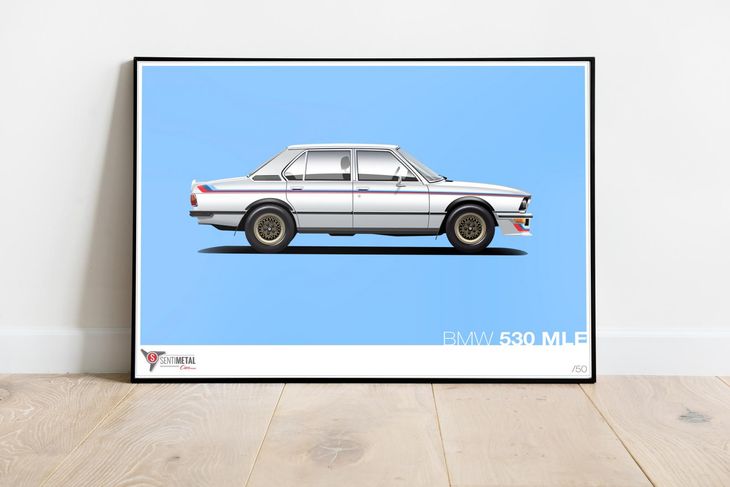 Also available on the SentiMETAL store is an individual 530 MLE print, again limited to 50 copies and available in A2 and A3 sizes.
But before it could race, however, BMW South Africa had to sell 100 road-going versions of the 530 MLE to the public. Developed by BMW Motorsport as a limited edition "homologation" model for South Africa, 110 units of the Type 1 were produced in 1976, while 117 versions of the Type 2 rolled off the production line in Rosslyn in 1977. 
The powerplant chosen for the 530 MLE was a factory-tweaked version of the same 6-cylinder motor found in the 3.0L; it boasted peak output figures of 147 kW, 277 Nm of torque, had a claimed top speed of 208 kph and a 0-100 kph time of 9.3 seconds.  
BMW 745i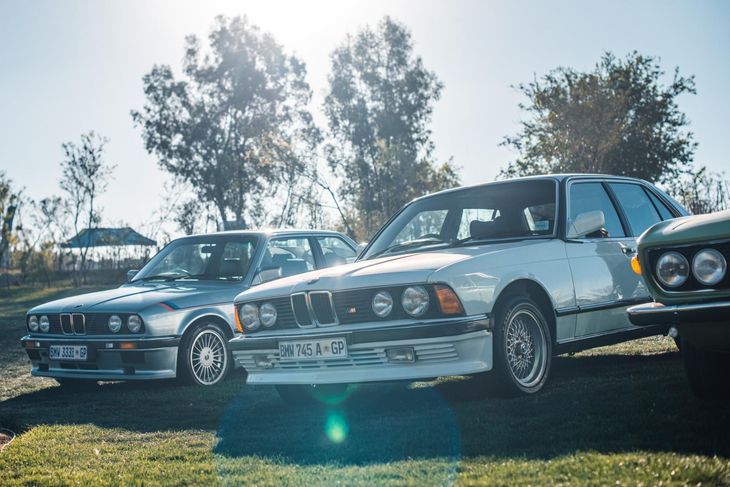 Flanked by two other uniquely South African Bimmers, this 745i was spotted at the recent Concours South Africa.
Another one of those very special, very limited production run South African BMWs, a clean E23 745i is a rare find these days. Powered by a version of the M88 engine also fitted to the M635CSi and E28 M5, the local 745i boasted a power output of 213 kW and 340 Nm of torque. In Europe, there was also an E23 badged as a 745i, but it featured a turbocharged straight-6 and was only available in left-hand-drive markets. There was no place for a turbocharged setup in right-hand drive cars and so BMW SA developed the M88-equipped 745i instead.
When CAR magazine tested it in September 1984, the 745i rocketed to 100 kph from a standstill in only 7.14 seconds. It was offered in manual and automatic forms, and 209 units were built. A 745i raced in Class A of the South African Modified Saloon Car Championship, taking the title in 1985. 
BMW 333i
One of the most iconic of the South African specials is the BMW 333i. Developed because BMW South Africa could not import the E30 M3, it featured a 3.2-litre straight-6 that produced an evocative soundtrack and delivered strong performance. With so few made (only around 200 units), it's one of the most collectable E30 variants in the world.
Seeing as we never got the legendary first-generation M3, the 333i was essentially "South Africa's M3". With the help of parts from German tuning firm Alpina, BMW South Africa shoehorned the M30 engine from the 733i into the much tighter engine bay of the E30. In fact, the engine was such a tight fit in this car that you could have either power steering or air-conditioning – but not both. Quoted peak power is 145 kW, but every one of those kilowatts work hard, because in our previous drive of BMW South Africa's restored example, the 333i felt very brisk! Performance testing back in the '80s showed it to be marginally quicker from 0 to 100 kph than either of the subsequent 325iS derivatives, but we're talking split seconds. 
BMW 325iS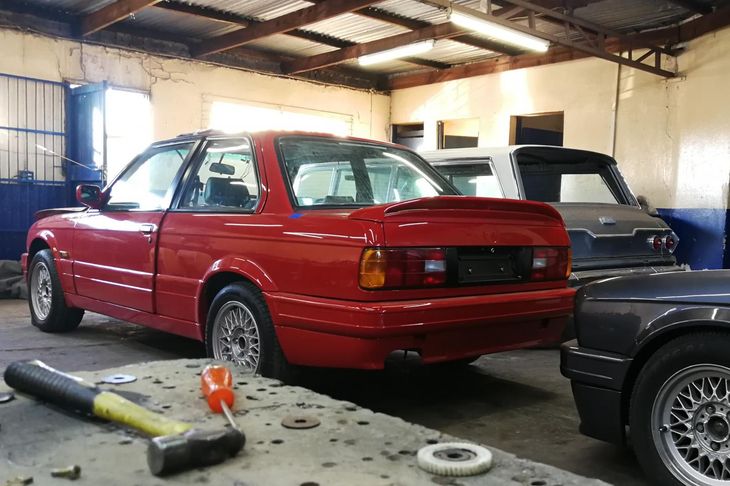 The SentiMETAL collection recently grew with the acquisition of its own 325iS Evo 2.
The E30-generation 3 Series has achieved cult status in South Africa and the range-topping 325iS coupe (colloquially known as the Gusheshe, it was produced in Evo 1 and Evo 2 guises in the early '90s), is unique to this country. Developed to compete in the Group N production-car racing series against the Opel Kadett Superboss, and driven by heroes such as Tony Viana and Deon Joubert, the 325iS was a formidable machine that produced a glorious sound, and these days, it fetches lofty prices among collectors. Our own Evo 2 restoration is currently nearing completion.

Also available as an individual print (in A2 and A3) is this stunning image of the BMW 325iS.
By modern standards the 325iS' outputs seem low; its the 2.7-litre straight-6 engine pumps out "only" 145 kW or 155 kW (depending on whether it is an Evo 1 or Evo 2). The torque figure for both derivatives sits at 265 Nm, but the peak is slightly higher on the latter. 
Keep in mind, however, that the 325iS's weight is rated at around 1 200 kg, which is comparable with a current Volkswagen Polo. Also, with a 25% limited-slip differential and M Sport suspension with Bilstein struts, the racing genes shine through brilliantly. Back in the day, a 0-100 kph time of around 7.5 seconds was not to be sniffed at, and neither was a 230-kph top speed. 
The perfect gift
"With Christmas around the corner, we think these prints make pretty awesome gifts for the BMW fanatic in your life," says Hannes Oosthuizen, Cars.co.za's Consumer Experience Manager. Numbers are very limited, so order yours here.