Some of the most immaculately prepared classic cars in South Africa competed for the coveted "Best in Show" title at the weekend's Concours South Africa, staged at Steyn City in Gauteng. We were there.
Photos by Roarke Bouffe & Duwyne Aspeling
Now in its fourth year and sponsored by Nedbank Private Wealth, the 2019 edition of Concours South Africa saw higher standards than ever before, with the ultimate winner decided not from the traditional Top 10, but from 12 cars, because the scoring was so close. In the end, it was the Campher brothers' immaculate 1971 Dino 246 GT that scooped the top prize. The 3 previous winners were; De Tomaso Pantera (2016), Ferrari F40 (2017), Ferrari 328 GTS (2018). Seems like the judges do like their classics with an Italian flavour...
 Contestants started arriving on Friday, off-loading and registering their vehicles at the Steyn City entrance, before driving in convoy to their final parking spots on an immaculate lawn in an 8-hectare area dedicated to Concours this year. Besides the vehicles competing for top honours and class victories, several cars were also on display just for enjoyment. The Daytona Group was there in full force, with several of its modern supercars on show, but the vehicle that probably attracted most attention was a completely unrestored Rolls-Royce Phantom III.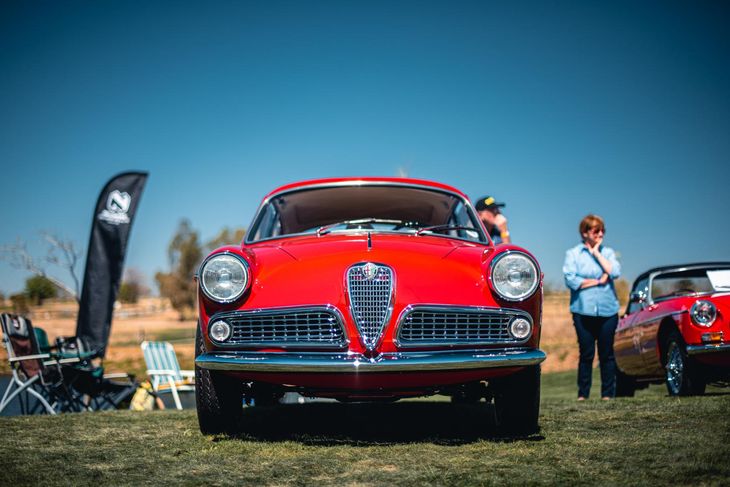 Third place overall went to Neville Forssman's 1960 Alfa Romeo Giulietta Sprint.
Also on display, but not competing, were 2 unrestored uniquely South African legends, in the shapes of the BMW 745i and 333i. Friday's activities closed with the induction of Basil Green and Graham Duxbury into the South African Hall of Fame. 
Next morning saw the gates open at 7 o'clock, allowing participants to prepare their cars for judging, which started at 9 o'clock. It was at this stage that we finally grasped just how competitive this event was. As first-time participants (with our recently restored Opel Kadett Superboss, one of 3 on display), we could only stand and marvel at the level of perfection the competitors were striving for during this prepping period.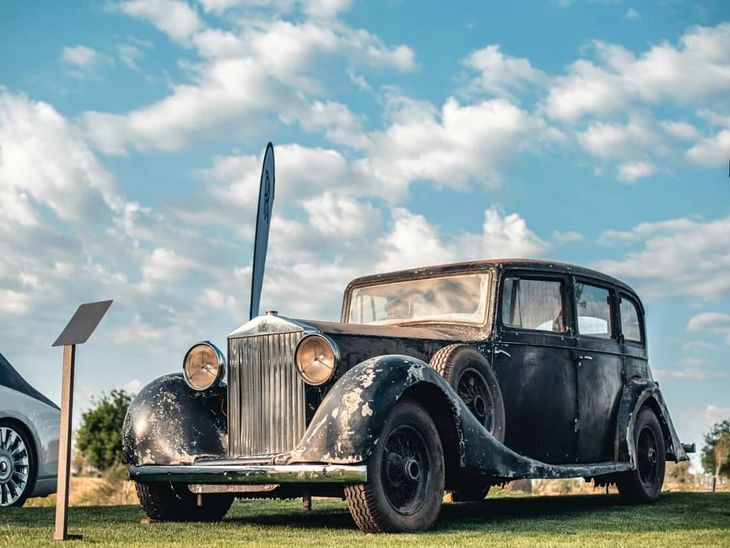 This unrestored Rolls-Royce Phantom III drew lots of attention. It will soon be undergoing a complete rebuild.
There were numerous South African "specials" competing for the overall prize this year. We were particularly impressed with Gavin Roberts' Superboss (a top 10 finisher from the previous year), Wynand Mulder's Ford Cortina XR-6 and Raveen Sewchand Ramlakan's immaculate BMW (E30) 325iS. Among the other contenders, we were sure that the Dino 246 GT would be a strong contender, as would the achingly beautiful Giulietta Sprint of Neville Forssman. Matthew Kreeve's Porsche 356 was also an object of sheer beauty and perfection.
The judging panel had 15 minutes with each car, looking at overall condition (showroom fresh is the target), orginality etc. The judges also checked that the cars' lights worked and that it would start. It was at this moment that our Superboss's recalcitrant personality reared its head again (remember #CarsAwards ?) and refused to start with the judges staring at its engine. For good measure its left indicator also froze. It was a big disappointment for sure, but nevertheless a valuable experience... We'll be back better prepared next year, and with more cars – one of which will be Italian!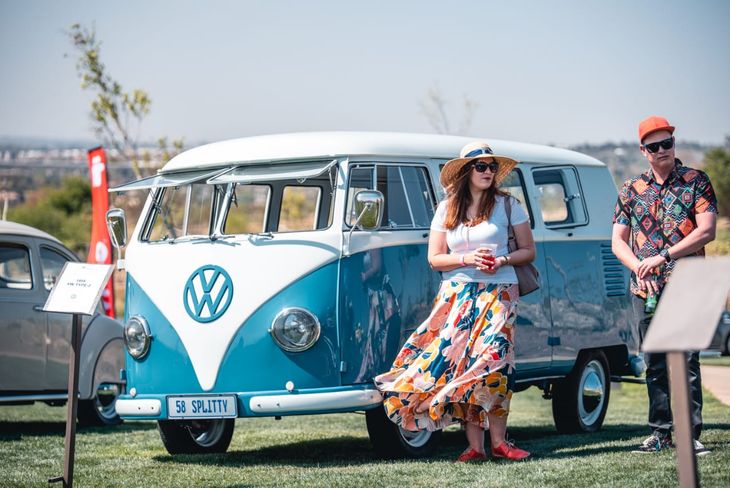 A big favourite of the crowd (and the judges) was this Volkswagen Type 2 (split-window Kombi).
Later in the afternoon, the judges announced the top 12 that would go through to the final round (to be judged, again, on Sunday). The final 12 were;
1961 Mercedes-Benz 300 SL Roadster (Franco Scribante)
1992 Opel Kadett 2.0 GSi 16v Superboss (Gavin Roberts)
1973 Porsche 911 Carrera RS (John Sayers)
1990 BMW 325iS (Raveen Sewchand Ramlakan)
1973 Porsche 911T (Timothy Abbot)
1982 Ford Cortina XR6 (Wynand Mulder)
1956 Porsche 356 (Matthew Kreeve)
1965 Alfa Romeo Giulia "Step Nose" (Neville Forssman)
1960 Alfa Romeo Giulietta Sprint (Neville Forssman)
1965 MGB Roadster (Thys Venter)
1957 VW Type 2 Split-Window (Wynand - Generation Old School)
1971 Dino 246 GT (Vic Campher)
Come Sunday and with the pressure of competing now off from our shoulders, we could stroll around the magnificent display area and truly appreciate the views. A surprise arrival (not competing) was a prototype Maserati Khamsin (unrestored), a beautiful Aston Martin DB6 and a vintage 1929 Auburn Boat-tail roadster. We were also intrigued by the oldest contender, a 1902 Oldsmobile "Curved Dash", complete with an E-toll tag on its "tiller".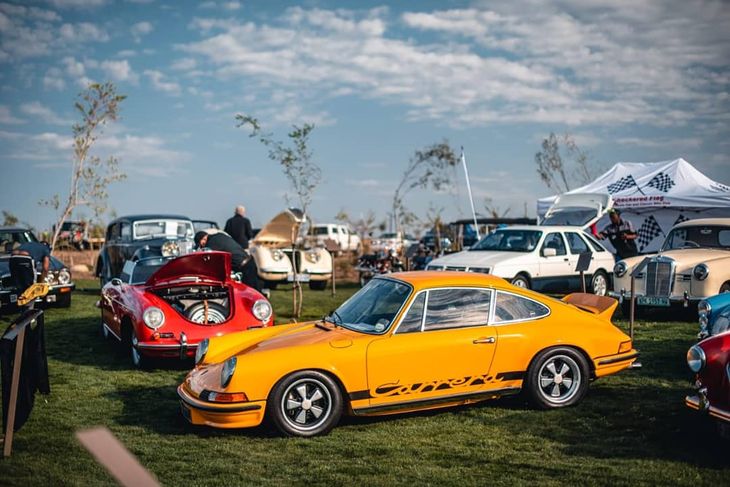 Extremely valuable, and very pretty... John Sayers' Porsche 911 Carrera RS
A stunningly clean BMW (E36) M3 caught our eye, as did a stock Ford Sierra XR8 (a rare thing indeed).
Just after lunch, it was time for the announcement of the winners. In third place was Neville Forssman's beautiful Giulietta Sprint, second went to a crowd favourite, the "Gusheshe" of Raveen Sewchand Ramlakan and the winner... the beautifully turned-out Dino 246 GT of the Campher brothers.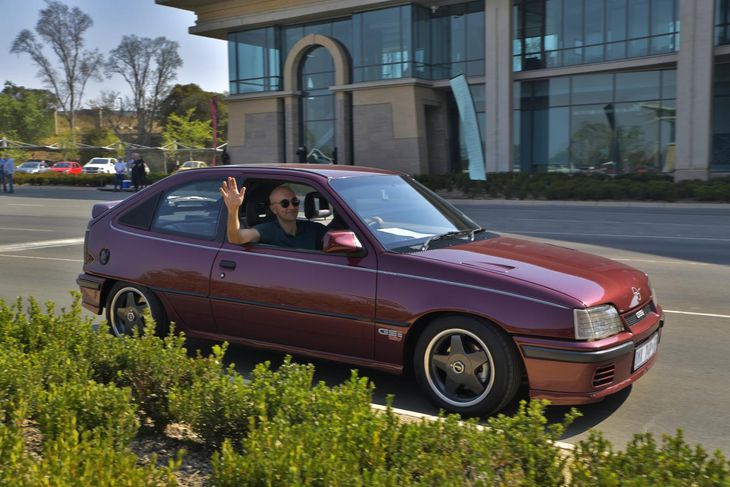 Our Superboss didn't make the cut this year, but we'll be back to try again next year.
In the "Show 'n Shine" category it was Gordon Johnstone's 2005 Maserati Gran Sport that emerged victorious, while Class 1B was won by Roger Martin's Jaguar SS 2.5 Saloon, with Class 2A scooped by the very well-prepared 1957 VW Kombi Type 2 from Generation Old School. In Class 2B it was that beautiful 356A of Matthew Kreeve that came out tops while Raveen Sewchand Ramlakan's E30 325iS was the best of the SA specials.
Roll on Concours SA 2020...