When we made the most of an unexpected opportunity to drive a Dodge Viper GTS, we found that the iconic American supercar is not the hairy-chested, one-dimensional brute many of us have been led to believe...
Words by Hannes Oosthuizen
Photos by Justin Pinto
When I woke up this morning I would have never imagined that I would find myself getting behind the steering wheel of a 1997 Dodge Viper GTS. A month or so ago, I wasn't even aware that there was a Viper GTS in South Africa, let alone Cape Town!
But here I am, seated on the "wrong" side of the car, peering out over that curvy bonnet and all too aware of the stressed body language of the owner (Jess), who is seated next to me. Usually, I don't get to drive cars when they're being filmed for SentiMETAL episodes, but Jess was happy to indulge me when I asked if I could accompany him to the next location of the shoot. I don't believe, however, that he expected me to say yes when he politely asked whether I'd prefer to drive myself. Right now he is probably as "surprised" by the turn of events as I am.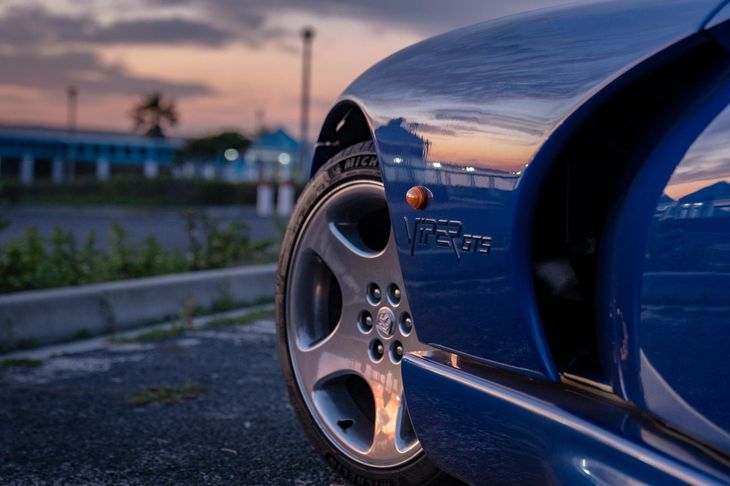 The Viper's shape is a mesmerizing combination of curves, slashes and bulges.
To be honest, it has been a day full of surprises. In the metal – or rather, a melange of composites – the Viper GTS is not nearly as bulky as I thought it would be. The supercar's wide hips slim towards just aft of the front wheels, where deep scallops create a very neat "tucking-in" effect. In a way, the design is, well, quite… elegant. The Dofgot curves feature everywhere, including on the roof (those double-bubble bumps are there to create extra space inside for occupants, in case they're wearing safety helmets). And yeah… you can't really escape the fact that this car was probably penned with a reference picture of a classic '60s Shelby Daytona within glancing distance of the designer's drawing board.
And boy, the Viper has an imposing presence, at least partly due to that iconic metallic-blue-with-white-racing-stripes paint job. Turn into a petrol station (which is fair to say is quite a regular occurrence with this 8.0-litre V10 monster) and crowds gather quickly. Surprisingly, Capetonians tend to recognise this rarefied machine immediately and they're often fascinated by the details. The third brake-light, for example, is an actual Viper logo on the rear spoiler, and the sheer size of those rear wheels never ceases to amaze people. Those tyres are the source of some concern for Jess, however. The Michelin Pilot MXX3s were made specifically for this car, and they're no longer being produced. And it's time for new rubber…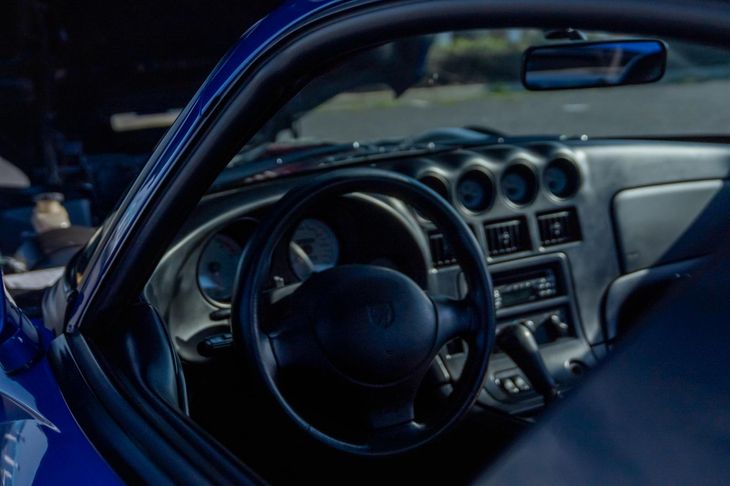 The cabin features an off-set driving position and adjustable pedal box. Mod-cons such as airbags and air-con are fitted.
Opening the hood, oh, I mean bonnet, leads to another episode of spectacle. There is no release inside the car… instead, you pull a latch hidden inside the front airdam, but then you have to move to the back of the bonnet to open it forwards. Doing it the wrong way can be a costly mistake – a new bonnet apparently costs $15 000! It's little wonder Jess sprints to the aid of the camera crew when they want to film the engine...
But how on earth did a left-hand drive beast such as the Dodge Viper GTS make it into South Africa in the first place? Well, back in the late '90s, an optimistic Durban-based dealer called Archie Sinclair brought in 2 Viper GTSs, one of which is featured here. Capetonian Jess Goedhals has owned it for the past 22 years. He calls it his pension plan, and he's not going to let go of it, even though he's been offered "silly money" by aspiring buyers.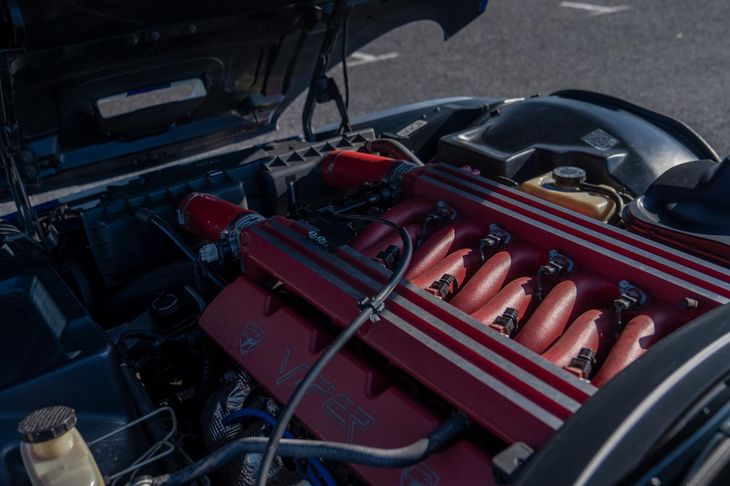 The massive 8.0L V10 was co-developed with Lamborghini, and punches as hard as you'd expect.
Jess has always had a thing for American musclecars and dropped his first V8 into a Bedford van in the '70s when he got caught up in the "Passion Wagon" craze. He's also owned an '80s Camaro, but one look at his model car collection will convince any visitor that the love affair with this Viper GTS runs deep. Jess travelled to a Dodge Viper owner meet in Las Vegas some years back, and to this day counts those days spent with hundreds of other Viper aficionados as a highlight of his life. But here in South Africa, there are only 2… so support is limited. Using what information he can find online, he services the car himself, and says it's been entirely reliable. Parts have not been too much of an issue… except for those tyres.
Settling into the Viper GTS and acclimatising to the left-hand drive setup is easier than I had expected. I'm 1.8m tall and there's sufficient headroom. A nice touch is that the pedal box is manually adjustable – if slightly offset – and there's a wide range of adjustment available from the steering column, too. What is bizarre, however, is that you sit very close to the door, and there's a wide transmission tunnel that creates a chasm between driver and passenger. As if to highlight the fact that this is no regular American car, there are zero cupholders. The A-pillars are thin, so visibility out of the car is excellent, which is a real relief to me (and, undoubtedly, to Jess).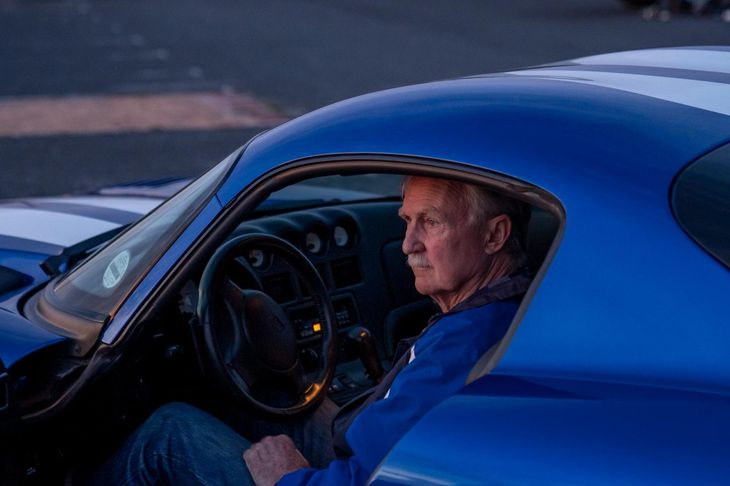 Jess Goedhals has owned this Viper GTS, one of only 2 in SA, since new.
Compared with the Vipers that preceded it, the GTS, which is based on the 2nd-generation car, was 90% new and featured conveniences such as air-conditioning, electric windows, ABS and even airbags. It's admittedly pretty dull inside, but the strip of gauges on the fascia is cool, and the cabin's better made than I had expected. Also… Jess has kept it looking pretty much like new.
Power comes from an 8.0-litre V10, co-developed with Lamborghini, which was a Chrysler subsidiary at the time. It packed 450 horsepower (336 kW) and 664 Nm of torque, the latter figure at 3 700 rpm. The Tremec 6-speed manual gearbox feels very mechanical and robust – shifts are accurate, but not lightning fast. The more observant local car spotters often enquired about the side-mounted exhausts that were such a unique characteristic of the earlier Viper RT/10s. On the GTS, the exhausts still run through the side sills (so they get hot), but the pipes exit at the back.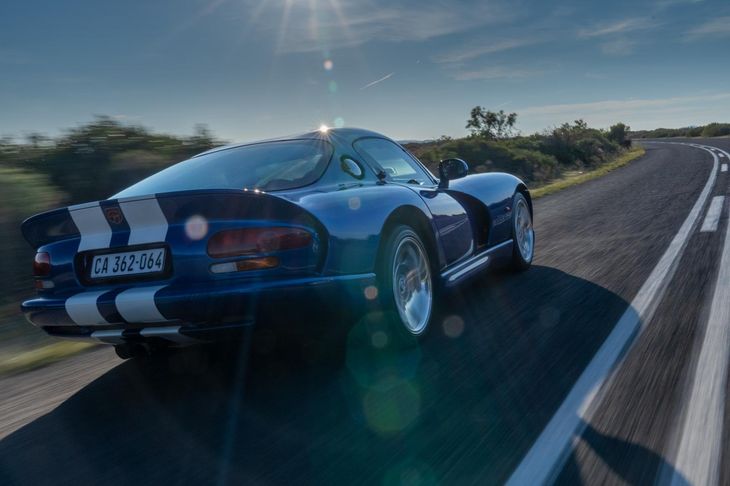 On the road, the Viper is direct and alive, with "darty" steering and good throttle response.
Speaking of the pipes... Earlier in the day, I noticed that the Viper GTS was not nearly as loud as I had expected, but the sound that it makes is still pleasing… from the outside. Seated inside, it's far more muted, which is a bit disappointing... I would have liked it to be a bit more brutal, aurally.
But perhaps I'm not really concentrating on the sound, because this is a machine that keeps the driver busy. I haven't driven a car with such darty, direct steering in a long time and for a first timer this further heightens the perceived liveliness of the car. I expected it to be somewhat woolly and soft around the edges, and owner Jess believes it's quite a good GT cruiser, but within the first few kilometres I'm of the impression that it's more of a racing car let loose on the road. Jess wins the argument, though, seeing as he's driven it down from Johannesburg with his wife and thought it was very comfortable on the near-2 000 km trip. It certainly has long legs: at 120 kph in sixth gear the engine is barely ticking over (1 500 rpm).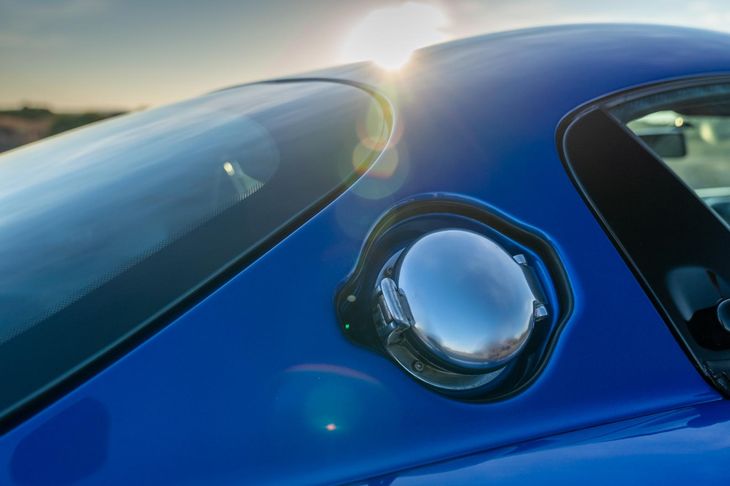 The Viper's exterior is littered with racecar details such as this fuel filler cap. 
Put your foot down and you'll experience the kind of forceful, yet beautifully linear power delivery that's such a rarity in these days of forced-induction performance cars. The V10 punches hard from low revs, and the GTS picks up speed very, very quickly indeed. A 0-100 kph time of 4.6 seconds was claimed at the time of the launch, and I have no reason to doubt it. The GTS was faster over the benchmark quarter mile than a period Porsche 911 Turbo. It is said the Dodge Viper GTS can get close to 300 kph, and Jess nods in agreement. He's taken it to those speeds on an airstrip and commented that it felt "very stable... I could probably have taken my hands off the wheel!" Jess is a braver man than me.
There are no airstrips for me today, but I do get the opportunity to put my foot down for a few brief moments, and the immediate surge forward is so addictive that I end up doing it too often… resulting in concerned downward glances at the plummeting fuel gauge needle.
When the road gets twistier, the surprises continue to roll in. I've already commented on the talkative steering, but there's also very good resistance to body roll, and the lateral grip levels seem to be high too. Nevertheless, this is a car that demands respect and a fair degree of skill to drive with zeal… You sit just in front of the rear axle, but the interface between your "bum" and "brain" needs to be alert and fast to decipher the grip messages being relayed by those fat rear tyres. At the same time, the steering is super lively and direct. I'm also reminded that the Michelins at the back are not exactly factory fresh, so today is not a day for heroics, but the driving experience is sufficient to get a sense of the Viper GTS's character.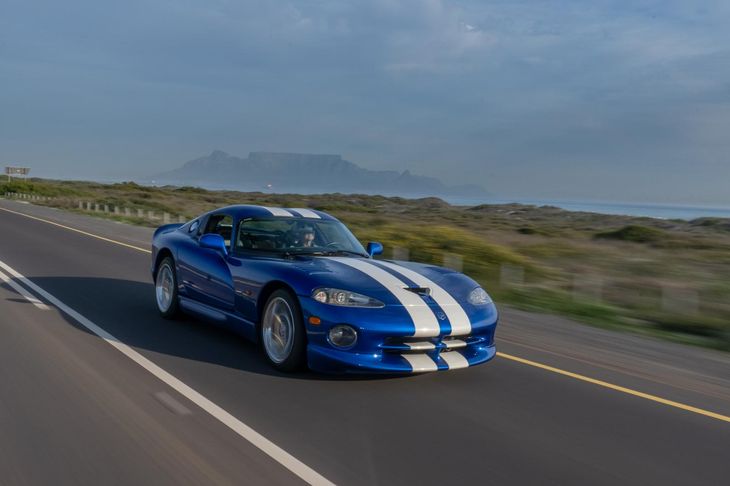 Jess stalks the great driving roads around Cape Town these days – he moved down from Johannesburg some years ago.
This car rewards a smooth driving style and a steady hand – you can pile into a bend hard on the brakes, but be mindful to keep your steering position stable, then feed in the power smoothly on the exit to avoid what would definitely be fairly abrupt tail wag that would be hard to catch. Overall, however, the undeniably odd-ball Viper GTS serves up a superbly entertaining drive, for more traditional sportscar reasons than you'd expect. The drive to Jess' house is over way too soon and ends just as I start relaxing behind the wheel. Perhaps it's a decent GT after all?
As Jess recounts how his Viper GTS has lived up to all his fantasies, I'm reminded of fascination with TVR slightly more than a decade ago. Back then, the Blackpool-based marque was hero-worshipped by many, and I expected much from that yellow Tamora that I tested on the same roads as this Viper many years ago, yet that car under-delivered in almost every possible way; it literally fell to pieces during an hour of performance testing.
In many ways the Viper GTS reminds of me of the car I wanted that TVR to be – a giant-slayer from far left-field, bashful in character but able to live up to a petrolhead's giddy driving expectations. William Shakespeare said that "Expectation is the root of all heartache," and if that TVR proved him right, then Jess's Dodge Viper GTS did the opposite. It rocks, even 20 years later.
Specification
Car: Dodge Viper GTS (1997)
Engine: 7 990cc V10
Power: 450hp/336kW @ 5 200 rpm
Torque: 590lb.ft/664Nm @ 3 700 rpm
Top speed: 298 kph
0-60mph (97km/h): 4.6 sec