The creative team at SentiMETAL has released a stunning new limited-edition print featuring 2 of South Africa's most memorable locally-developed Opels.
Only 50 of these A2 prints will be produced, each individually numbered, and featuring the German marque's iconic motorsport colours (black, grey, yellow and white). The 2 cars featured need little introduction, though the more modern Kadett... the legendary 200t S's story is more complex and less often told. 
To find out more about the Superboss, a 125kW firecracker that was developed to beat BMW on the track,

 

watch our video here.
The 200t S (built in Astra sedan and Kadett hatch shapes from 1993 to 1995) followed closely on the Superboss's legend (built from 1990 to 1992) and though motorsport was very much in mind when it was developed, it never actually raced because attention in local motorsport shifted away from Group N and to Super Touring Cars (where an Opel Astra Sedan raced very successfully).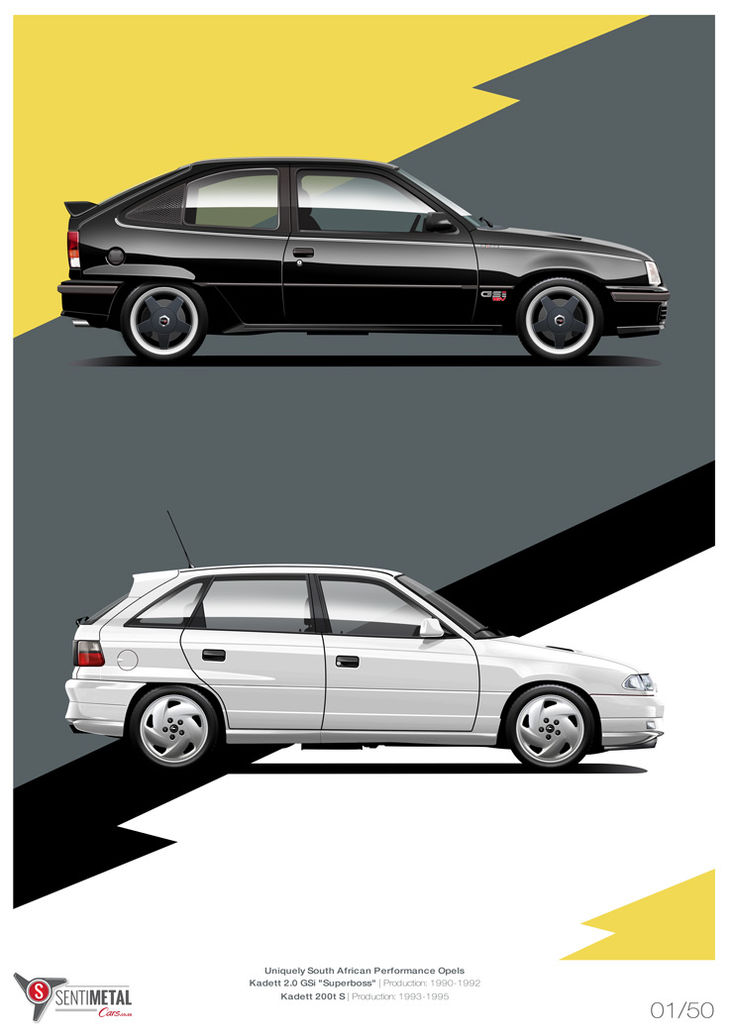 Stunning artwork by Wayne Batty (cars) and Andrew Crawford (layout and design) make this an awesome print.
But to develop the 200t S, Delta Motor Corporation (the then local manufacturer/distributor for Opel) had to dig quite deep. Using the new Kadett/Astra platform, it then borrowed the turbocharged version of the famous red-top 2.0L 16-valve from the European market's Calibra all-wheel drive. But in South Africa, the Kadett (and the Astra) channelled all that 160kW of fury through the front wheels only, resulting in a dangerous cocktail of understeer, torque steer and lift-off oversteer if legend is to be believed (we have a video coming soon...).
 Loads of Calibra hardware
Look out for a video features on the Kadett 200t S on the Cars.co.za/SentiMETAL channel soon.
The Kadett 200t S also received the stunning 5-stud 16-inch wheels from the Calibra (to cope with the extra torque of 280Nm), and it also got heavy-duty front wheel hubs, steering knuckles and wheelbearings (also from the Calibra). Opel claimed a top speed of 240kph and a 0-100kph time of 7 seconds. Later in the car's lifecycle, power was turned down slightly to 150kW, possibly as a result of heating issues.
Both cars come from a fascinating time in South Africa's motoring history, as well as what was probably Opel at the height of its powers in this country. Will we ever see the likes of the Superboss and 200t S again? Very unlikely...