It wasn't only Gauteng classic car fans that had fun this past week, lovers of classic and exotic cars in the Western Cape hosted the Spring Rally, all in aid of a good cause.
The Spring Rally saw owners (and their families/friends) of more than 50 classic and exotic cars come together to raise awareness and funds for Atlantic Hope, a house of safety for abandoned and vulnerable babies. Atlantic Hope was started by Marilyn May, a nurse from Cape Town, and it is legally approved to house up to 6 babies at a time, often for as long as a year.
Some of the cars that lined up for the start at Lourensford Estate's Motor Studio Market this past weekend included such rarities as a Cadillac Eldorado Coupe, Chevrolet Corvette C2 Stingray, Mercedes-Benz SL "Pagoda", numerous Porsches and also a macho-looking Ford Mustang. It's not only participation that raises funds, there was also a raffle with some amazing prizes up for graps from the various sponsors.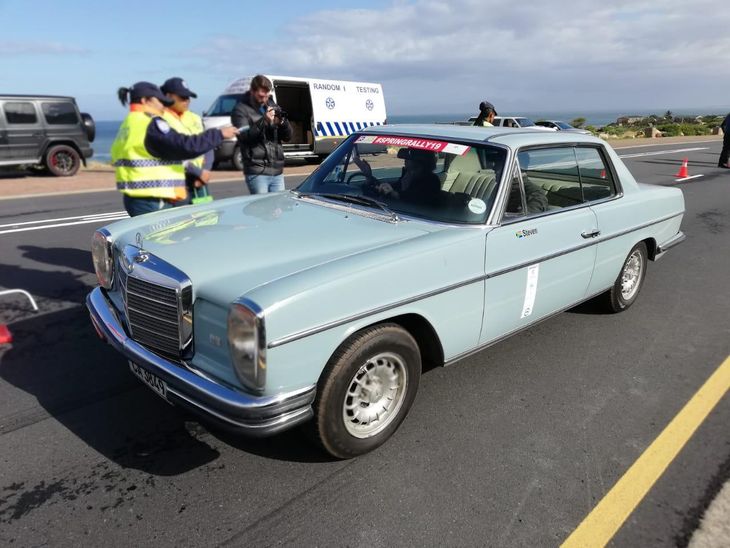 Not your usual roadblock - participants were not issued fines, but rather goodie bags containing, among other things, a breathalyser.
The convoy left Somerset-West after the ribbon was cut by none other than Premier Alan Winde, and then set off for its overnight destination in Arniston at the Arniston Hotel. Along the way it encountered what is usually not a very welcome sight, but the organisers had engineered a magnificent party trick by working with local law enforcement to stage a roadblock where it wasn't fines that were issued, by rather goodie bags with snacks and items such as a breathalyser, to raise awareness for responsible driving. 
The lunch stop was at the spectacular Angora Stud and Guest farm which has a motor museum of its own. Here participants dined between numerous vintage Mercedes-Benz's and more.
In the end, the Spring Rally's participants raised R200 000 for Atlantic Hope. The Spring Rally is now in its fifth year and growing fast. According to the organisers the goal is to bring passionate car lovers together, to make it possible to enjoy their special cars on wonderful roads, and to do good. Mission accomplished, then.